Selling Gift Vouchers is easy with Simple Salon. By utilising our Gift Voucher features, you can create a new sales channel for your business.
The revenue earned in advance can provide a boost for your business' cash flow. Not only that, but gift giving will be a breeze for your clients! This overview will cover the following sections:
Creating Gift Vouchers
There are two types of vouchers you can create. The first type is a Cash voucher. This voucher is for a dollar amount, and can be used to redeem any service and/or product to the value of the voucher.
The other type is a Service/Product voucher. These can only be used to redeem the service or product of which it specifies i.e. a Bikini Wax gift voucher can only be used to redeem a Bikini Wax service.
To get started in creating either of these types, you can head to:
Admin > Vouchers & Packages > Gift Vouchers > New

Once you select New, you will be greeted by the Gift Voucher Details section on the right.
You will need to select either Cash, or Service/Product from the Gift Voucher Type drop down.
For Cash gift vouchers, you'll need to enter the Voucher Name, Retail Price, Gift Voucher Value and Expiration (you can set it so it never expires too). The Retail Price + Gift Voucher value don't need to be the same e.g. if you set the voucher as $150 for retail, and $200 for the value—the client will pay $150 for the voucher, but will receive $200 in value.
For a Service/Product gift voucher, the process is similar. Instead, when you click Next, you will see the Add Gift Voucher Item section. This is where you select the item/s that will be redeemable when a client purchases this gift voucher.

You can keep adding in Services until your Service Gift Voucher is complete:

Always remember to Save when you're complete.
If you would like more information on how to create gift vouchers, this article will go a little more in depth.
You've probably also noticed the Loyalty Points Earned box. If you don't know already, Simple Salon has a Loyalty Program. You can set it so every time a client buys a gift voucher, they earn points. The accumulation of these points can reward clients with gift vouchers or free services of your choice. Head over here for more information on our Loyalty Program.
Selling Gift Vouchers
Now that you have created your vouchers, you can start selling them! To get started, you will first need to add your client to POS:
POS > Add Client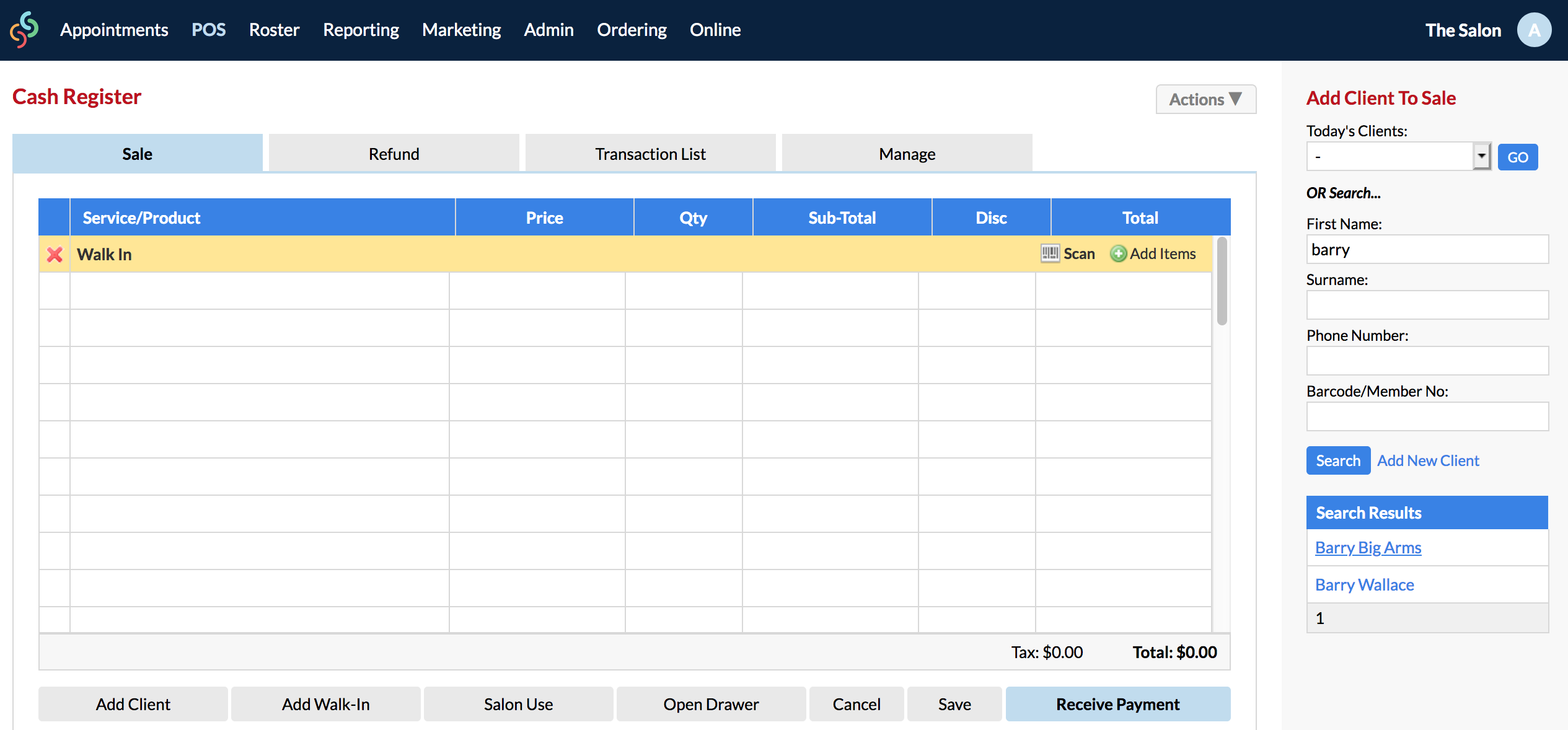 Once you have added your client to POS, you can add the Gift Voucher of your choice to the sale by selecting Add Items as shown below:
Select Gift Voucher from the Add Items to Sale pop-up, and fill in the necessary information on the right side panel.
After you have added the gift voucher to POS, you can Receive Payment and Finish Sale.
Once your sale is complete, you will see a unique Voucher ID number displayed in the next pop-up window.
You need to write this ID on the physical voucher that the client takes away with them. This is how the voucher is tracked. Click OK after you have copied the Voucher ID onto the physical voucher. We will show you later on in this article where you can find a client's purchased vouchers.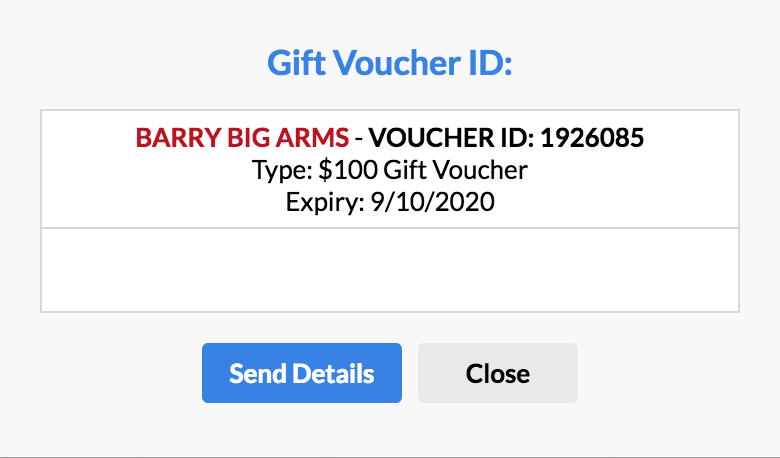 You can also send voucher details to their email and mobile number:
Creating Variable Vouchers in POS
You can also create variable gift vouchers on the fly while processing a sale on POS.
When your client has been added to the sale, click Add items. Select Variable Voucher and fill out the voucher details on the side panel:



When the voucher is added to the client's sale, it's ready for purchase. Click Receive Payment, choose the payment type, and Finish Sale.
The next window to pop up will display the Voucher ID. As mentioned earlier, it is important to write this ID number on the gift voucher to make it easier to track.
Redeeming a Gift Voucher
When it comes time to redeem a gift voucher, you'll first need to add the client to POS, along with the service/s or products they are paying for.
When you are ready to process the sale, you can Receive Payment.
The Payment Type window will pop up. Select the Gift Voucher button and enter in the Voucher ID when prompted. Click Find: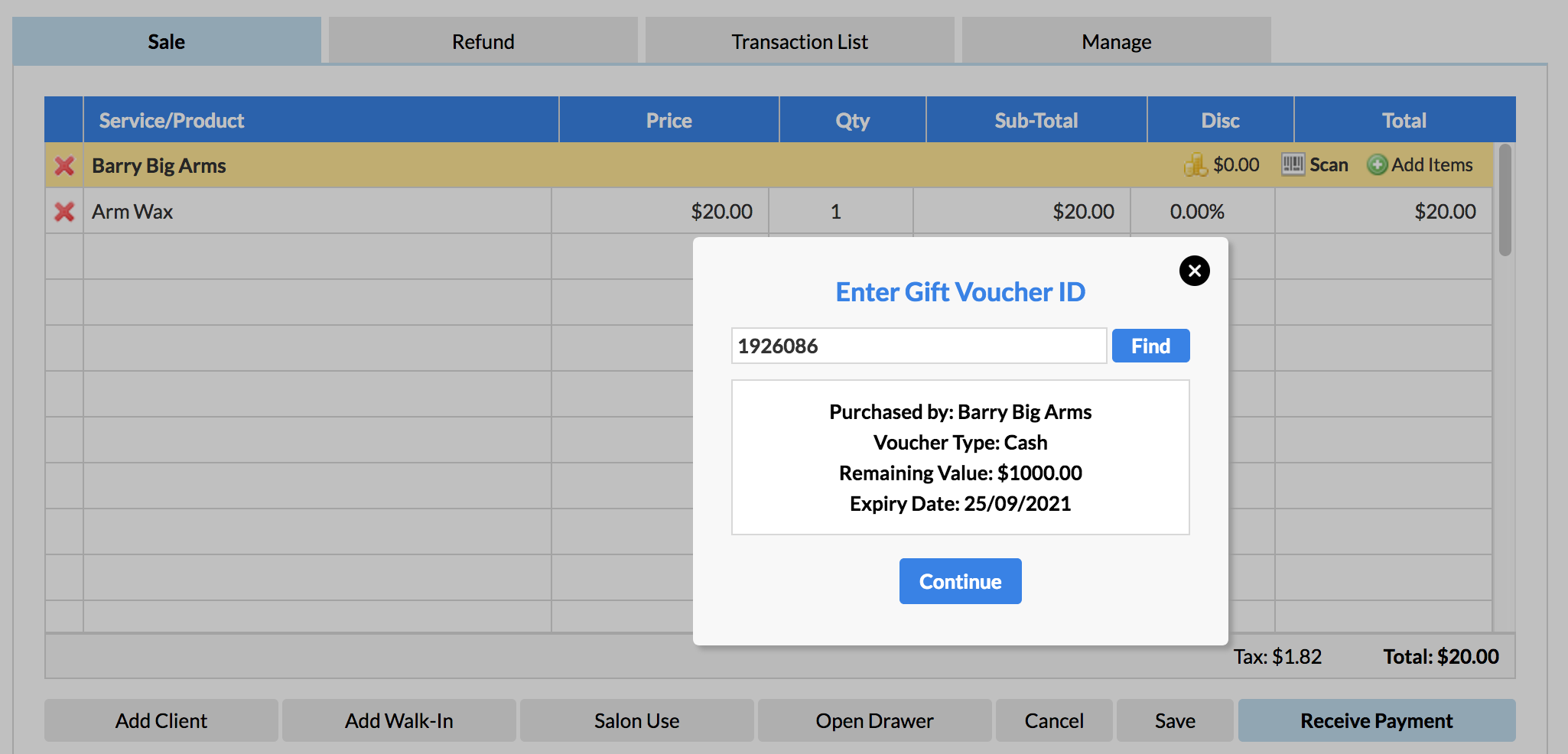 The Voucher ID should be written on the physical voucher which the client hands you. Alternatively, a client may have received a gift voucher via email. This is the ID which needs to be entered into the Enter Gift Voucher ID section.
If it is a Cash Voucher Type, the remaining value will display. A Service/Product Voucher Type will display the Remaining Items instead, as shown below: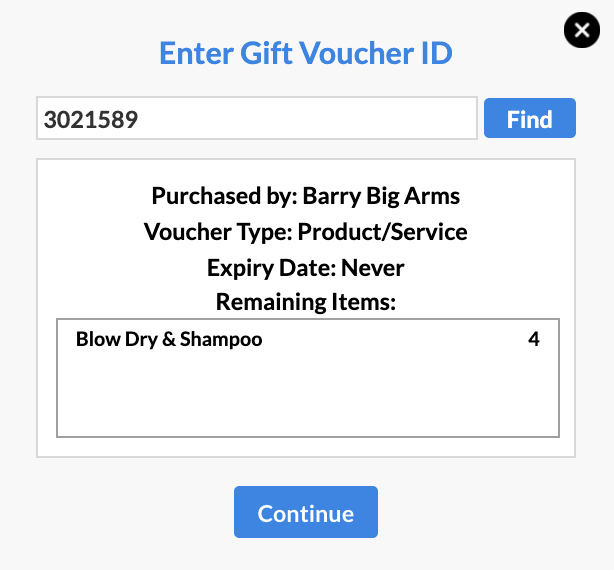 If there is still a remaining balance on the sale, the client can pay as usual. Finish Sale and you're done!
The whole value of a gift voucher does not have to be redeemed in one sale. They can be redeemed over time up until your set expiration date, unless of course it is set to never expire.
Finding a Gift Voucher
If a client would like to find out the remaining balance on a gift voucher (of which they have a valid Voucher ID for), simply navigate to POS.
Click on the Actions tab while on any page in POS:

You can now click Find Gift Voucher, where you can enter the Voucher ID that the client has provided.
You will be taken across to the Transaction Report, where you will see all of the voucher information. Make edits here as needed, or click Details for further transaction and payment method details.


For further information on locating a Gift Voucher with or without the ID, please click here.
Processing Vouchers Without a Valid Voucher ID
If a client comes in with an outdated Voucher ID, or perhaps has a gift card from when you used a different system—we have different ways you can process these.
The first way is to process the sale as normal. Add the client to POS, along with their services and/or products that they are using the voucher to pay for.
Click Receive Payment, then in the pop-up Sale Payment Details window, click the drop down the menu and choose Gift Voucher With NO ID. Once you have selected this payment method type, click Finish Sale.

The alternative way is to recreate the gift voucher via Admin, then using this new voucher for their sale. If you would like to learn how to do this, please check out this help article for more information.
If a client comes in with an expired voucher, it is also possible to change the expiration date so you can still use their voucher. Click here for more details.
Selling Gift Vouchers Online
If you have your Online Booking mini-site set-up, you can sell your gift vouchers online too. If you don't, we highly suggest you check out this article for further info.
Gift Vouchers are automatically enabled in your Simple Salon account, but they won't display online until you have added Gift Vouchers to your Online account.
First you'll need to be connected to Stripe to accept online payments. If you are not already connected to Stripe, click here to learn how to connect.
Go to Online > Setup then expand Gift Vouchers.
Click Add Gift Vouchers and select your Gift Vouchers (these need to be made from Admin > Vouchers & Packages).

If you would like more information on selling gift vouchers online, or perhaps your interested in what the client's purchase process looks like, please click here.
Viewing Client's Vouchers
Client Card
You can look up a Gift Voucher directly from a client's account (if they're the one who purchased the voucher).
Simply search for the client's name in the Client Search, and click on their name to navigate to their client card:

Click on the Gift Vouchers tab and then click View next to the relevant gift voucher to view the Voucher Details.
Whenever a client has purchased a gift voucher, this is where it will be listed.
Gift Voucher Report
The Gift Voucher Report shows gift vouchers sold over a specified period. To use this report, head to Reporting > Report List.
Select Gift Voucher Report, and then enter in the date range you want to search.
A list of all Gift Vouchers purchased and redeemed during this date range will load: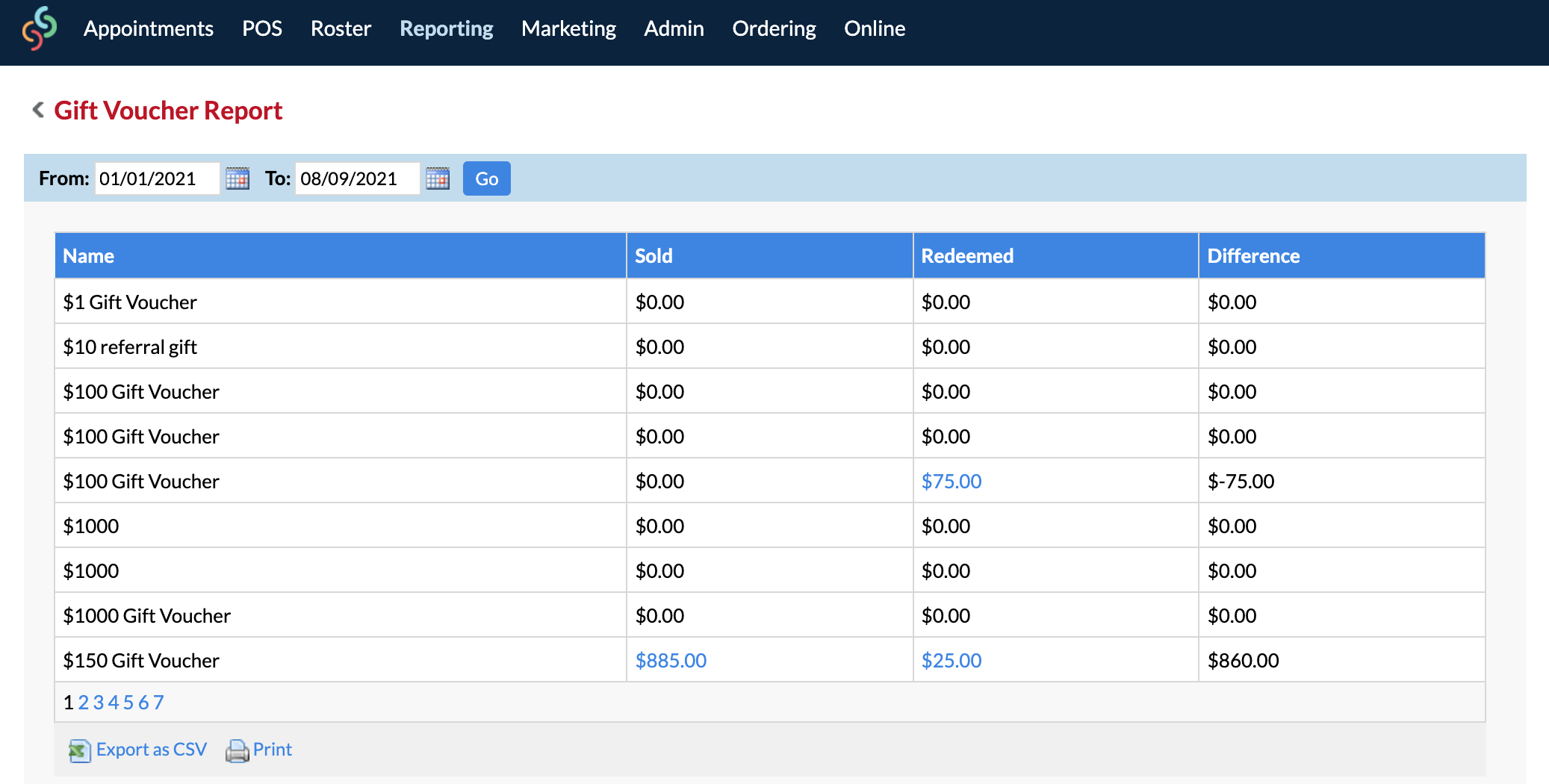 Selecting a highlighted amount under the Sold column will bring up specific information about the clients that purchased them: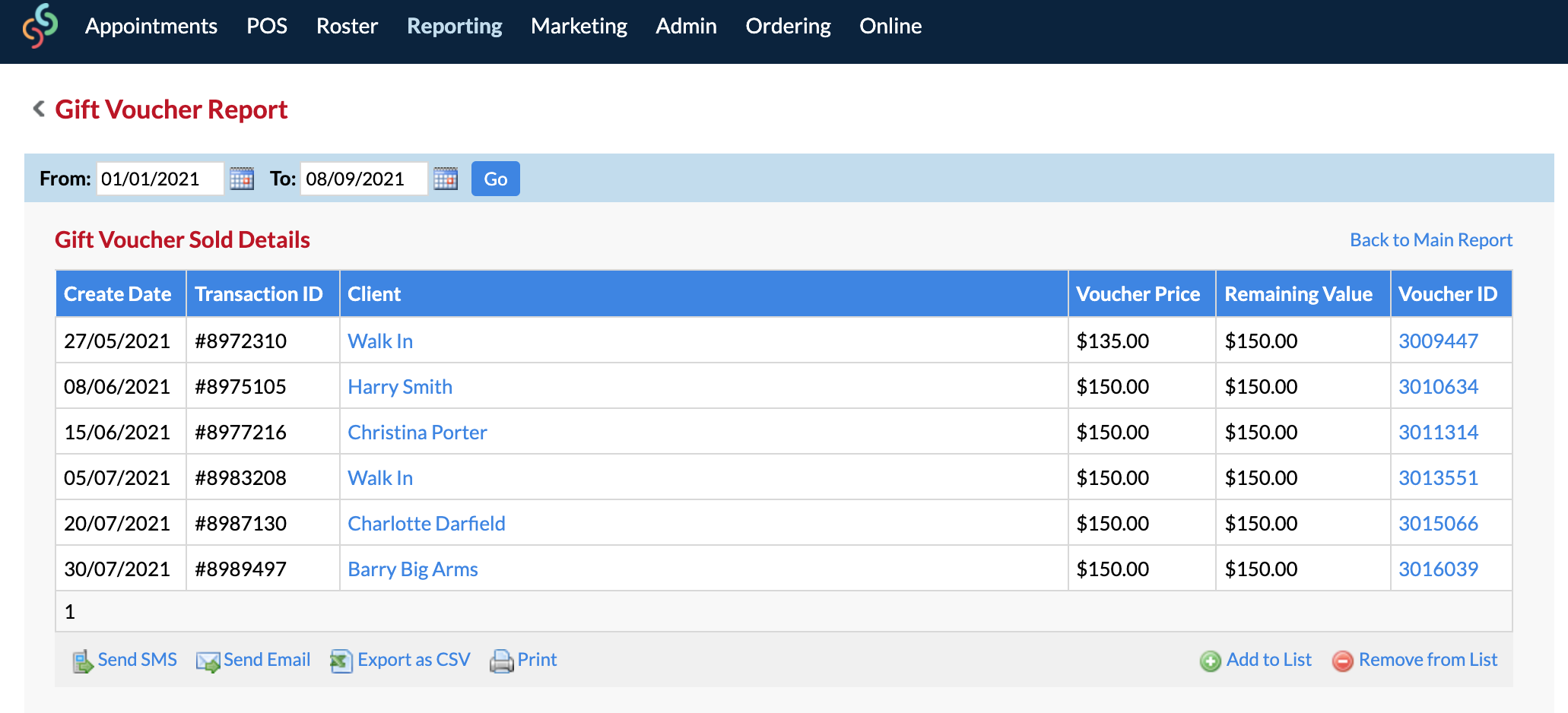 You can click on the Voucher ID link to view their full Voucher Details (from there you can edit the Remaining Value or their Expiry Date). You can also click the link on the client's name to edit their Personal Details.
If instead you selected a highlighted amount under the Redeemed column, you will be shown vouchers that have had an amount redeemed, as well as how much was redeemed when the voucher was used:

You can also click on the Voucher ID link to view their full Voucher Details (you'll be able to view their Remaining Value or edit the Expiry Date from here).
Liability Report
You can use the Liability Report to view vouchers that still have value and are not expired.
You will get information such as who purchased it, when they purchased it, and further details like the purchase price, balance, expiry date and the voucher ID.
This can be accessed from Reporting > Report List > Liability Report.
You'll then click Show Details next to Gift Voucher Liability to view the list: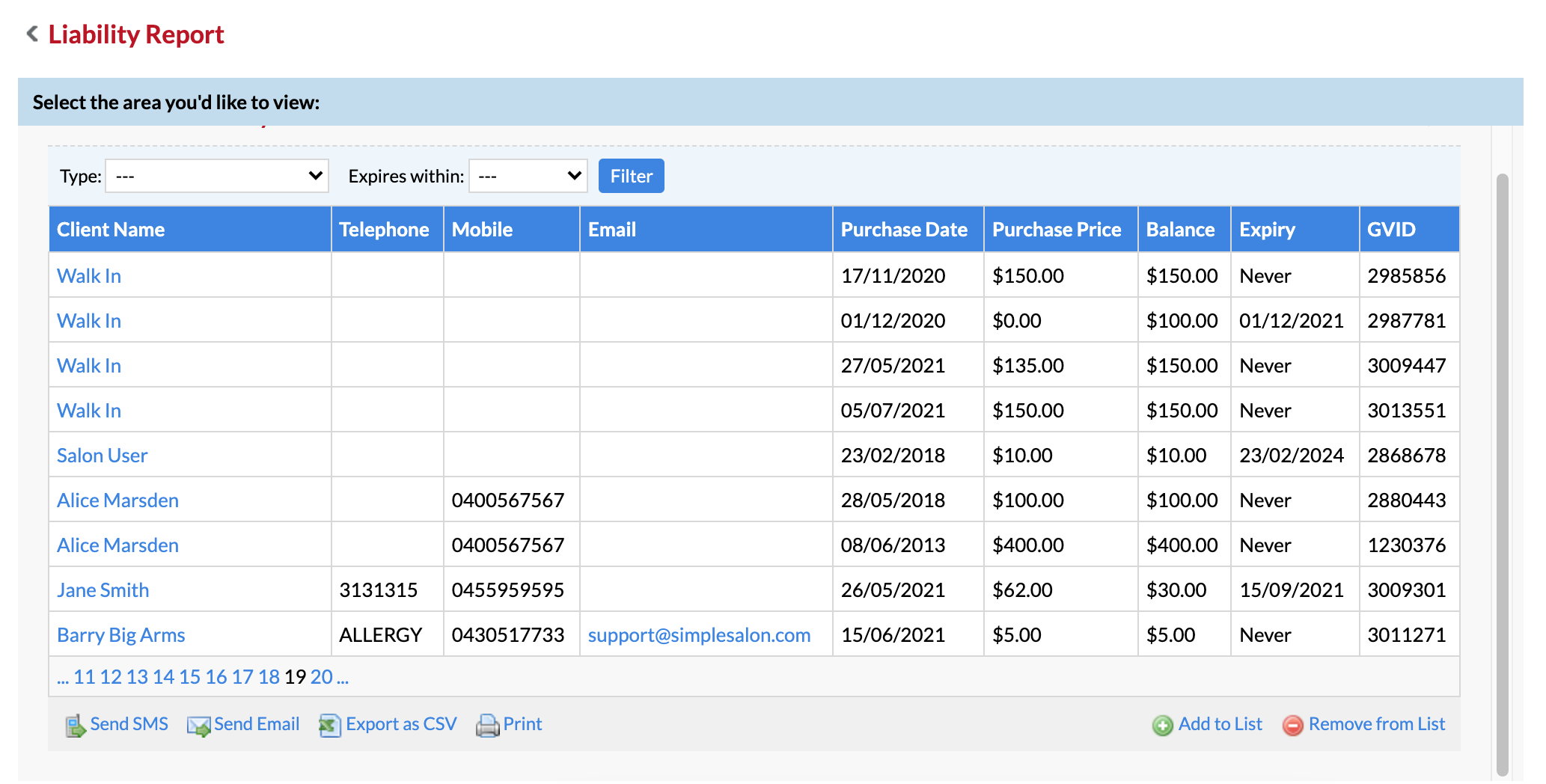 You can filter this report by the Gift Voucher Type, and you can filter it by when they're due to expire, from the Expires Within dropdown menu.
If you have any questions, please send them to us via the Submit a Request option in your Help & Support page.