With your Simple Salon account, you get your very own Online Booking mini-site. This great feature allows clients to seamlessly book in with you whenever they please.
Rather than being constrained by opening hours and phone calls, your business can take countless bookings at any moment—reducing the workload for your staff and optimising customer service.
The world is online now, and having an online presence for your business is essential. If you don't, it's likely you're missing out on some great opportunities. Utilising your Online Booking mini-site is an easy way to maximise sales and find new clients.
We've created the following overview to help guide you through the many features that are available to you. Feel free to jump ahead, we'll be covering the following:
Online Availability Based on Roster, Resources and Existing Appointments
When clients are booking in online, your mini-site will show them your salons availability for the services they want to book in. This is based on a couple different factors:
Roster i.e Opening Hours and Rostered On Staff
Online Bookings is reliant on the Roster—this is to ensure that appointments are made when you're open and when your staff is actually working. Otherwise, clients will be unable to book in with you.
There are two rostering systems available to you:
Simple Rostering is a simple but effective roster to set up your salon hours, public holidays and your operator's hours. This version works off a one week roster. This means the roster times that are set for your operators will be the same each week.
Click here to learn how to set up Simple Rostering.
Advanced Rostering gives you more versatility as you can have different items for each week. It allows you to create different Roster Types (such as Rostered On, Annual Leave, Sick Days etc), as well as add pay rates to track staff wages.
Click here to learn how to set up Advanced Rostering.
Resources
This refers to treatment rooms or specialised equipment/machines that services or treatments will require. If your resource room for a particular service is fully booked, clients will be unable to book in for that service.
If you are yet to set up your Resources, this article will provide more information.
Existing Appointments
Your online booking site is synced with your Simple Salon account, therefore availability is accurately updated with each booking that is processed.
Since your booking site automatically knows when there are existing appointments—it can't double book. This helps to minimise booking errors and unnecessary complications for your clients and staff.
Showing Services and Operators Online
When it comes to showing your services and operators online—you don't need to have them all available for booking. You can be selective with which staff and services you have enabled to appear online.
You will do this by selecting your Online Operators, Online Service Categories and Online Services: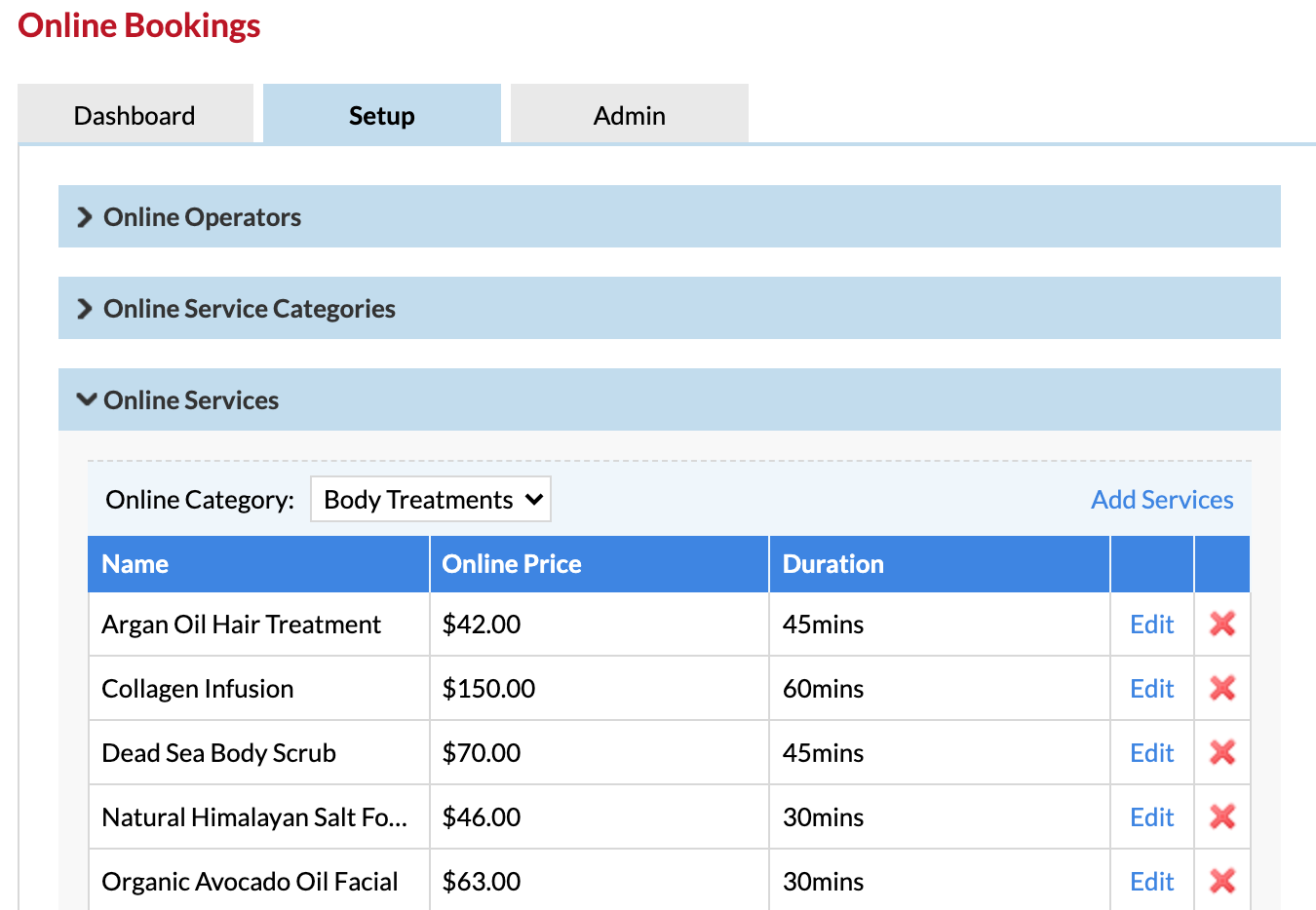 These details can always be changed at anytime in your Simple Salon account once the appointment has been confirmed.
For help with setting up your services and operators for display online, please check out this article.
How Clients Pay For Online Bookings
You have the following options when it comes to the booking payment method:
Pay In Person
Pay Full Amount
Require Deposit

Pay at Salon

This option means clients can make their appointments whenever it suits them, without them needing to make payment upfront.
You can set the minimum cancellation period to either 24, 48 or 72 hours before their appointment. Clients will be unable to cancel through their Online Booking account if it is within your set cancellation period. This means clients will need to contact the salon instead, making it easier for you to reschedule their appointment rather than losing the booking completely.
Both of these settings are located in Online > Admin > General Settings.

You'll also have 2 chances to confirm client appointments via SMS through the 1-Touch Marketing System in your Simple Salon account. For more information on appointment reminders, please click here.
Pay Full Amount

Enabling this option means clients have to pay at the time of their booking.
Before you can use Pay Full Amount, you will need to create a Stripe account for transactions to process. Please click here to learn how to set this up
Once a client has paid for their booking online, the appointment will be greyed out on your Appointments page.
Require Deposit
When Require Deposit is active, clients will be required to pay a percentage of their service price, based on your choosing. The following article will go in depth on our Online Booking Deposits system:
Note: You will also need to connect to the payment gateway Stripe. Click here to learn how to connect to Stripe.
Sell Gift Vouchers Online
With your Online Booking mini-site, you can also sell Gift Vouchers online. Utilising this can create a new sales channel for your business. Revenue earned in advance from a voucher sale can provide a boost for your business' cash flow—it also makes gift giving a breeze for your clients!

If you aren't currently utilising gift vouchers within your Simple Salon account, click here to view our Gift Voucher Overview for a comprehensive look at the voucher system.
If you're just looking to get started on setting up vouchers for online purchase, please checkout the following article:
What Clients Can Do in Their Online Booking Profile
There are a few things clients can do once they've made an account for Online Bookings. Any changes made in their online account will be reflected in your Simple Salon account.
You can access this page at anytime for testing purposes by clicking the View Bookings Site button in Online.

Once clients have verified their mobile number, they can select the icon on the top right to make changes to their profile, or use the top menu items to view their bookings, gift vouchers, packages or membership inclusions: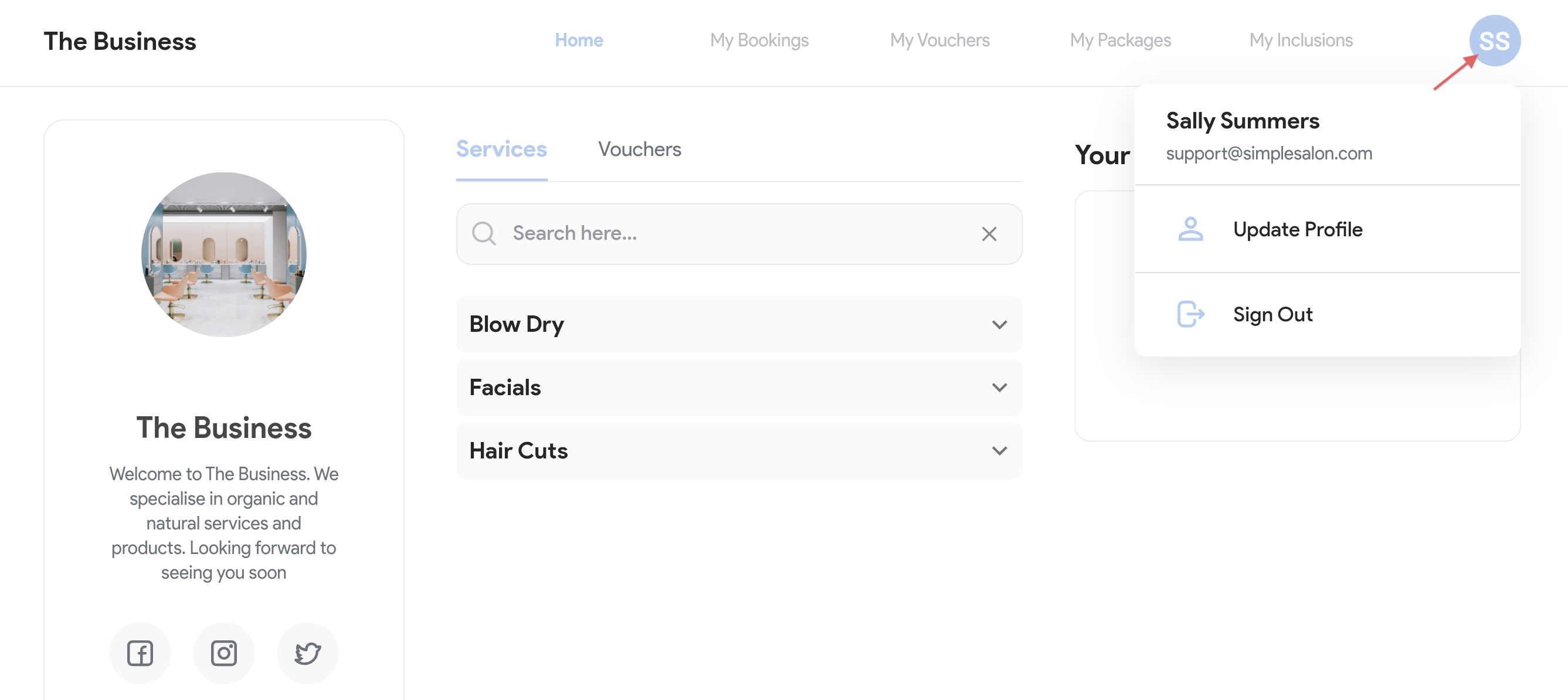 Update Profile
From here your clients will be able to update their name, email address, contact number, as well select how they would like to receive notifications for online bookings.
Any changes here will be updated in your Simple Salon account. Keep this in mind if you plan to add anything extra to their name for staff purposes, as they will be able to remove this from this page.
View Bookings and Re-Book from Previous Bookings
From the My Bookings tab, clients can view the status of an upcoming booking. i.e. Pending/Rejected, as well as rebook any past appointments.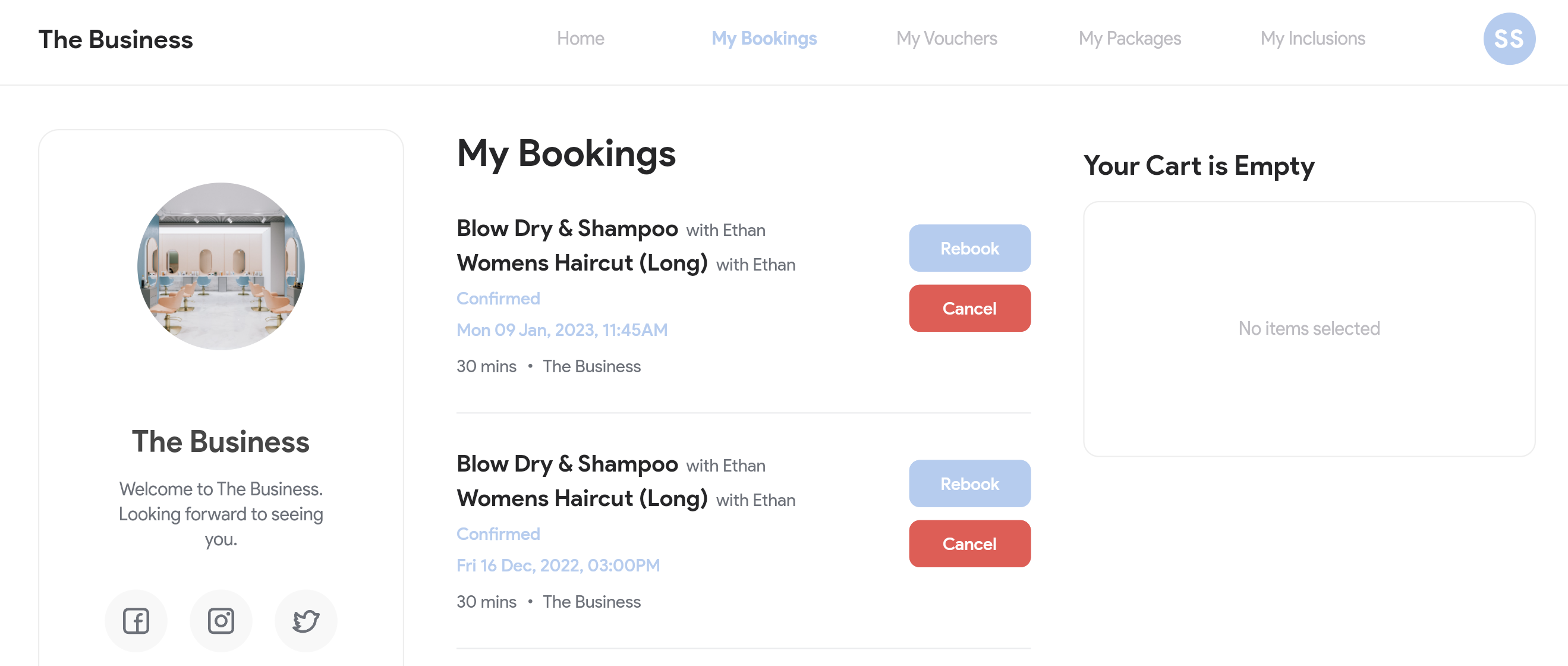 View Gift Vouchers
From the My Vouchers tab, clients can view any gift vouchers they have purchased, either online or in store. This means any gift vouchers purchased in Simple Salon will also display here. It won't display the actual voucher number however.
Once a gift voucher has been sent to a recipient, clients can view the voucher value and expiration date. They also have the ability to re-send the voucher.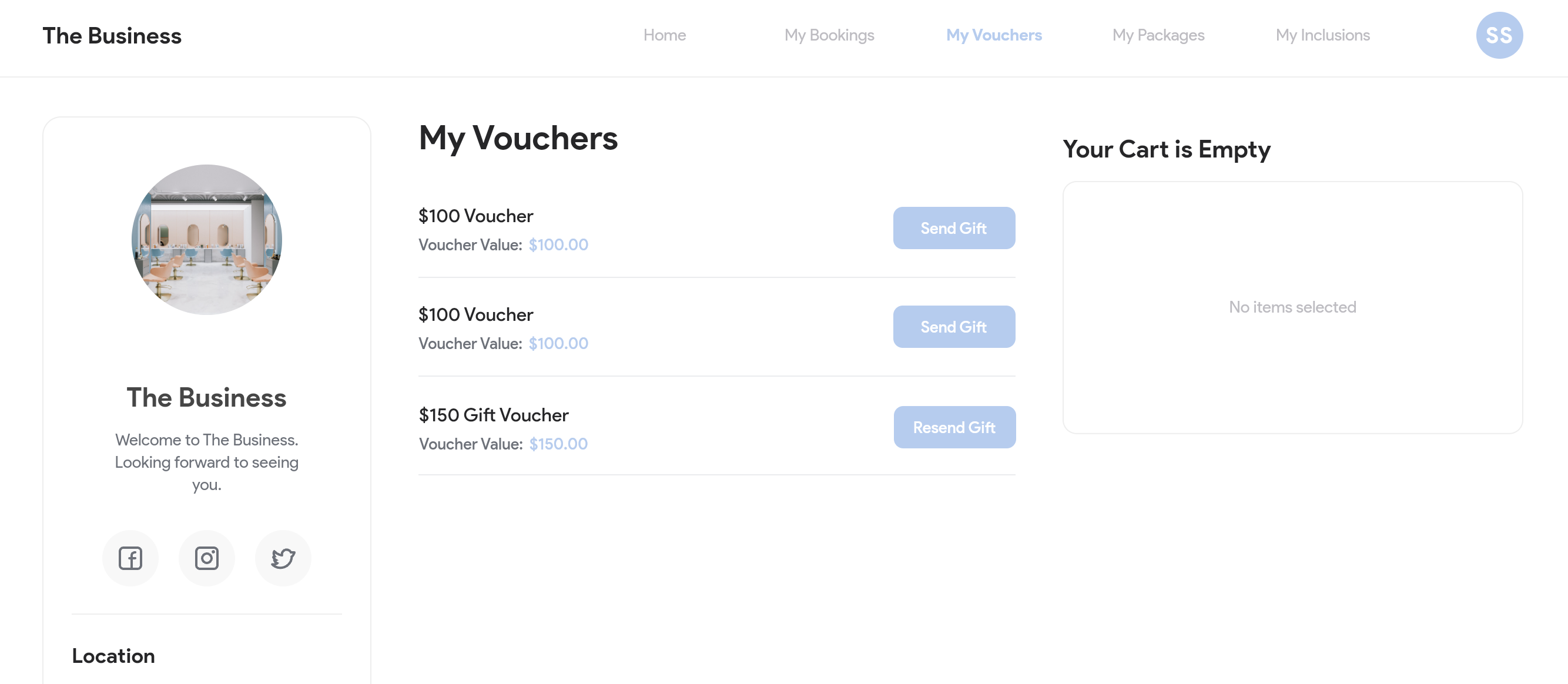 View Purchased Packages
If a client has purchased a package that contains services—and these services are added to online bookings—clients can book these services in their online account.
This is accessed from the My Packages tab.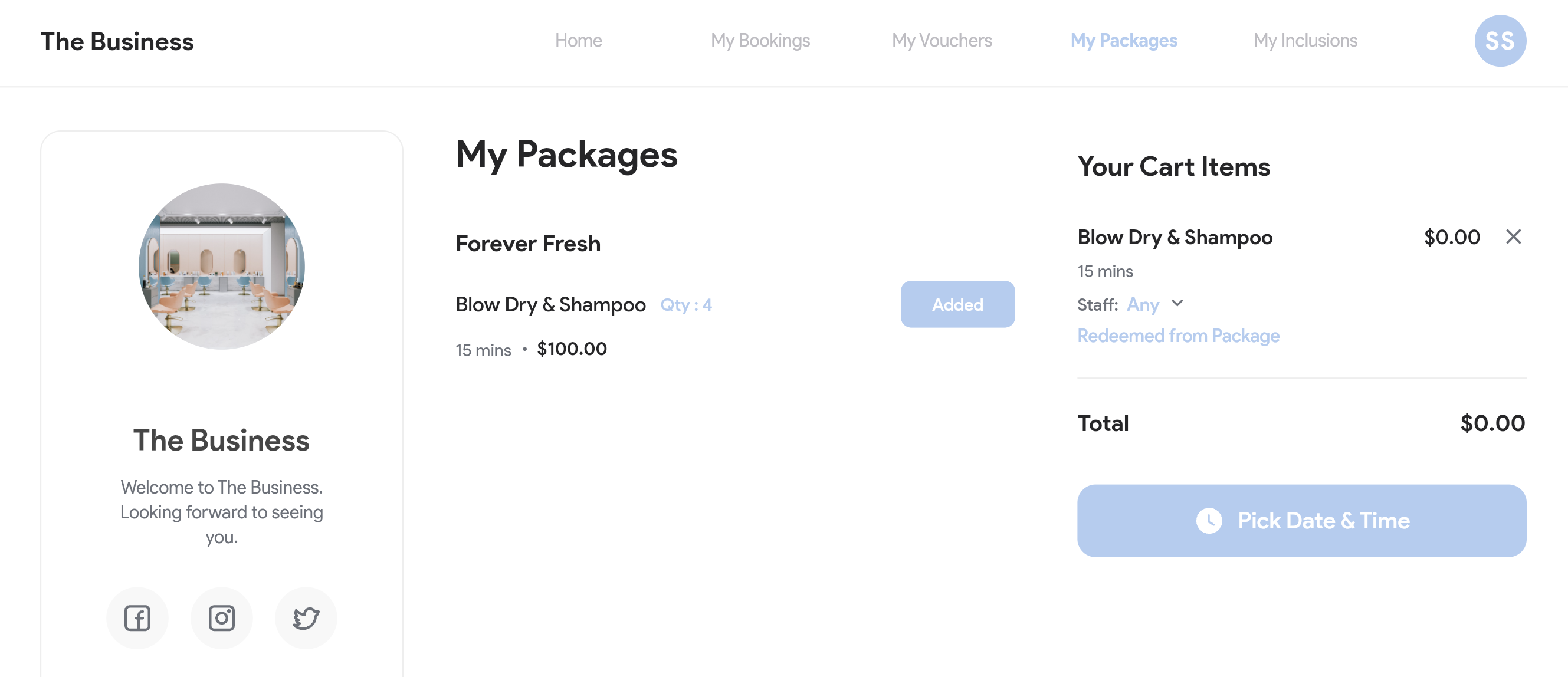 View Purchased Inclusions
If a client has purchased a membership that contains inclusions, clients can book these services in via their online account. These services must be added to your Online Booking site before clients can book them in.
This is accessed from the My Inclusions tab: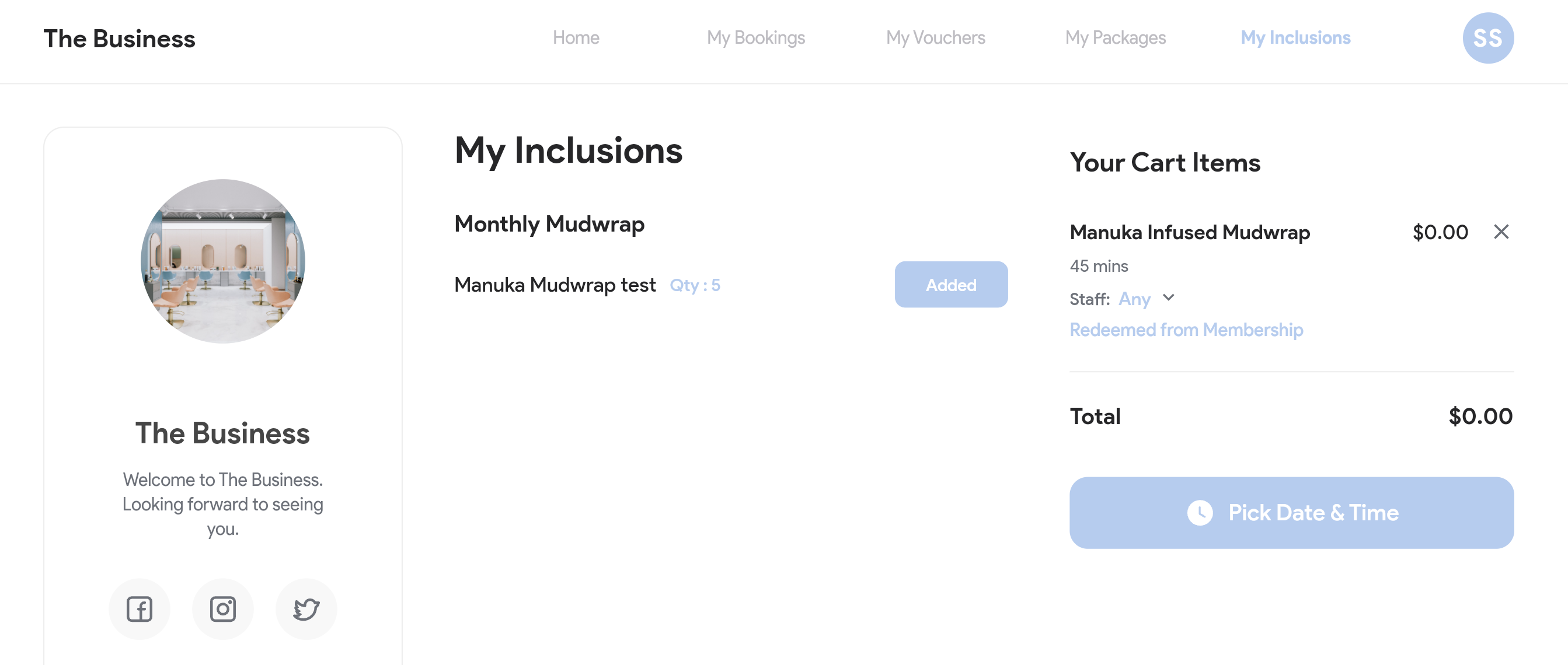 Auto-Approve or Manually Approve Bookings
With your Online Booking mini-site, you get the option to either confirm every booking that is made—or enable the auto approval of all online appointments.
Manually Approve
When a customer books online, you'll be notified in your Simple Salon account. You have 2 hours to approve the appointment, then a booking confirmation will be sent to the client. If online appointments are made outside of business hours, you have 2 hours from the start your next business day to approve it.

All approved or rejected appointments will appear in the Booking Activities section of your Dashboard. Selecting the square icon will bring up Booking Details (such as reference number, date and time of the appointment, service purchased, price and status).

For further information on accepting online bookings, please click here.
Auto Approval
When this setting is enabled (located under General Settings in your Online tab), clients who successfully place a booking will automatically receive a notification letting them know their booking has been confirmed.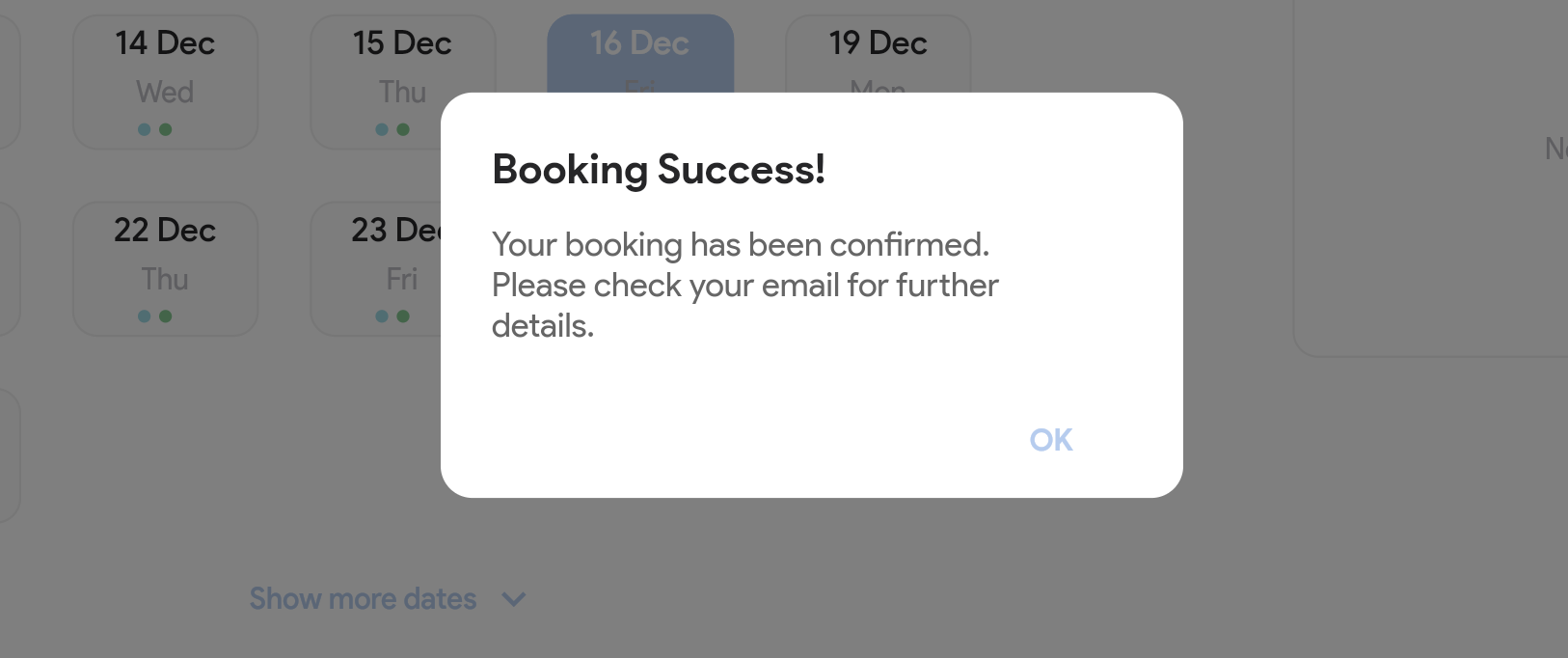 An important thing to note is by default, you will no longer receive a notification letting you know a booking has been made in your salon, as there is no action required on your behalf.
If you wish to set it up so you do receive a notification, you'll need to setup or change your Operator Appointment Notifications to send you media when an appointment for Online Bookings has been made. Click here to learn how.
Otherwise if you would like further help with setting Auto Approval, please click here.
Customise Online Business Hours and Location Details
In your online mini-site, clients can see your opening hours, as well as your business location: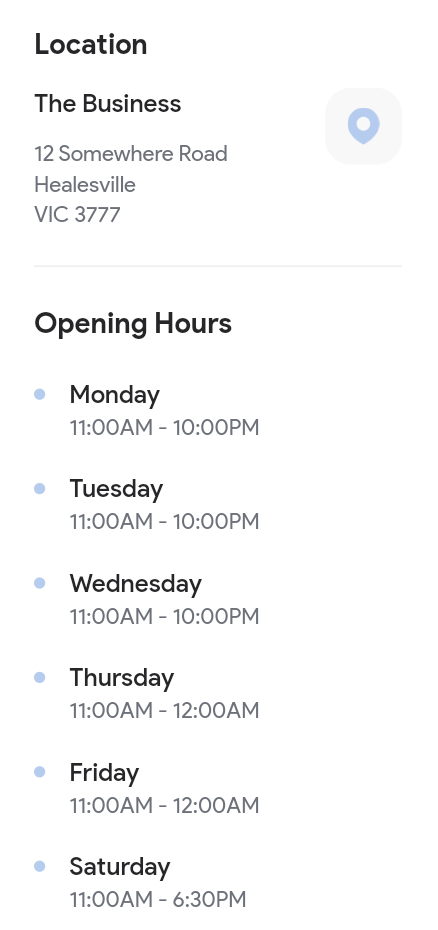 This information is taken directly from your Simple Salon account, so ensure this information is always accurate, to save confusion for your customers.
For example, if a customer clicks the map icon, they'll be taken over to Google Maps to view your location.
Your location details are accessed in via Account, then Account Details.

It is also possible to have your hours for Online Bookings display differently to your Opening Hours in your Roster.
This is accessed via Online, then Setup
Click 'Edit' next to the Online Opening Hours (bottom right corner):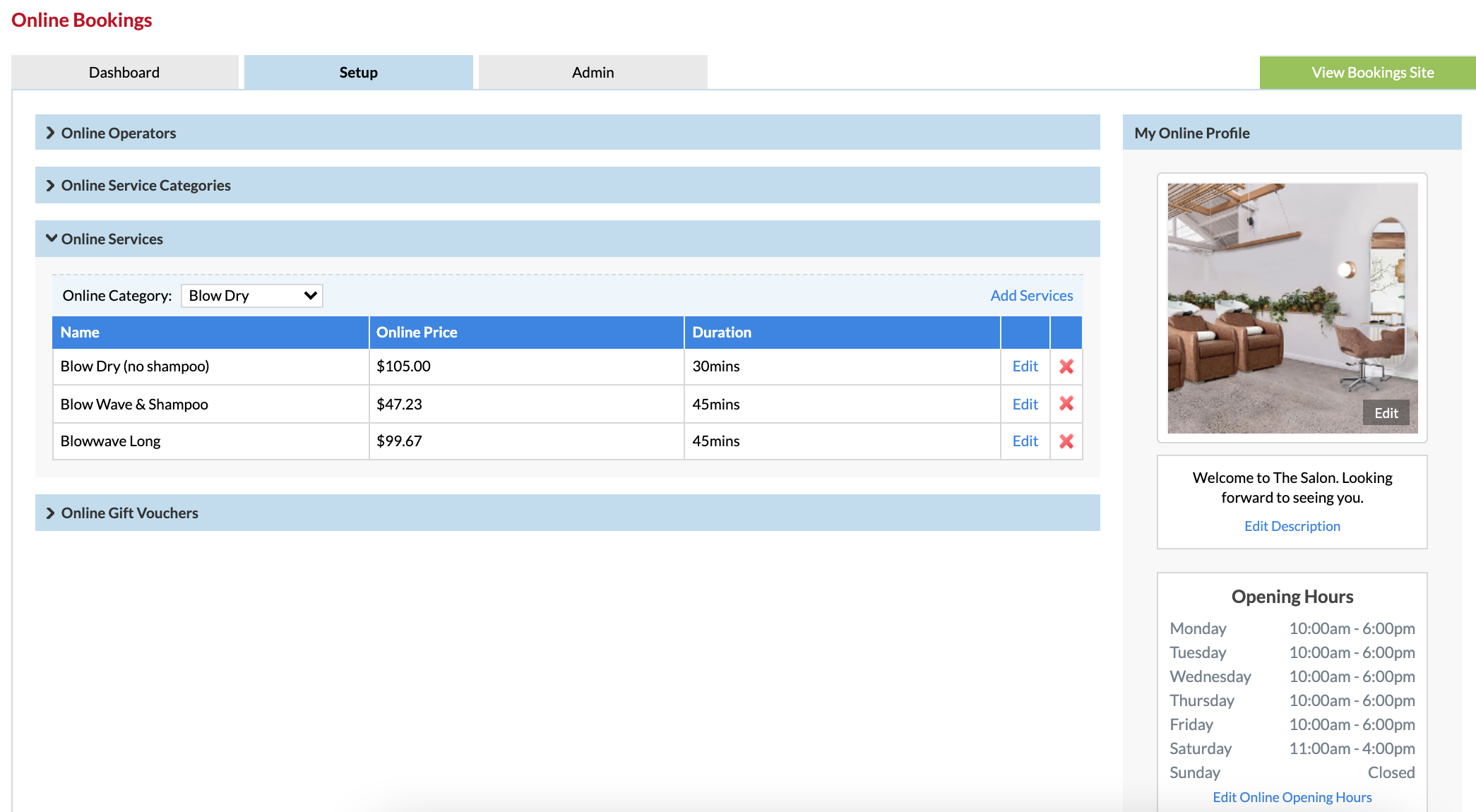 Note: When you change your "Online Booking Hours" as shown above, it only changes the text and doesn't affect availability. This just allows you to have different displayed hours for clients to see, if in the event your Roster Opening Hours are different.
The Online Booking system will still look at your Appointments Page and Roster to know when clients can book in.
For example, let's say your Online Booking Hours are set to 9:00am to 5:00pm, but your operators are Rostered On from 8:00am to 6:00pm. This means you need to ensure that there is a Task or Service inserted in at 8:00am to 9:00am, and 5:00pm to 6:00pm to block those time slots off, e.g. you might have a 'Cleaning' Task inserted. If you haven't used the Tasks feature yet, please click here to learn.
Customise Notification Settings—Approval Alert and Booking Confirmation
Approval Alert
You can choose to be notified via SMS or Email whenever someone books in with you. Please note that this only applies you when you are manually approving appointments.
If Auto Approval is activated you will no longer receive these approval notifications. Instead, you will need to turn on Operator Notifications in 1 Touch Marketing.
Click here to learn how to setup Operator Notifications.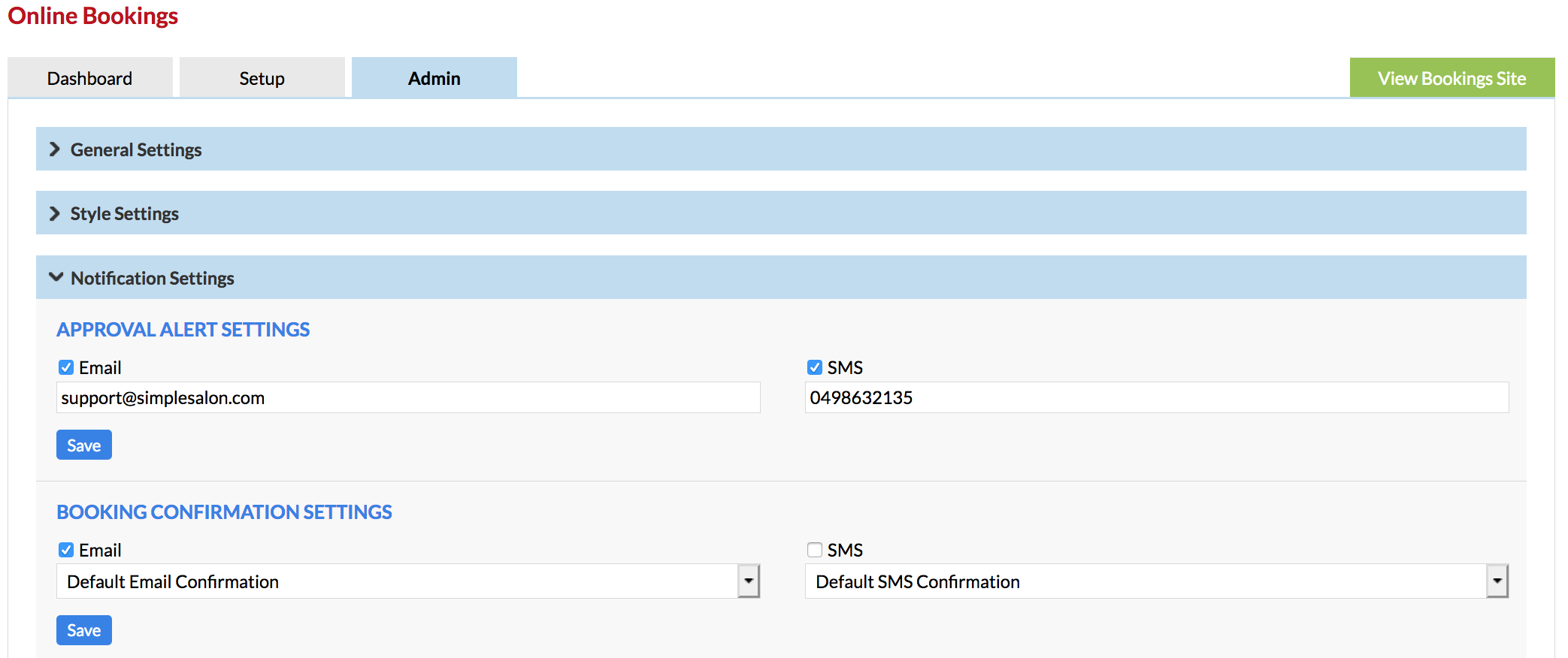 Booking Confirmation Settings
From here, you can choose whether clients will be notified via Email and/or SMS once their booking has been confirmed.
If you would like to change the message that clients receive, you'll need to either create your own, or edit the default message as per the following article:
Creating and Editing SMS & Email Templates
The default email template is 'Default Email Confirmation' & the default SMS template is 'Default SMS Confirmation'. These are the templates you would be editing for the 'Booking Confirmation Settings' section.
Once you've created your own confirmation message (or edited the default), you'll need to come back to Notification Settings in Online to select your new template from the drop-down menu/s.
Customising your Online Booking site colours
You can change the button colour and text colour that displays on your Online Booking site so that it better suits your style!
To do this, simply go to the Online tab, then into Admin.
Scroll down and click the Style Settings header:

You can change the Title Colour, Text Highlight Colour and Button Colour.
Click on the little colour box for each section, and a colour selector will open:

You have endless options for colours, and once you find a colour you like you can play around with the hue using the slider.
You can also enter in a specific HEX code instead if you already know exactly which colours you'd like to use!
Click Save once you're done, and it'll instantly be reflected on your booking site.
You'll also want to make sure you have a profile picture and a profile description added. If you haven't done so already, please click here to learn how!
Online Booking Custom Script
With your Online Booking site, you have the option of adding Custom Script, e.g. if you wanted to utilise Google Tag. This can be accessed via Online > Admin > General Settings > Booking Site Script:

NOTE: As this is an advanced function — if you're unsure of how custom script works then we'd recommend leaving this option alone as changing this setting can cause errors on your Online Bookings page.
If you need any other assistance with Online Bookings, please feel free to send them to us via the Submit a Request option in your Help & Support page—we're here to help!