So, you have your new Dome. Now what? It's nice and easy—grab your new Dome login details and log in. Once you're in, you'll see it will look a little different to the view you get when you log directly into a child location account.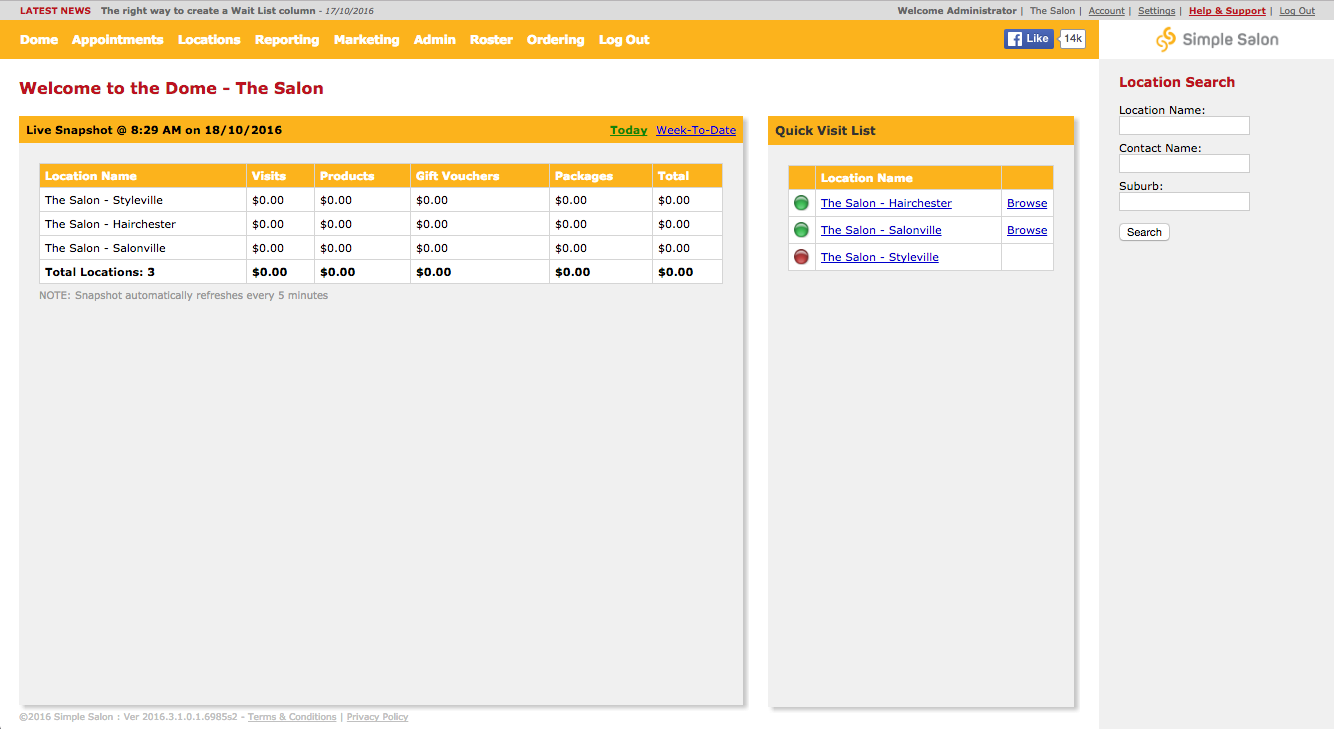 Navigating from Dome to location account and back to Dome
When you're in the Dome, you're at the top level. The most basic navigation to go from the top level (the Dome) down into your location accounts is to Browse any location—either via the Quick Visit List section or via the Locations menu bar option.
Let's click Browse next to one of our locations in the Quick Visit List.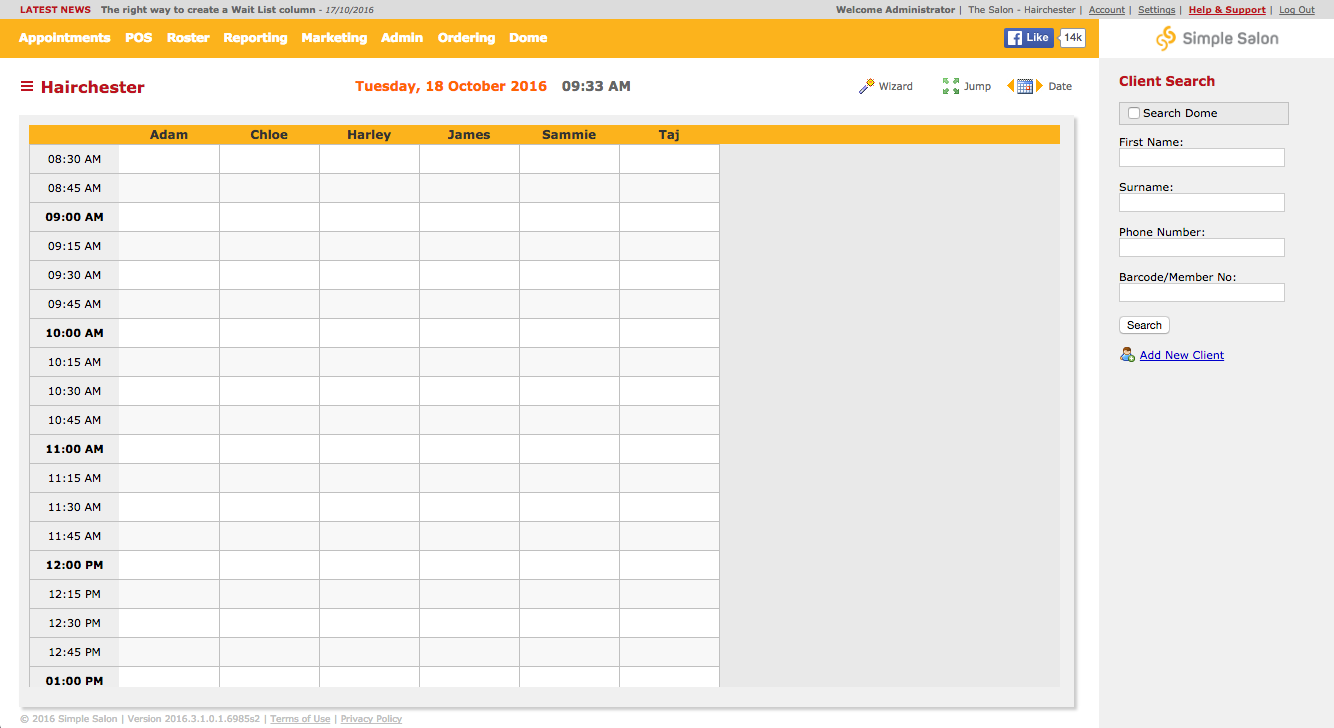 This view is exactly the same as if you were to log directly into the location account. When you log into the Dome first, you have access to all location accounts via the Browse option in the Dome. Only those who require access to the Dome will do it this way, all other staff will log directly into the location account that they work at.
To go back up to the Dome from the location account, simply click Dome in the top orange menu bar.

Adding in services, products etc into Dome 'Admin' page, then sharing with location accounts
When you have a Dome account, you have to add all services, products, operators, vouchers, packages etc into the Dome Admin page, then you can share these items with any/all of the location accounts. This means that you can't add anything to a location account without first adding it to the Dome, then sharing it down.
Go to Dome Admin and into any of the tabs i.e. Products, Services, Operators etc.
If you're in the Products tab, click New to create a new Brand, then click the brand name and click New on the Products side to create a product within that brand range. Fill out details on right side and Save.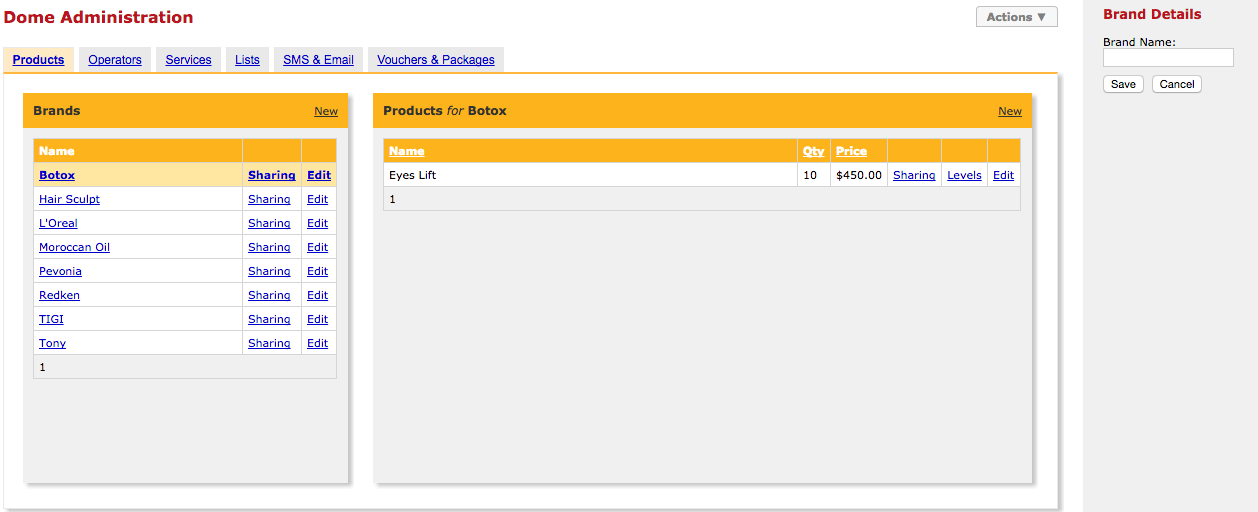 For Operators, simply click New and fill out operator details on right and Save.

The same basic steps apply to the Services tab—instead, you can create the Service Category first, then the specific services within each category.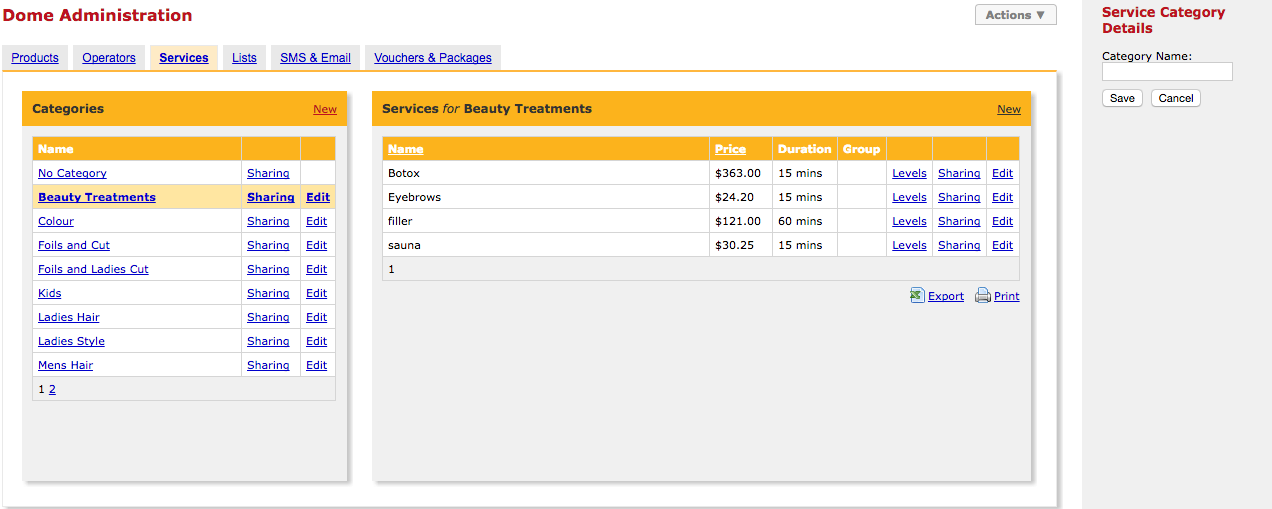 If you want to see a set-up article for adding in Services/Products, click here. You'll need to come back to this article if you need to learn how to share items into location accounts.
Sharing items into location accounts
Once you've added in your products, service, operators etc you can now click the Sharing link next to them. For example—for Products, click Sharing next to the Brand and choose the locations you wish to share the entire brand range into. Alternatively, you can share individual products one by one.
Tick all the locations or just some, then click Save.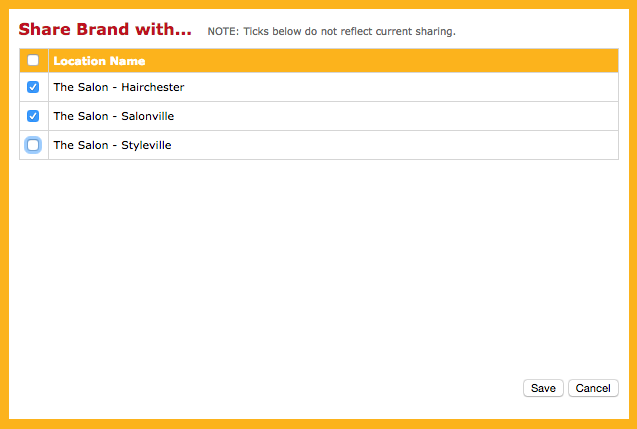 Share all products, services, operators etc into the locations you want them available in. Then when you Browse into any location and go to the location accounts Admin page, you will see the items all there.
These are the most important things to understand about your Dome. That you can log into the Dome, then Browse into any location account, and that you need to add all of your items into the Dome first then share them down into the child location accounts via the Sharing links.
If you have any questions, please send them to us via the Submit a Request option in your Help & Support page—we're here to help.