Simple Salon connects seamlessly to your Simple Salon Messaging (SSM) account. All you do is connect to SSM, buy some SMS credits, then away you go.
If you have a Dome, with multiple child location accounts connected to it, then you might like the idea of each of your child locations using the one Simple Salon Messaging (SSM) account. This means that you only need to purchase SMS credits in one SSM account, and each child location uses the same SSM account and pre-purchased SMS credits.
To ensure that your child location accounts are using your Dome Simple Salon Messaging account, you'll need to first connect your Dome with SSM.
Connecting your Dome to Simple Salon Messaging (SSM)
Go to your Dome Admin page, then into the SMS & Email tab.
Tick Enable SMS Account, drop down the SMS Provider menu and select Simple Salon Messaging. Click Buy Credits, and you'll be redirected to your new SSM account—follow the prompts to purchase your SMS credits.
Once you've done that, back in Simple Salon it will look like this, with your Simple Salon Messaging credit balance displayed.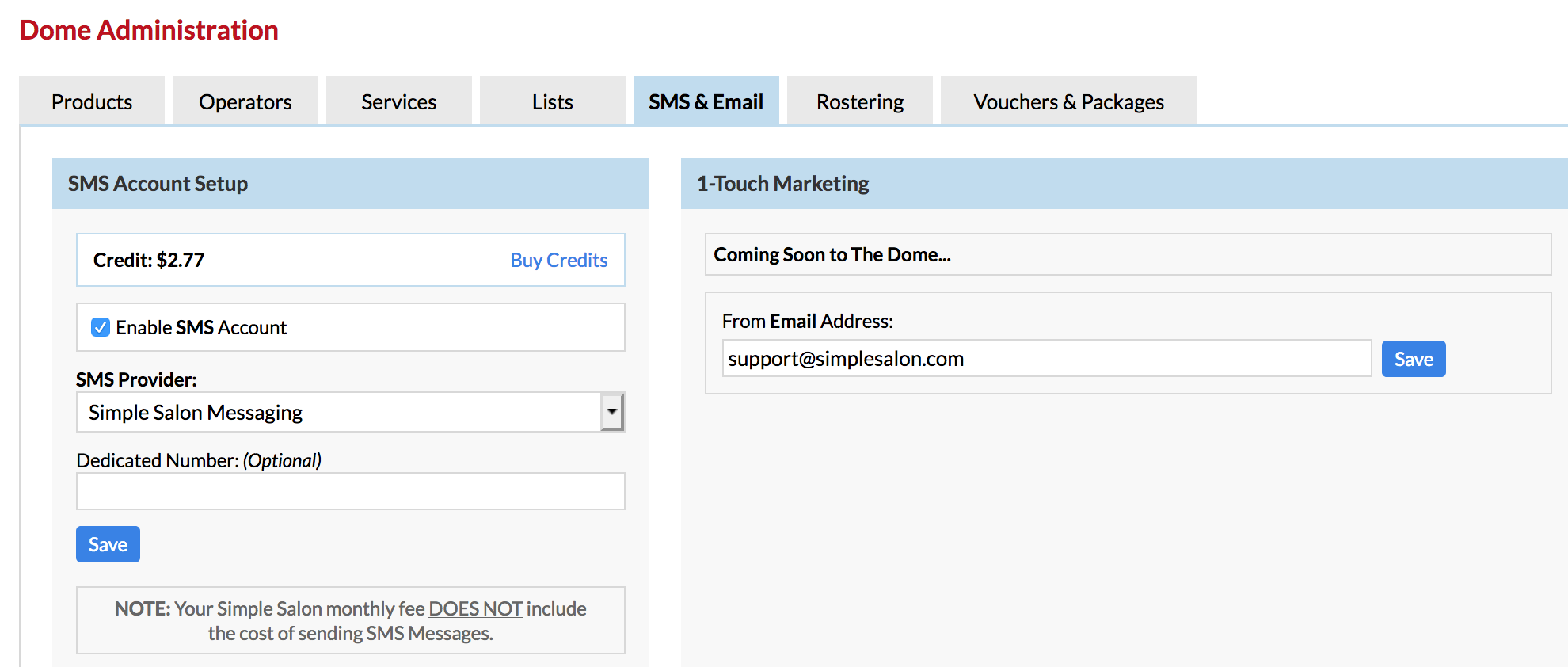 Still in your Dome, go to Settings, then choose Sharing Settings. Tick Allow child locations to share your SMS Account, and Save.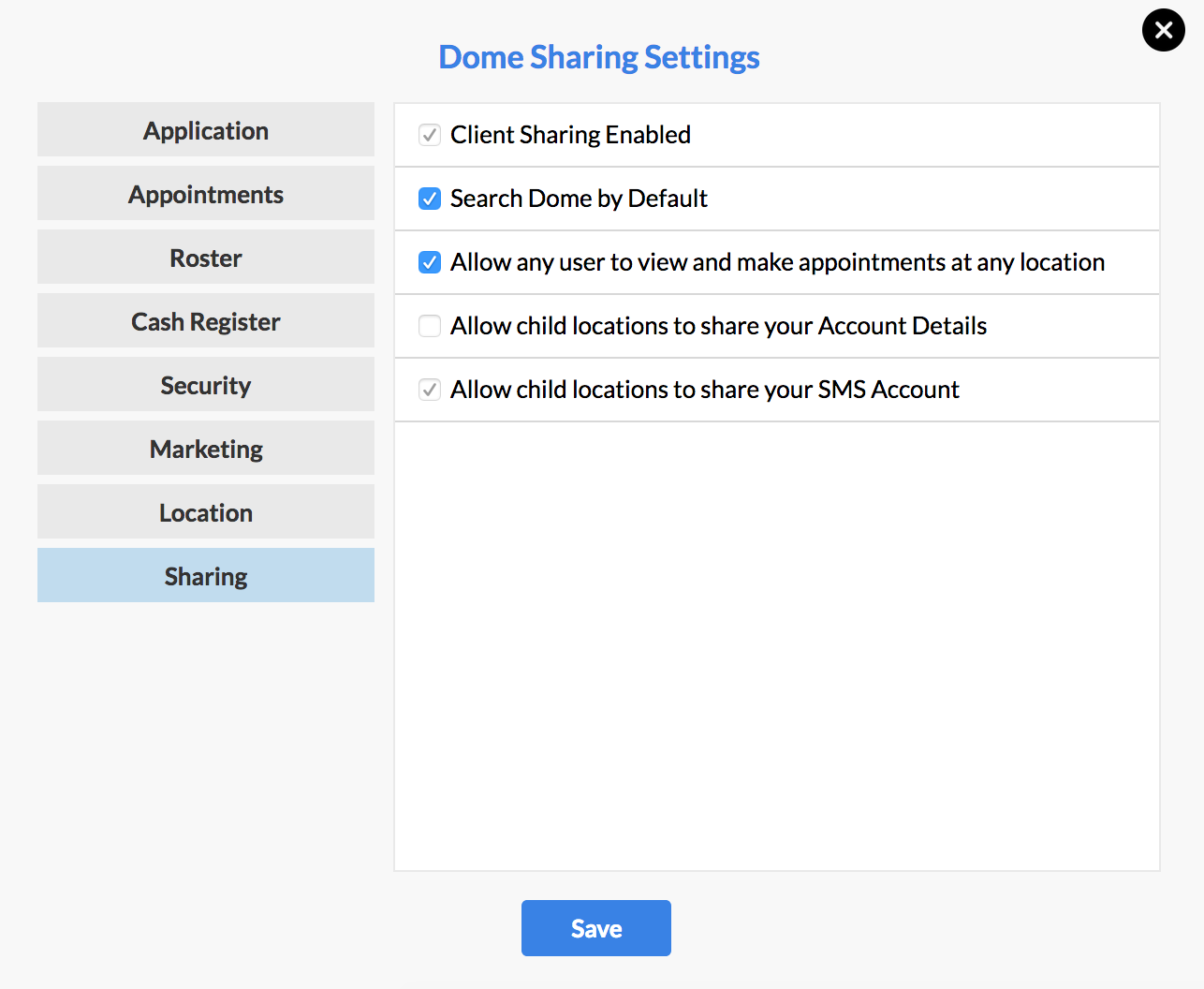 Connecting your child locations to your Dome SSM account
Now it's time to Browse into one of your child location accounts. Once there go to the location accounts Admin page, and then into the SMS & Email tab.
In the SMS Account Setup section, drop down the menu that says Simple Salon Messaging and choose Use Dome SMS Connection instead, click Save. Your Dome SSM account credit balance will now also display here in the location account.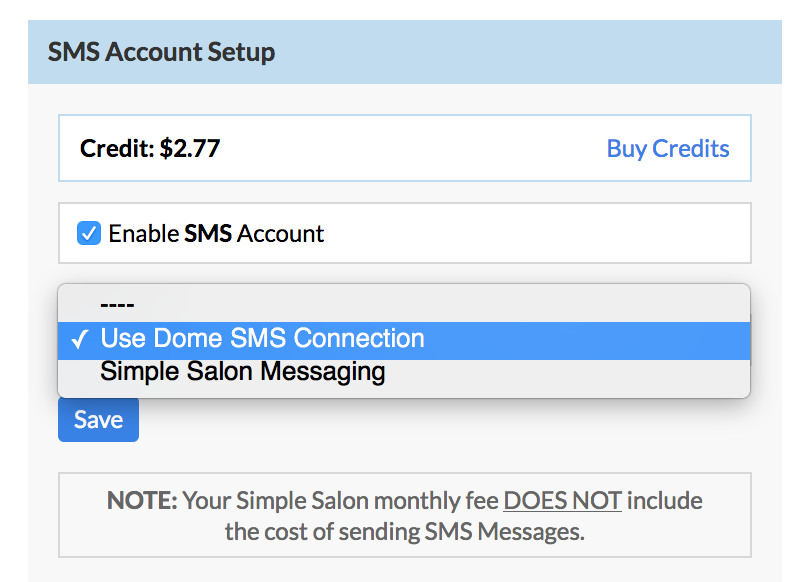 Do this in each of your location accounts, which you wish to use the Dome Simple Salon Messaging account and SMS credits.
If you have any questions, please send them to us via the Submit a Request option in your Help & Support page—we're here to help.