Oh dear, someone has added the same client in twice, and now the client has two client cards. It's okay, it happens!
Here is a quick and easy way to merge two clients into one. This process combines visit and product history, plus contact information.
Note: Only Administrators and Salon Managers can merge duplicate clients. Staff users can't merge duplicate clients.
First things first, you'll need to search for the client that has duplicate accounts. You'll need to figure out which account has the most information or is the main account: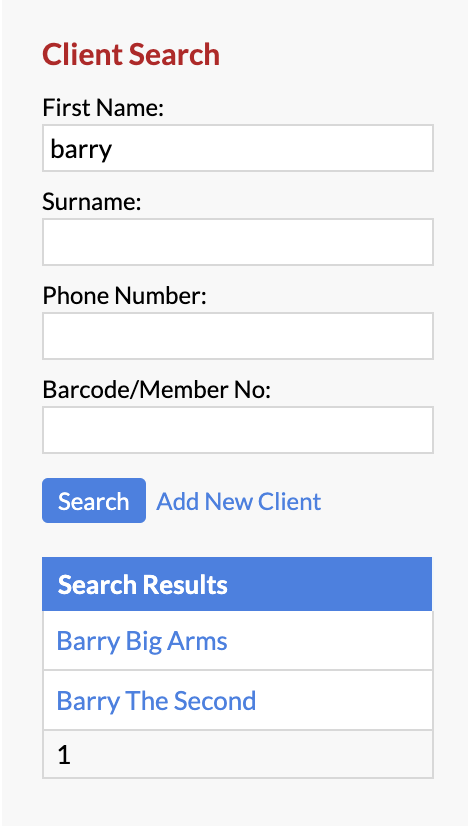 Click their name in the Search Results to go to their Client Card (the client that you want to keep).
Select the Actions menu, and click Merge Client (towards the end of the Actions drop-down menu):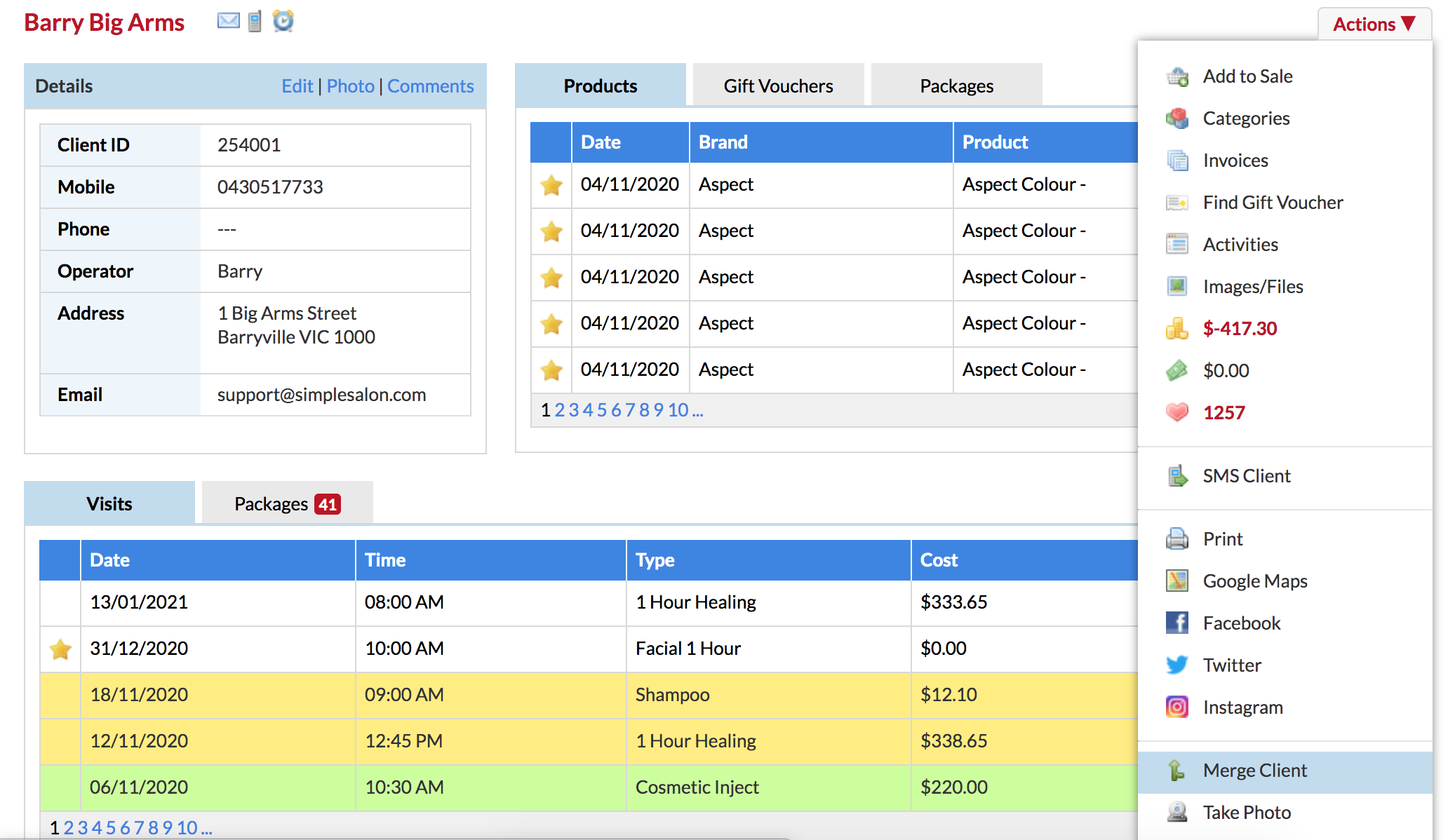 On the right side panel, Client to Keep shows and links to the client card you're in right now:

Now to find the second account to merge with this account.
Enter the client's name again to find the duplicate.
You can click on their name in the search results to the right if you want to double check the account: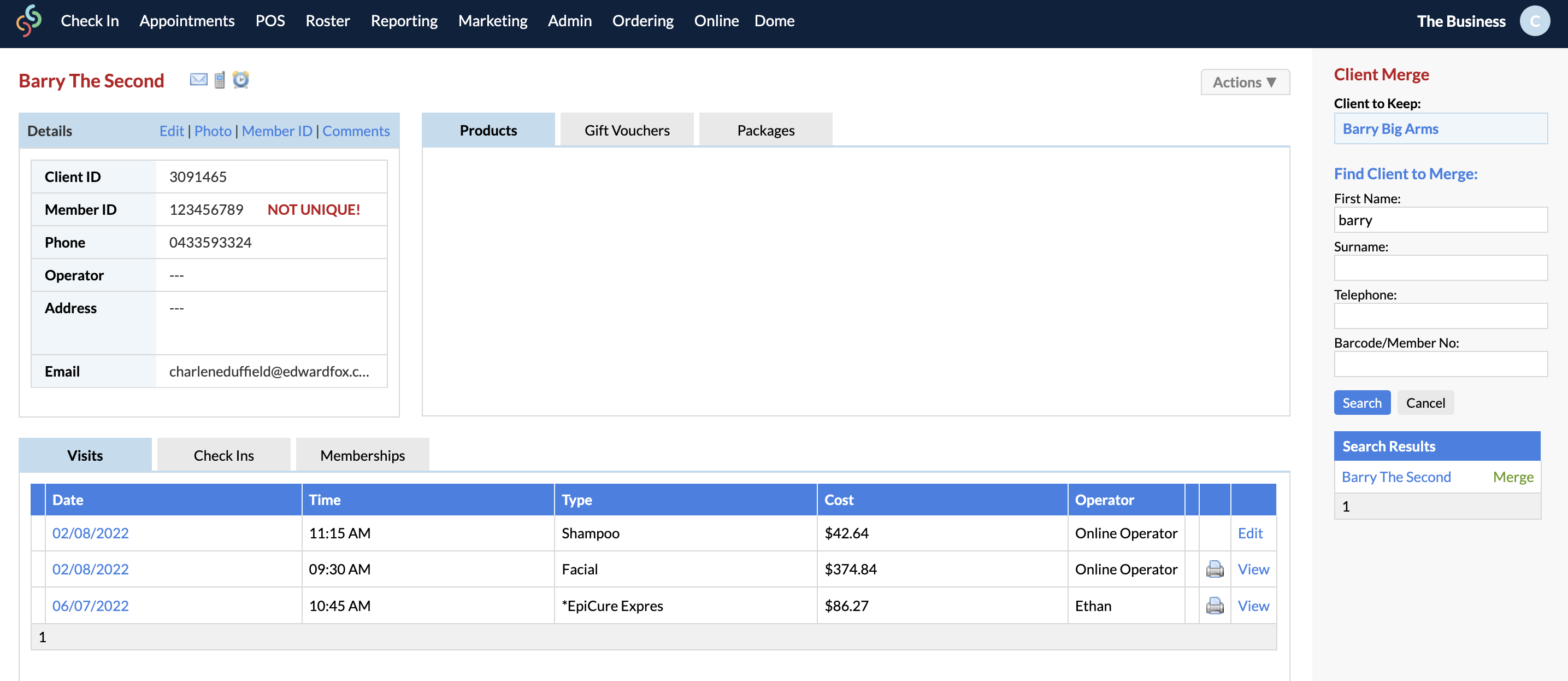 Then, click Merge next to the client's name in the Search Results. This is the duplicated account that we want merged into the main account.
The below pop-up will appear: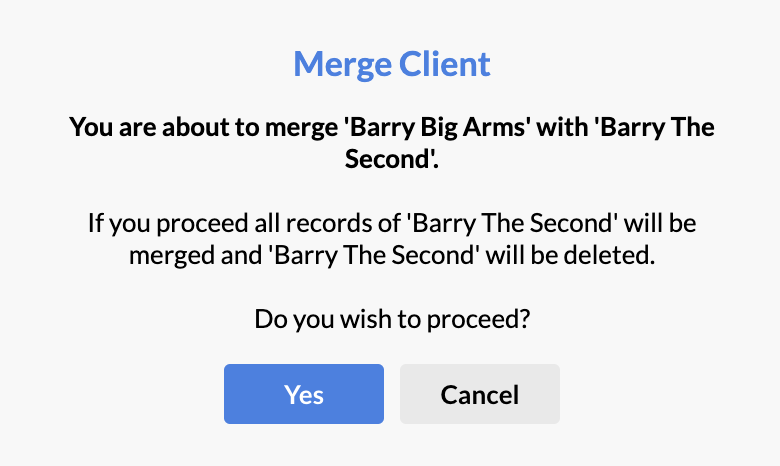 Click Yes when you're sure you would like to merge the clients.
Now all of the client's personal details, product history, service history, history notes etc are in one place.
Notes:
If you search for the deleted client and they appear in the search results, this means the merge isn't completed. You'll need to wait another minute or so before you search for them again. Once the merge is complete, the deleted client will no longer appear in search results.
It's not possible to undo a merge, so please double check you are merging the correct clients. The client whose records are deleted can be undeleted, however, data such as past visit history, product purchase history etc will have been permanently merged with the other client. The only data remaining after undeleting a previously merged client will be contact details.
If you have any questions, please send them to us via the Submit a Request option in your Help & Support page.