Need to change your password? Need to create login details for your staff? Need to delete a user? The video above will give you a quick overview, and the steps below will go into a little more detail.
Here is everything you need to know about creating, editing and deleting your users in Simple Salon.
A user is someone who has access to your Simple Salon account with a set of login details—username and password. You can manage your user access and dictate how much of the system each user has access too.
Note: There are three user access levels: Administrator, Salon Manager, Staff. At the bottom of this article are the details for what each user can see when they log in.
Go to your Account page and you'll see the Manage Users section to the right.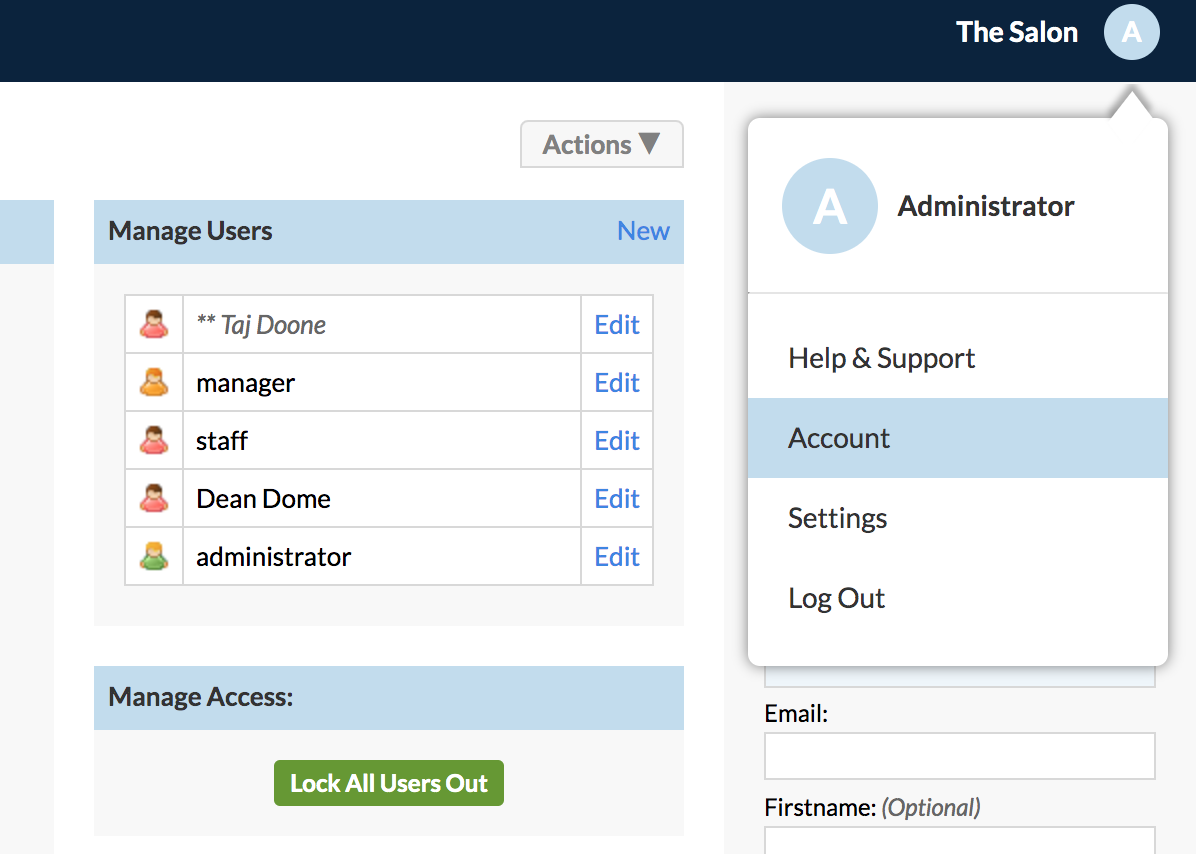 Creating a new user
Click New and fill out User Details on right side panel, and Save.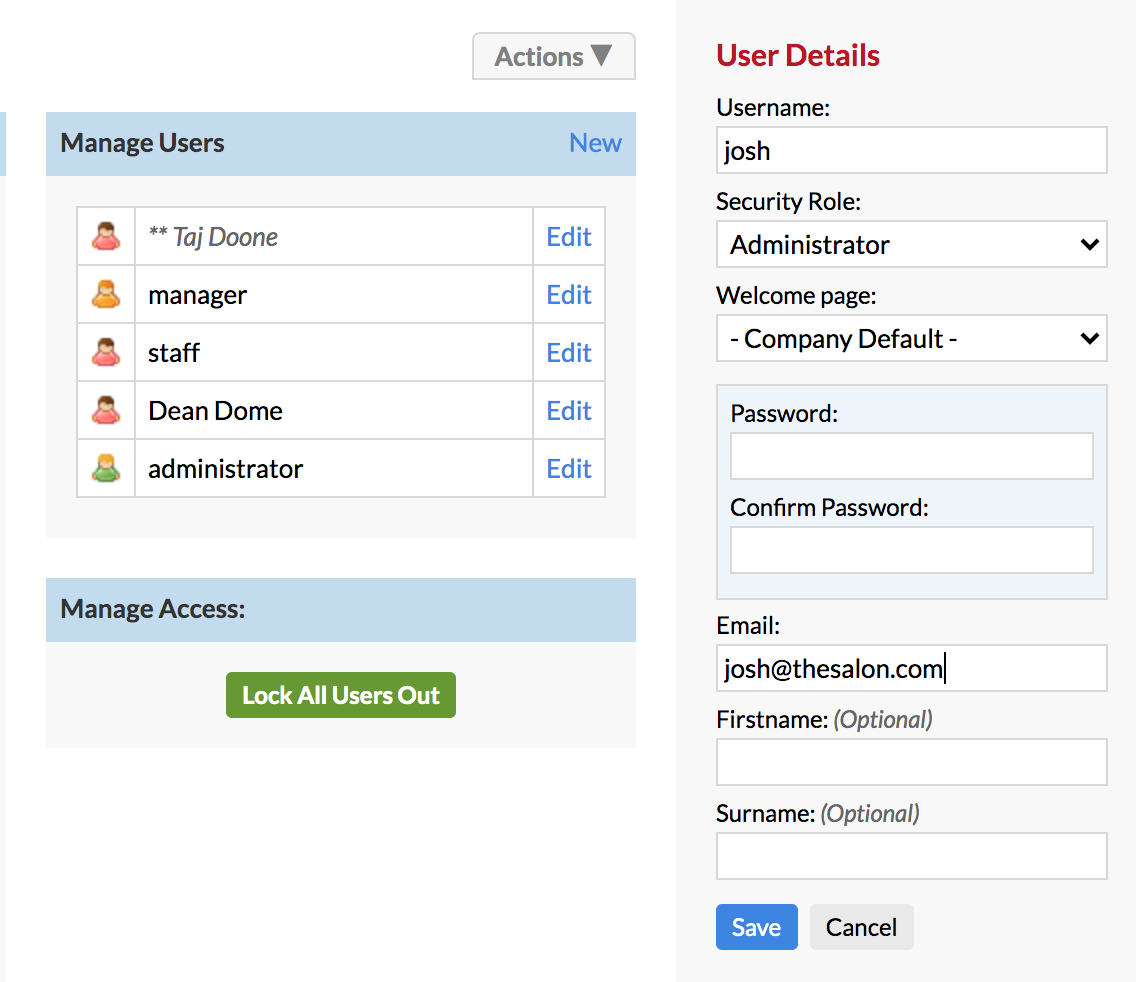 Changing the password for an existing user
Click Edit and tick Change Password on right side panel.
Enter a new Password, then re-enter it in the Confirm Password below.
Note: Remember all capital letters and spaces in password EXACTLY.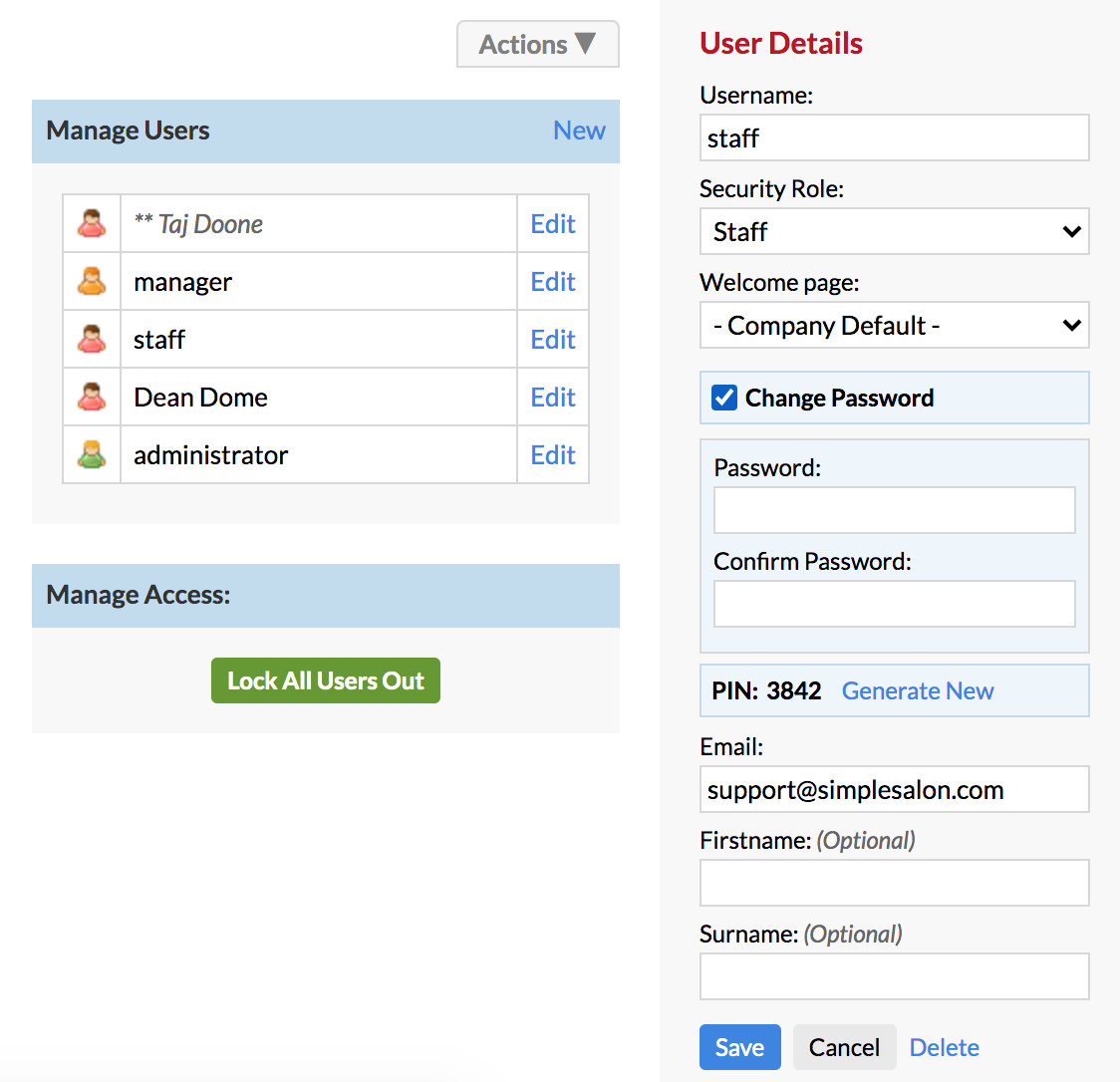 You will need to enter in an Email: as this is the email address used in the event that you, or your staff, forget their login details and they can click the Forgot Password link on the login page to retrieve their password. The password will be emailed to the email address enter in here.
Note: Each user should have their own login details, and their own email address to ensure that the password is sent to the individual.
Save these user details when you're done filling them out.
Create login details for all staff. Now check out the 4 Digit PIN Quick Login article for another quick way to sign in and out of your Simple Salon account throughout the day.
Deleting a user
Click Edit next to the user you wish to delete, and click Delete on the right side panel.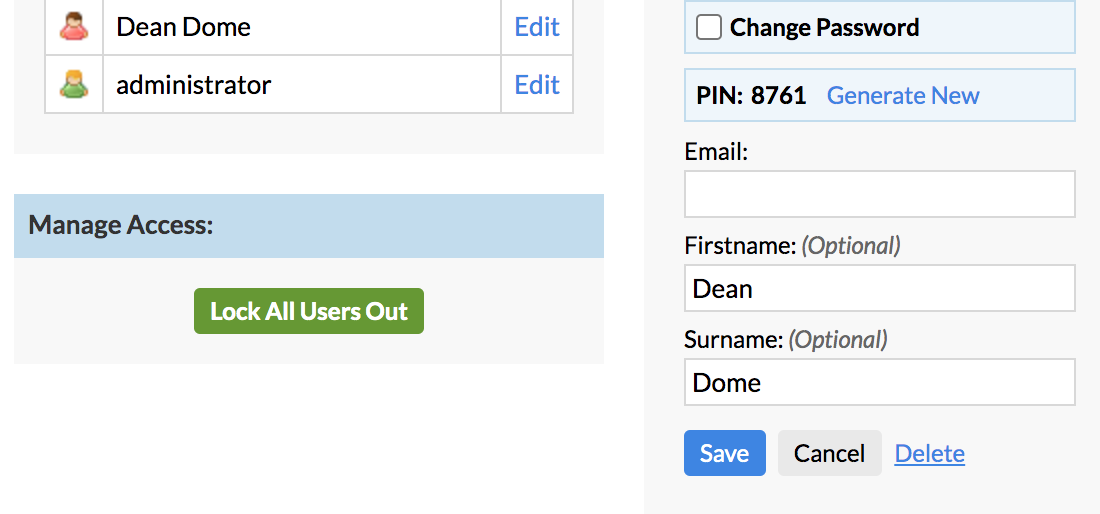 User Access
Administrator:
Has access to everything.
Salon Managers:
Has access to most areas, however, they don't have access to the following:

Global Lock Out Settings in Security Settings

Quick Login settings in Application Settings

Enable all clients for Loyalty Points setting in Loyalty Points Settings

Reward All Members with Bonus Points in Loyalty Points Settings

Enable all clients for Online Bookings in Online Bookings Settings
Staff:
Staff don't have access to Admin, Reports, Account or Settings. Therefore, staff can essentially make appointments, make notes/comments on appointments and clients, process sales via POS, view the roster but not change it, and Submit A Request via your Help & Support page.
If you have any questions, please send them to us via the Submit a Request option in your Help & Support page.