No more double entry required. With the Simple Salon integration to Quickbooks Online Accounting, your accounting processes have been simplified.
Go about your daily activities in Simple Salon and when it's time to close for the day, simply process your End-Of-Day session, as per the steps in your Advanced End Of Day article, and all your figures will be automatically transferred to your Quickbooks account.
We'll be going through:
Setting up your Quickbooks connection
Click the blue circle icon on the top right corner, and go to your Account page: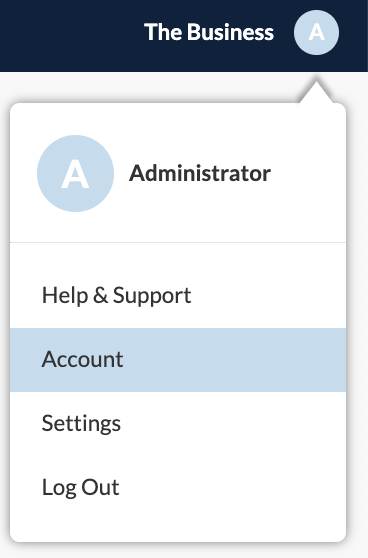 In the Actions menu, click Quickbooks.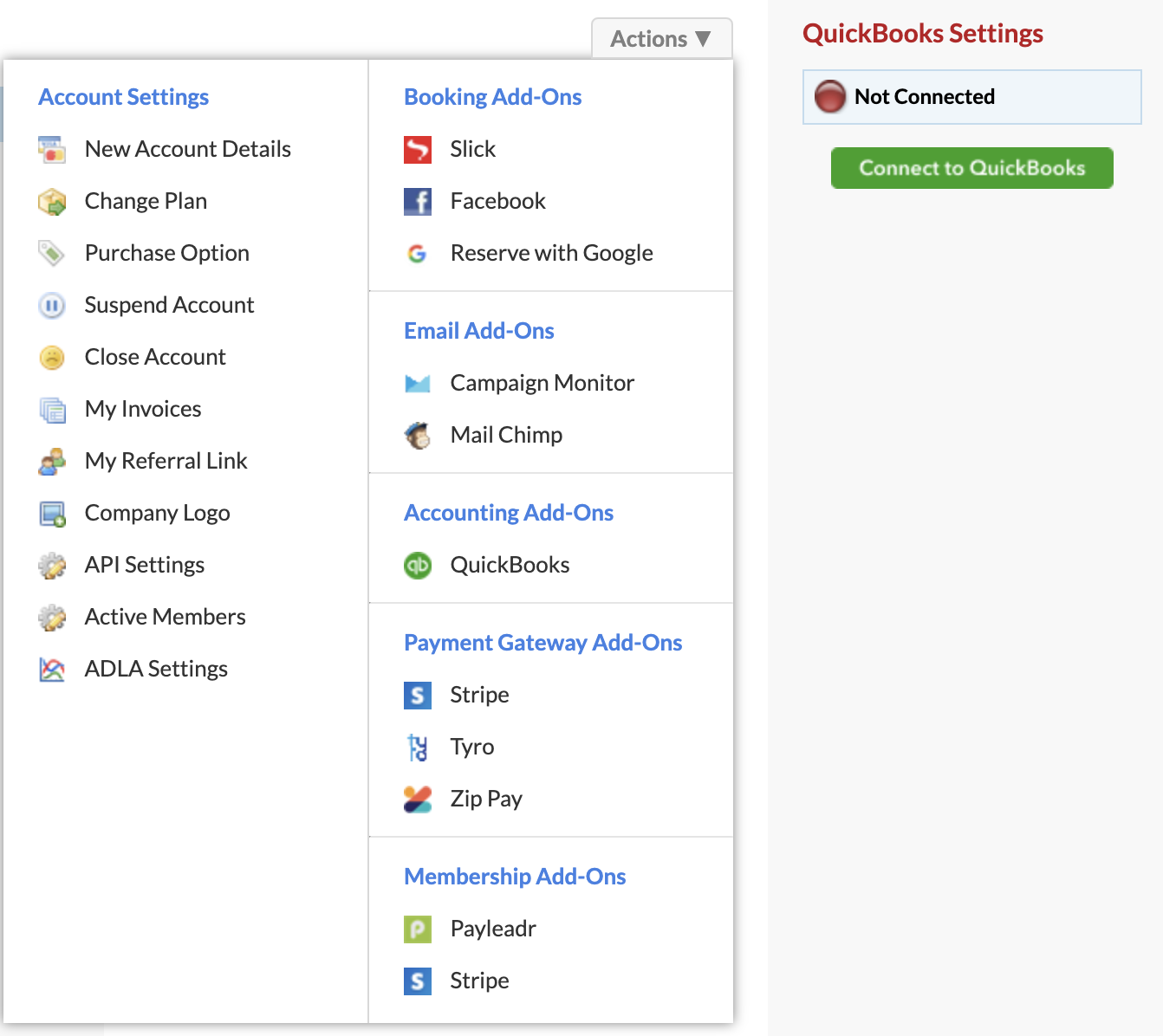 Click Connect to Quickbooks to get started.
If you don't have an account yet, simply click Create an account. Otherwise use your existing Quickbooks login details to Sign In.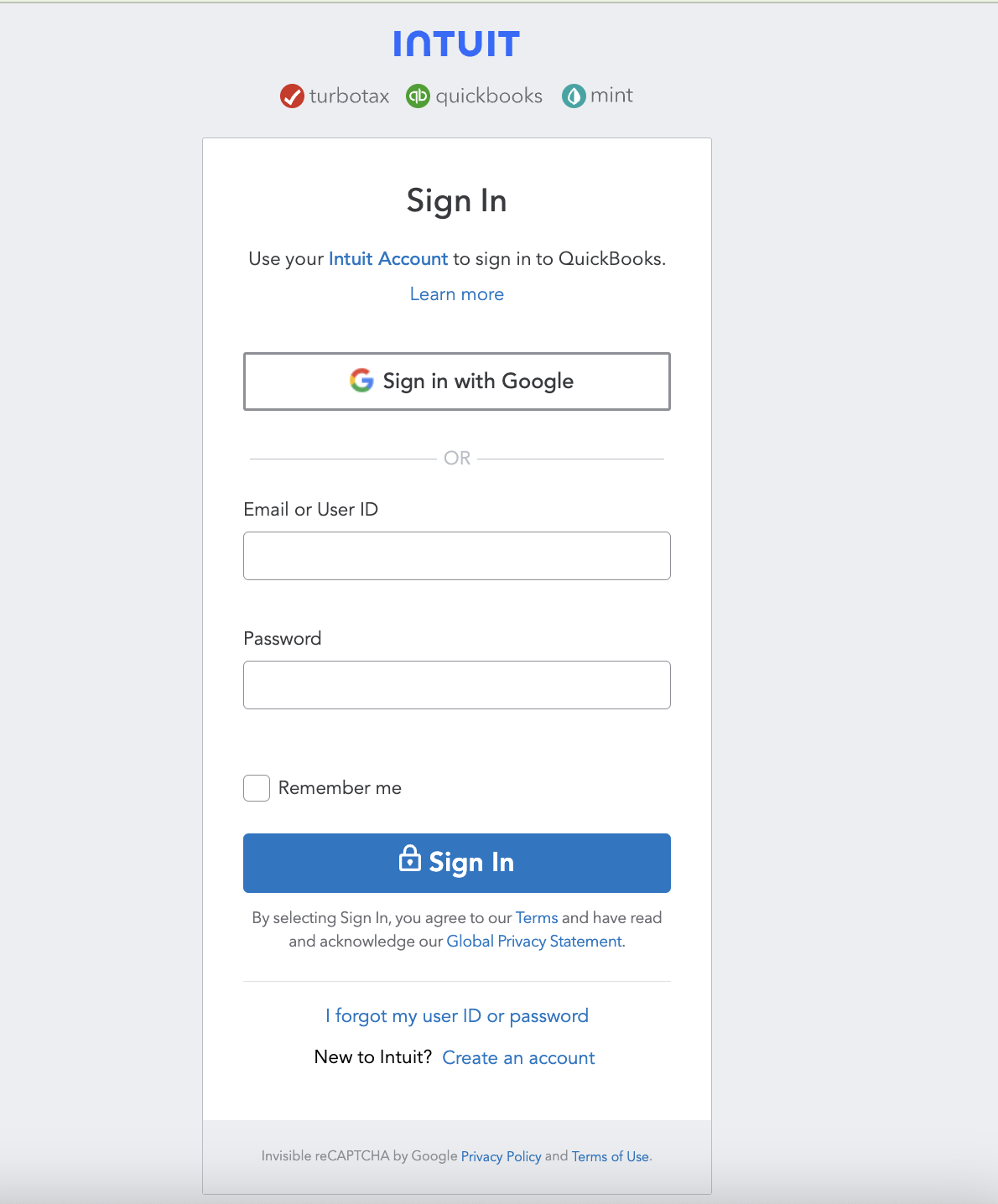 After you've logged in successfully, click the Connect button to link Simple Salon and Quickbooks: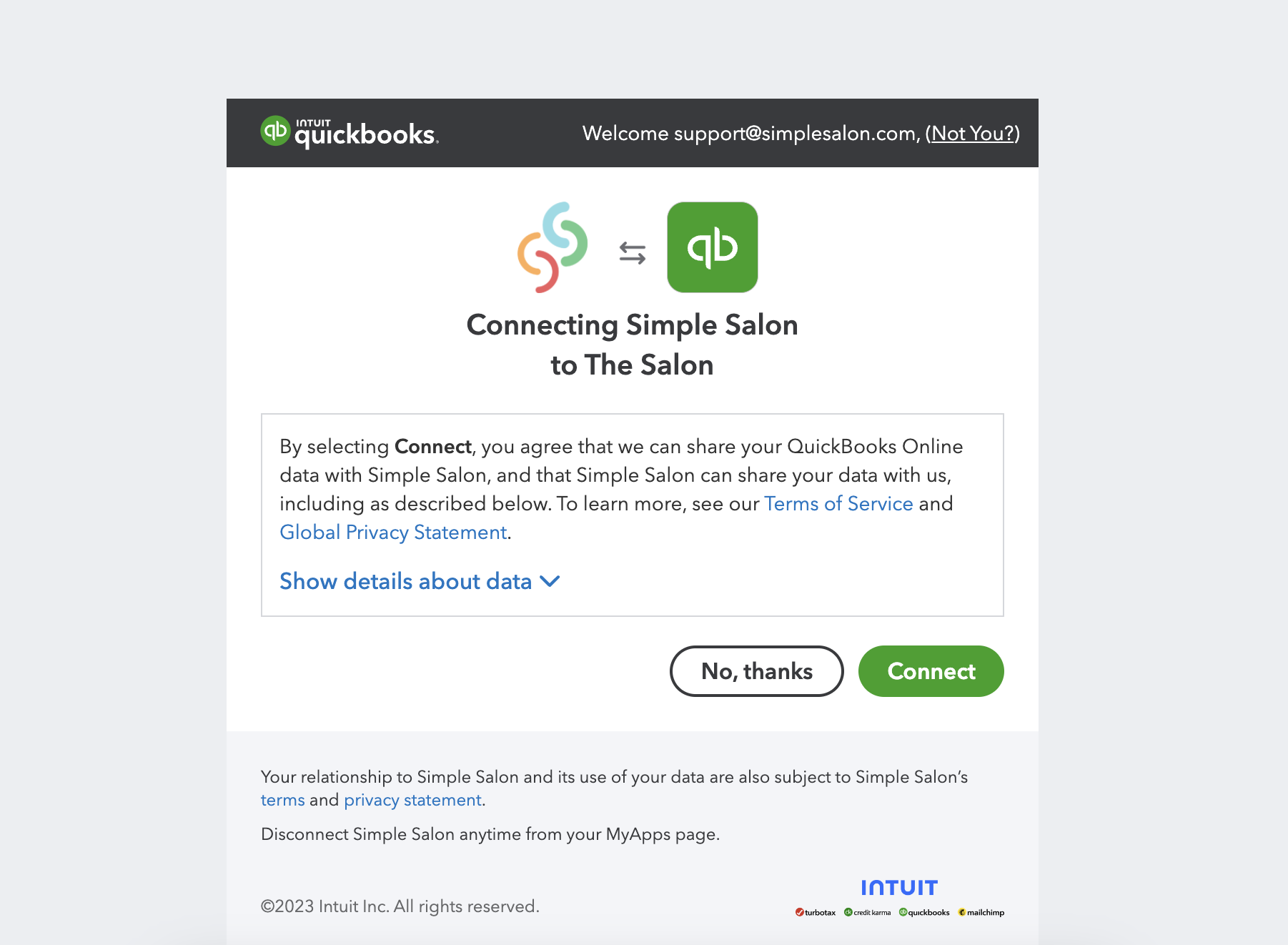 You'll be redirected back to Simple Salon, where you'll be Connected: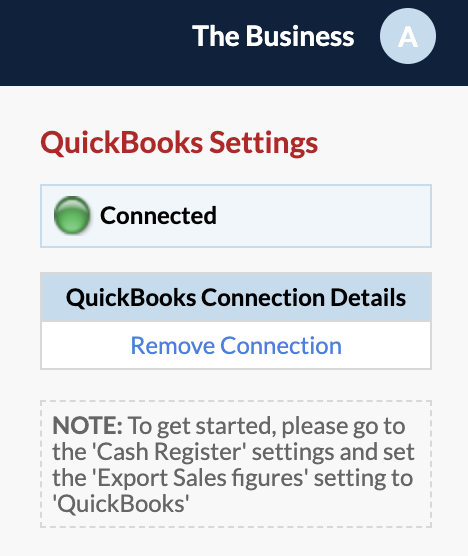 Now go to Settings: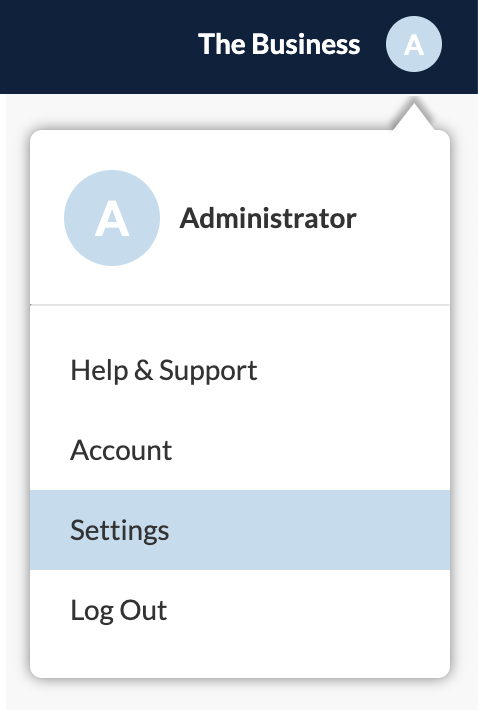 Select Cash Register (POS). Go to the Export Sales figures to setting, and select Quickbooks. Click Save.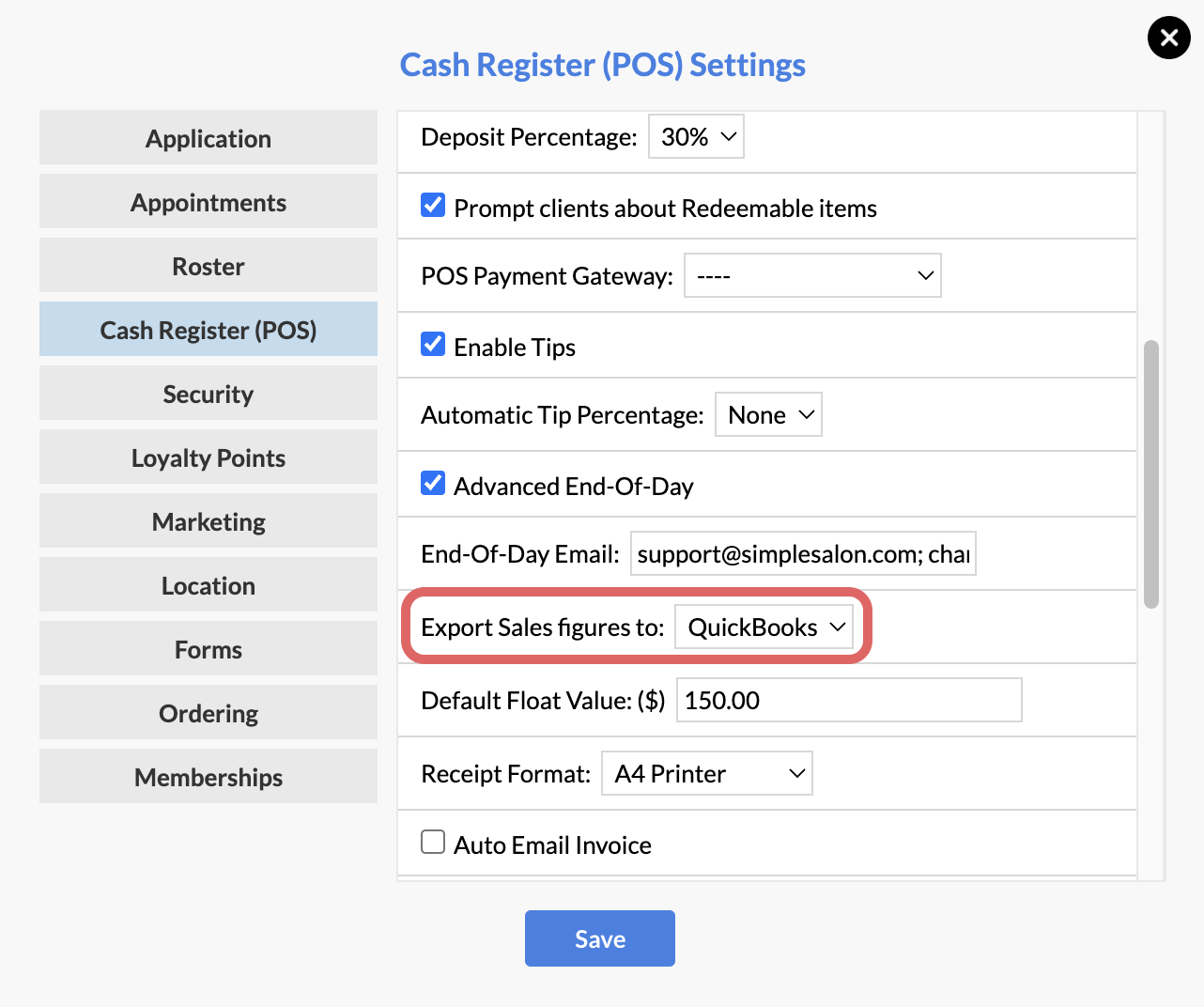 Now go back to your Quickbook settings via Account > Actions: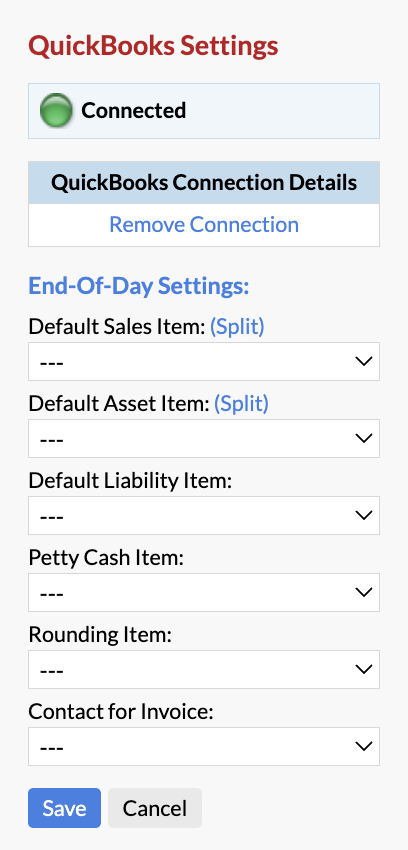 You'll now see the End-Of-Day Settings become available for setup. Each of these menus must be setup so that your End of Day report data gets sent to Quickbooks. We'll go through the settings in the next section!
End-Of-Day Settings
Default Sales Item
This is where your sales revenue gets sent. Revenue is in regards to what you sell in the salon (i.e services, packages, products & tips).
For example, if your business made $1000 that day, this is where the $1000 will go when it is exported into Quickbooks.
This can just be one account in Quickbooks, or broken down further using the (Split) button. That would mean you need to create a sales account for each (services, packages, products & gift vouchers).
Select (Split) next to Default Sales Item, to display the advanced options: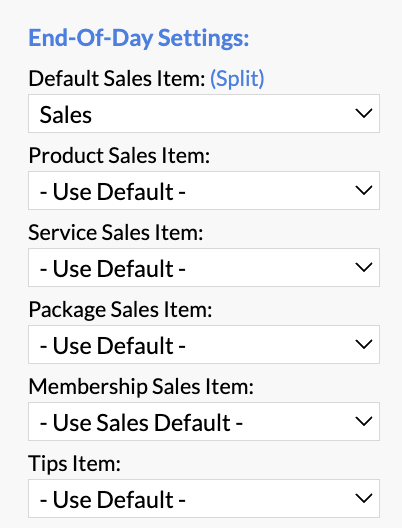 Product Sales Account—this is the account in Quickbooks where you would like all of your Product Sales to go.
Services Sales Revenue—this is the account in Quickbooks where you would like all of your Service Sales to go.
Package Sales Revenue—this is the account in Quickbooks where you would like all of your Package Sales to go.
Tip Account—this is the account in Quickbooks where you would like all revenue made from Tips to go.
Click the (Split) again next to Sales Account once you have filled out all of the advanced options.
Default Asset Item
This is referring to how those sales revenue are accounted for. ie Cash, Credit EFTPOS etc (all the different types of money that is received by your business through different payment methods).
The difference between this option and "Default Sale Account", is that sales is the revenue that came in, and the asset is how they came in.
Default Liability Item
This refer to outstanding invoices, gift vouchers, outstanding package items i.e. all of your liabilities.
You can click (Split) to add a different Invoicing Item.
Contact For Invoice
This is 'Simple Salon' - but you will first need to create this as a customer in your Quickbooks account. Click here to learn how to create the 'customer' in your Quickbook account first, then you will be able to select it from the 'Contact For Invoice' drop-down menu:

Once you have filled out ALL drop-down menus, click Save.
Sending figures from Simple Salon into Quickbooks
At the end of every day, you will need to run the Advanced End Of Day process. This ensures that your figures are automatically sent from your Simple Salon into your Quickbooks account.
You can also manually send figures into Quickbooks after performing the Advanced End of Day process. Go to Reporting, then into your Report List. Scroll down and choose the End Of Day Report.
If an invoice has already been exported to Quickbooks, the Export Status will display as Exported. Clicking the Exported link will take you over to the invoice in Quickbooks.
If an invoice has not been exported to Quickbooks yet, the Export Status will instead display as Export to Quickbooks. Click Export To Quickbooks, then click Yes when prompted. This will send the invoice over to Quickbooks.
Notes:
1) This article assumes that you have already setup Quickbooks with the appropriate accounts. If you haven't set them up yet, then the default Quickbooks accounts will be displayed (and thus may not be appropriate or relevant to you). We'd recommend going through Quickbooks with your accountant first. Once Quickbooks is appropriately configured, you'll be able to select your accounts from the End-Of-Day settings drop-down menus in Simple Salon as above.
2) If any of the End-Of-Day Settings menus still say "---", you need to ensure you select the appropriate Quickbooks account. Each of the menus in End-Of-Day Settings must be setup, otherwise the connection to Quickbooks won't work.
If you have any questions, please send them to us via the Submit a Request option in your Help & Support page