You've finished pampering your client, well that's if we consider a 1/2 Leg Wax a pampering experience. They are pleased with their new found smoothness and are ready to pay you. Upon adding the client to the sale they present you with their Gift Voucher, which they would like to use to redeem their service. In this instance, it's a Service/Product Type voucher and it's for a 1/2 LEG Wax. Excellent, seeing that that is precisely what they've had, they can most certainly use their voucher to pay for this service.
Paying for Services or Products using a Service or Product Type Gift Voucher
In the Appointments page, click the client's name on their service and Add Client To Sale. The client and their service will be listed in POS.

Click Receive Payment and the Payment Type window will pop up. Select the Gift Voucher button and you'll be prompted to enter in the VOUCHER ID and click Find.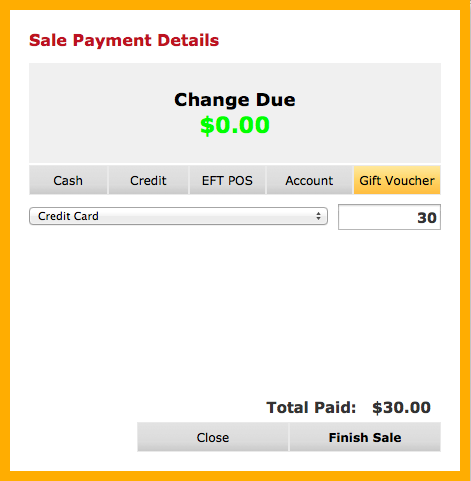 If you've made all the right moves thus far, the VOUCHER ID should be written on the physical voucher which the client hands you. This is the ID which needs to be entered into the Enter Gift Voucher ID section.
The remaining value or service/product on the voucher will display and you can Continue when you are ready to proceed.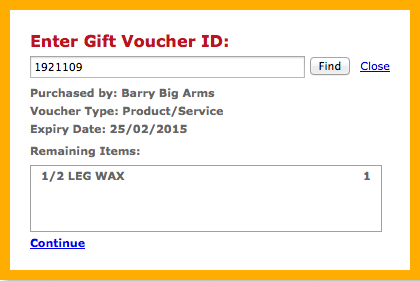 Finish Sale and you're done. This transaction will be recorded in your Sales Report as a redeemed gift voucher and your figures will adjust accordingly.
Paying for Services or Products using a Cash Type Gift Voucher
Of course, if the voucher is a Cash Type Voucher, the steps are the same. However, the cash voucher (i.e. $100 Gift Voucher) can be used for any service or product to the value of the voucher.
The vouchers can be redeemed over time. The whole value doesn't have to be redeemed in one sale. You can continue using the same VOUCHER ID until all remaining value and services/products have been used.
Check out your Gift Voucher Report and your Liability Report, as these reports track all of your vouchers.
If you have any questions, please let us know via the Submit a Request option in your Help & Support page.