The key to operational efficiency often lies in fine-tuning your point-of-sale (POS) system. Customising your POS settings allows you to tailor the system to your unique needs, enhance your customer's experience, and streamline operations. In this article, we'll go into each of the cash register (POS) settings available to you.
To access these settings, go to Settings (by clicking the blue circle icon on the top right corner) and click on Cash Register (POS) Settings.
Re-Book Reminder Enabled——tick this and a rebook reminder will pop up at the end of every sale
Re-Book With Applied Discount—tick this if you have discounted the client's current appointment and you would like that same discount applied to the client's next appointment when you rebook it
Enable Advanced Discounting—lets you create and apply special discounts. Click here to learn more about the Advanced Discounting feature
Receipt Printer Attached—allows your Simple Salon to talk to your printer (receipt printer or regular A4 printer)
Force Operator At Sale—allows you to appoint and select a particular operator in your point of sale page, if they are the one who is selling a particular product or service
Lock Visit Comments—allows you to permanently lock the comments on a visit to disable any further editing
Auto Scan—tick this and the scanning option will automatically come up at point of sale, this is great if you regularly scan items
Payment Gateway—select the payment gateway for taking payment via card e.g. Tyro.
Enable Tips—allow tips to be added to sales
Automatic Tip Percentage—automatically apply a percentage tip to every sale
Advanced End Of Day—this allows you to balance your cash drawer at the end of the day and reset the float for the following day. The session will also generate a comprehensive End of Day Summary Report which summarises everything you did that day
End-of-Day Email—the email address you'd like your End of Day Summary Report emailed to
Scroll down in your Cash Register Setting screen to continue on.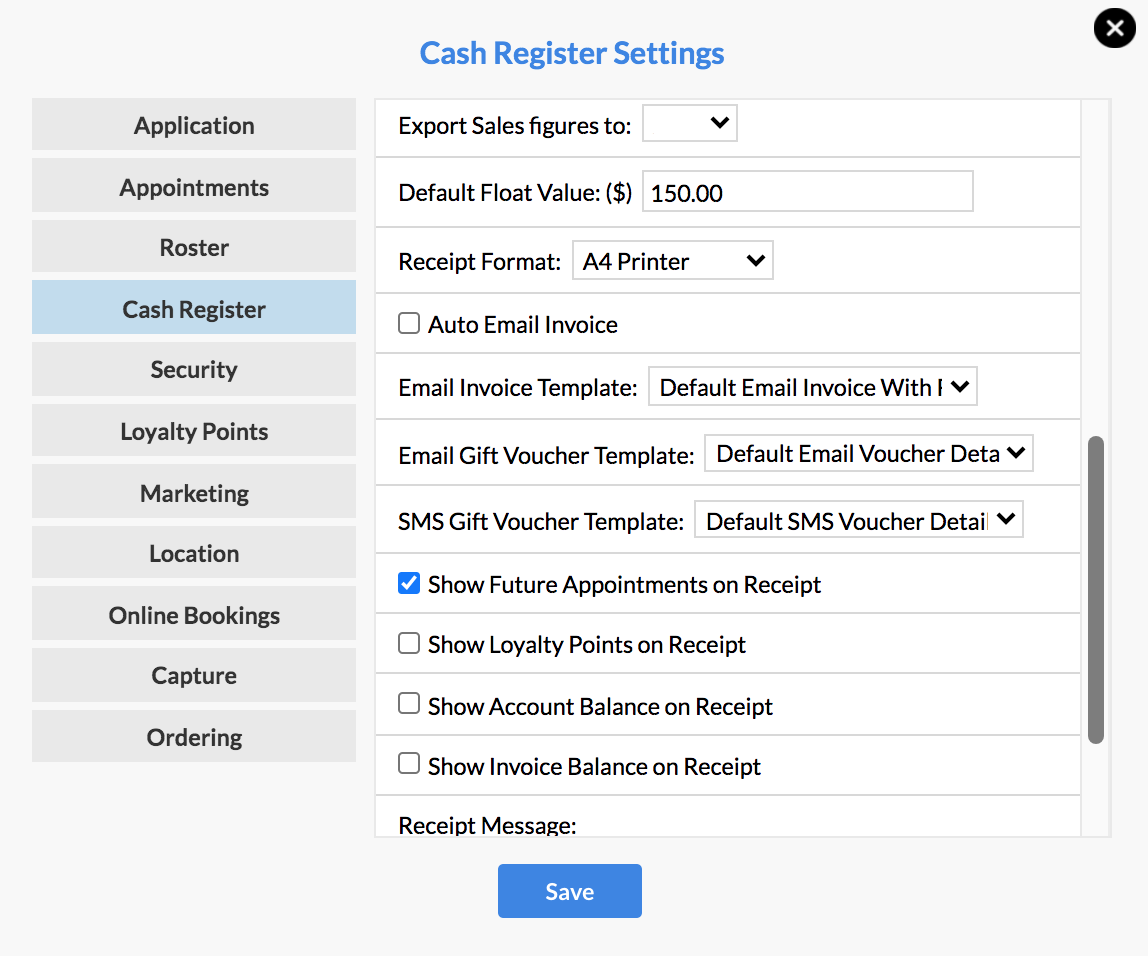 Export Sales Figures To—If you have connected to Quickbooks, this is where you will come to ensure your sales figures are exported to Quickbooks.
Default Float Value: ($)—at the end of the End Of Day session your float will be reset to this amount
Receipt Format—this sets the format for printing receipts, either A4 or receipt
Auto Email Invoice—if you tick this, at the end of the transaction the system will automatically email the client their receipt.
Email Invoice Template—select the email template to use when emailing invoices.

Email Gift Voucher Template—select the email template to use when emailing gift vouchers.
SMS Gift Voucher Template—select the SMS template to use when sending gift vouchers via SMS.
Show Future Appointments on Receipt—will display the customer's next appointment on their receipt
Show Loyalty Points on Receipt—if you have a Loyalty Points program set up, you can tick this option and clients will be able to view their loyalty point total on their receipt
Show Account Balance on Receipt—tick here to include account balance on receipt.
Show Invoice Balance on Receipt—tick here to include outstanding invoice balance on receipt.
Receipt Message—the message you want displayed on the client's receipt
If you have any questions, please send them to us via the Submit a Request option in your Help & Support page.