Your Simple Salon provides you with various client groups to market to via your Marketing section. You can target clients who came in, clients who didn't, first-time clients or recurring clients and many more.
Your marketing opportunities don't end with our suggestions, though, you can tailor-make and customise your very own unique client lists. You can add and remove clients manually from these lists. When you're happy with your list, send these clients an SMS and/or email to offer them a specially suited promotion just for them.
Creating Client Lists and Using the 'Add To List' Option
To create a list, you will first need to go to Marketing and start with one of the options there: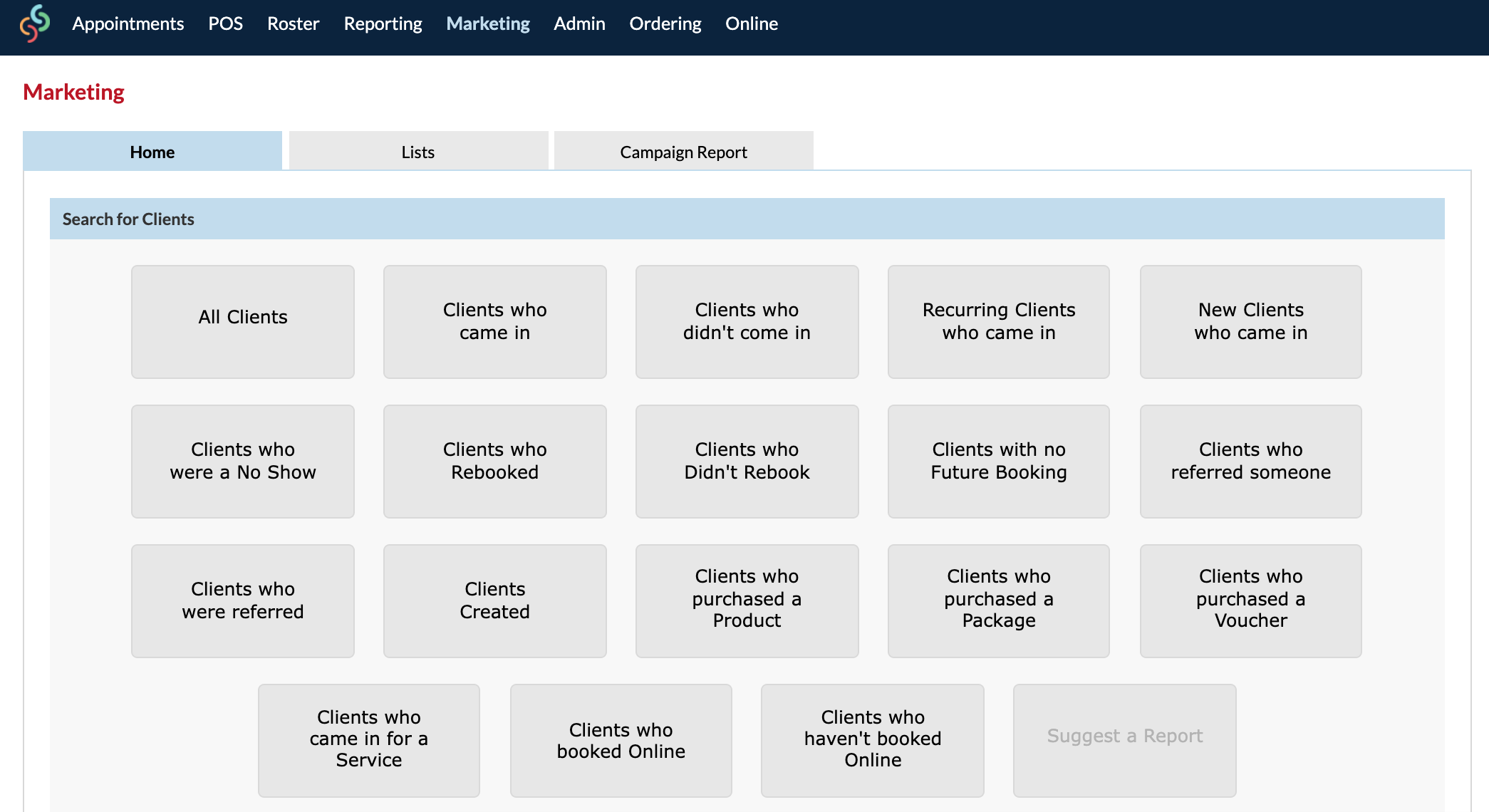 In this example, we'll be using the Clients Who Came In For A Service option. However, the below instructions will be similar no matter what Marketing option you choose.
On the right side panel, select your date range and use the drop down menus to filter the search accordingly:

Next step is to add these clients to a list (you can de-select any clients that you don't want to be added to the list).
Click Add To List and give the list a name: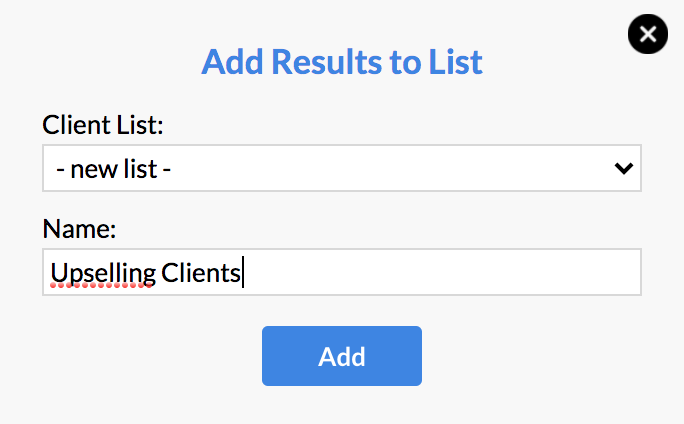 These clients will now be added to this new Marketing List. This list and any others created can be accessed from the Lists tab in Marketing:

Once you've created a list, you can select the Send SMS or Send Email button to craft custom promotional material or send updates:
Customising a Client List Using the 'Remove From List' Option
To remove a client from a Marketing List that you have created, go to Marketing > Lists, and select the relevant option.
From here you can select the clients you would like to remove, then when you're ready you can select Remove Client/s from List: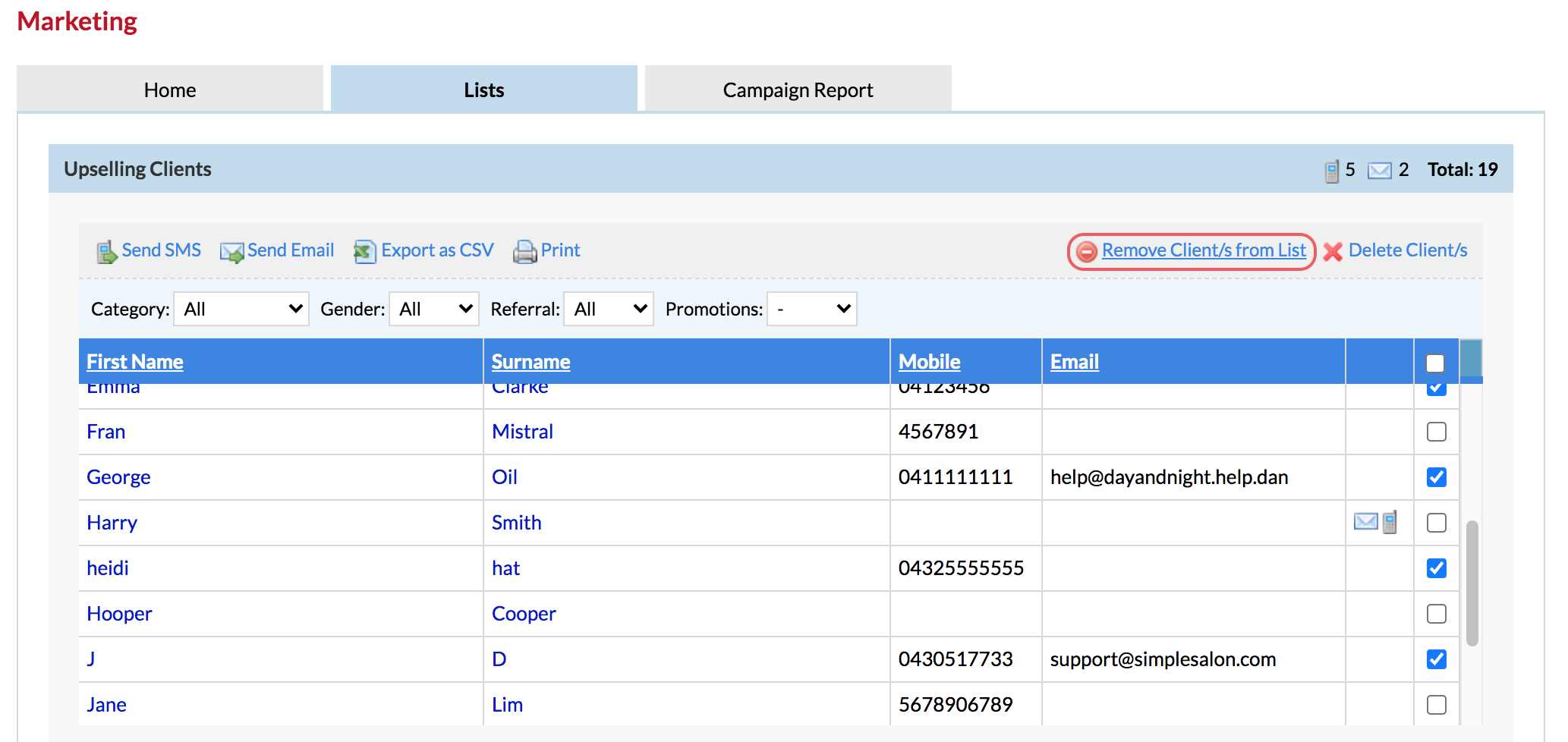 You can also Delete Client/s you no longer want on your client list from here, but they can be un-deleted at anytime if you make a mistake!
Get creative with your marketing lists! Think up ways to use the Add To List and Remove From List options to tailor your unique client lists to ensure that no one flies under the radar. Keep your clients coming back, and get them coming in for more.
If you have any questions send them to us via the Submit a Request option in your Help & Support page.