If you have enabled the Advanced Discounting feature, you have access to using the Advanced Discount Report!
This report allows you to track all of your Discount Types and see specifically who applied these discounts. You can see how many times a particular discount was used and the total value of the discount applied. Furthermore, you can see exactly which clients received a particular discount, or which items had a discount applied to them.
Please note, if you have not enabled Advanced Discounting, then you will not be able to use this report. This report will only be generated when Discount Types have been created and applied to items in a transaction. If you would like to take advantage of this feature, please checkout the following article:
Enabling Advanced Discounting and Creating Discount Types
To use the Advanced Discounting Report, simply go to your Reporting section, click on the Report List tab and open the Advanced Discount Report:

Once the report has loaded, you'll be given a list of all of your Discount Types. Simply enter in your specified date range to see how popular a particular Discount Type has been: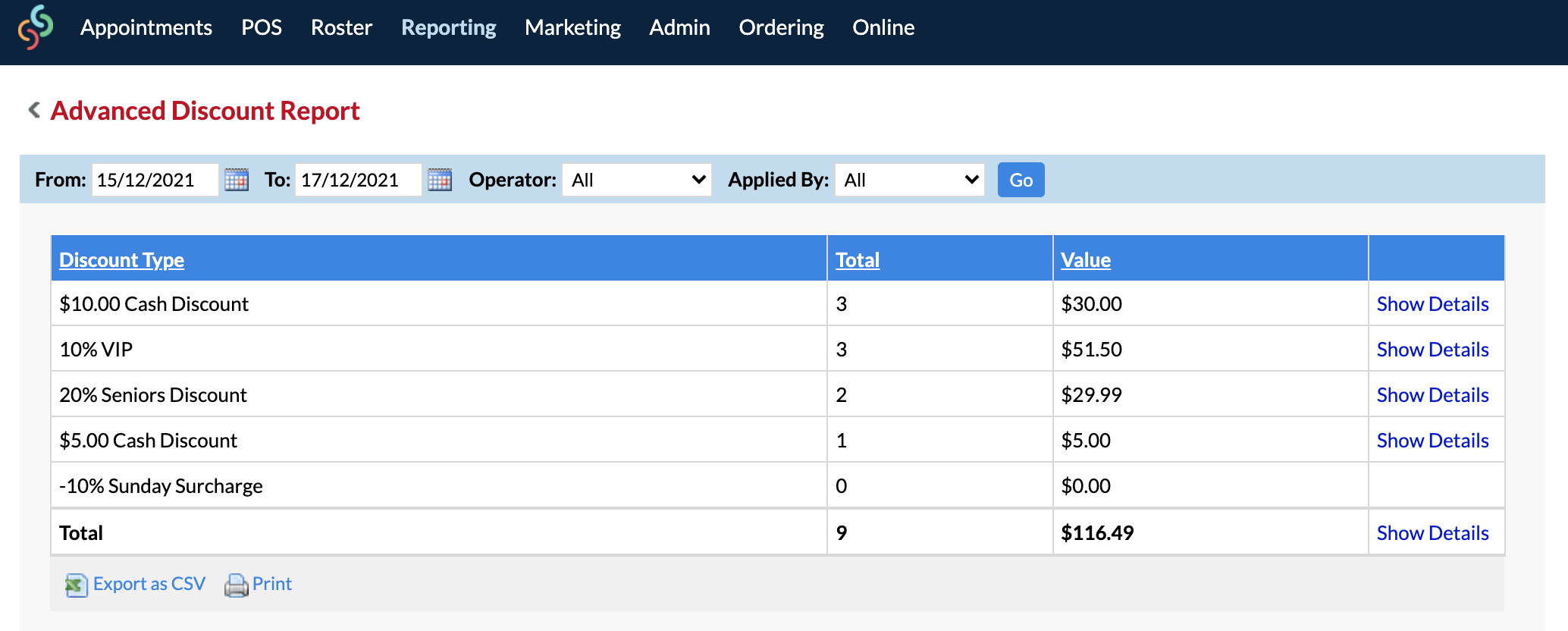 You can use the Operator drop-down menu to see all discounts that were given by a specific Operator:
The Applied By drop-down menu lets you see discounts that were applied by specific 'Users' (those with actual User logins).
For example, if you have 'staff' users, you can use this option to see which discounts were applied while logged in as a 'staff' user, as opposed to an 'administrator' user:

Selecting Show Details next to the discount will allow you to view further information in regards to Clients and Items:

Clients allows you to see who redeemed the discount type during the specified date period:

Whereas Items shows you specifically which items (such as Services, Products, Packages etc) had a discount applied to them. It will also show you the Operator that performed the discount, which user was logged in when it was applied as well as the exact time the discount was processed:

If you have any questions, please send them to us via the Submit a Request option in your Help & Support page.