You can opt to have clients pay for their online bookings one of two ways—Pay At Salon or Pay Upfront.
Pay At Salon
When Pay At Salon is active, your client's will book online and pay for their booking via any payment method when they come into the salon for their appointment.
Pay Upfront
Alternatively, when Pay Upfront is active, all clients will pay in full at the time they make their online booking. When you Accept the client's online booking, the full amount is charged to the client's credit card.
NOTE: For both options (Pay At Salon and Pay Upfront), your nominated credit card will be charged a small 3.9% transaction fee at the time you accept the client's online booking. To set up your credit card details, please click here.
Activating Pay At Salon or Pay Upfront
To set up Pay At Salon or Pay Upfront, go to the Online section of your Simple Salon account.
Go to the Admin tab, then expand Payment Settings.
Under the Booking Payment section choose either Pay At Salon or Pay Upfront and click Save.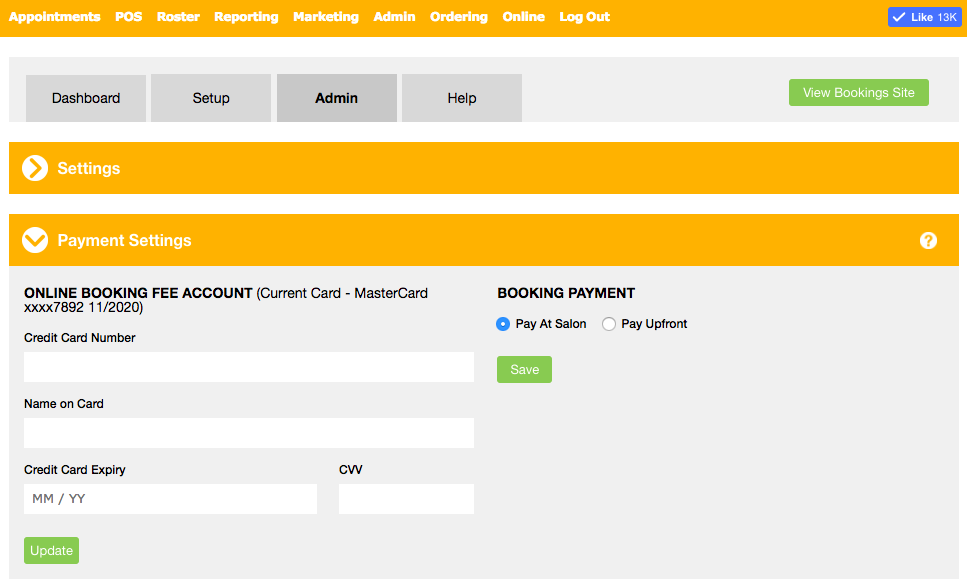 If you haven't already done so, enter a credit card under the Online Booking Fee Account section and click Update. This is the credit card which the 3.9% online booking fee will be debited from.
If you have any questions, please send them to us via the Submit a Request option in your Help & Support page.