As a Simple Salon customer, you get your very own mini-site for online bookings!
You get a location-based URL which can be added to the book online option on your website, and/or to your Facebook — Book Now button. You can also embed your online booking mini-site into a page on your business website.
The steps below will show you what it looks like for a client when they make an online booking. Clients can be on a computer, tablet or phone when they make online bookings. Your online booking mini-site is mobile responsive, which means the screen format will change to suit whatever device they are using.
Note: If you would like to see this process for yourself or do test bookings, you can go to Online, then select the View Booking Site button:

Creating an account and logging in
Customers will have a few different options when it comes to registering and signing in.
They can either decide to register with their email address and mobile number (by clicking Register Now), or they can connect with a social media option—such as Google, Facebook or Apple: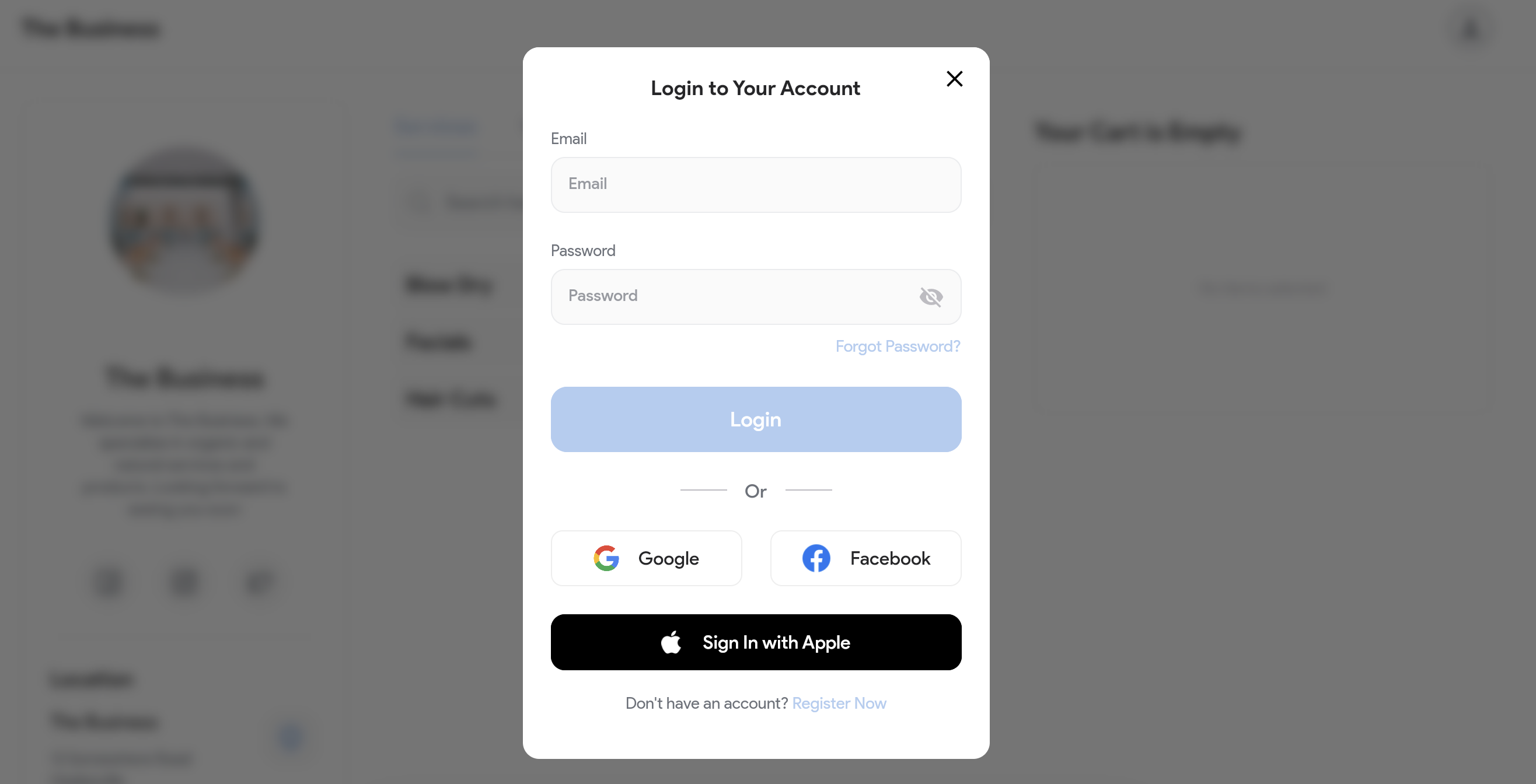 Whichever option they choose, they must continue to use the same option whenever they login.
When registering for the first time, the system will send a code to the client's mobile number. They will need to enter the 4-digit mobile code to verify their mobile number: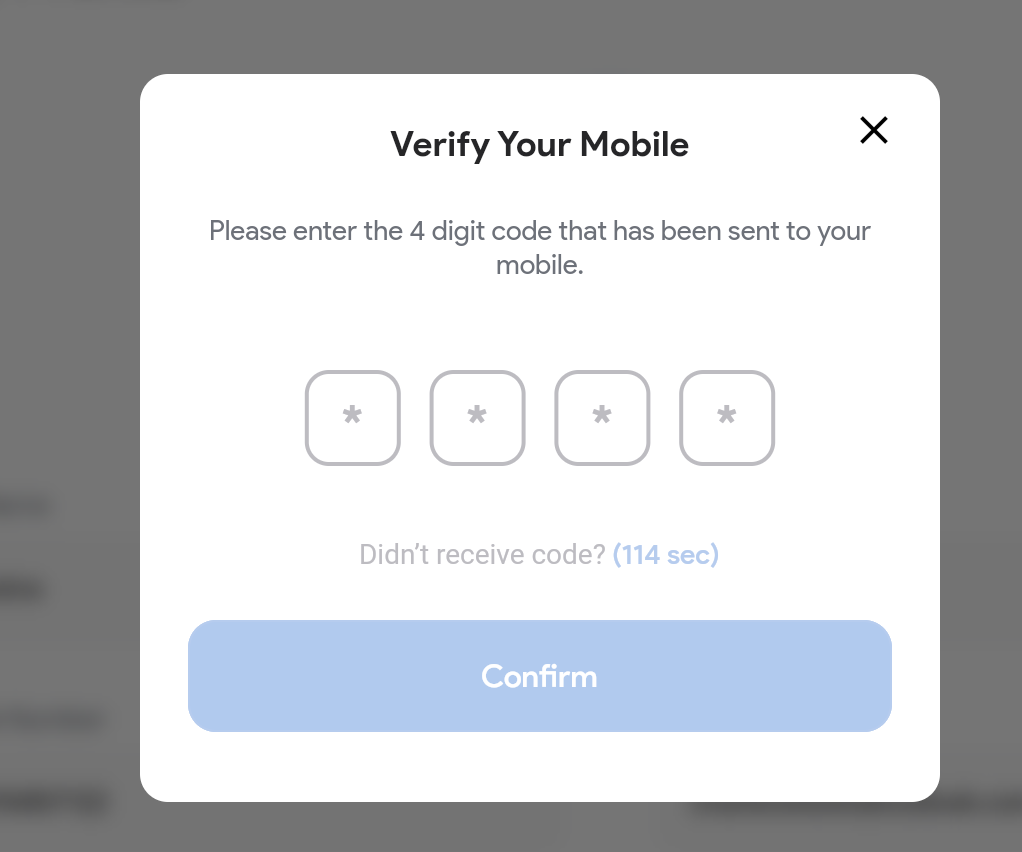 If the client is having trouble verifying, ensure that the client is correctly entering the code into the field.
The system will let the client know if they have successfully verified their mobile number: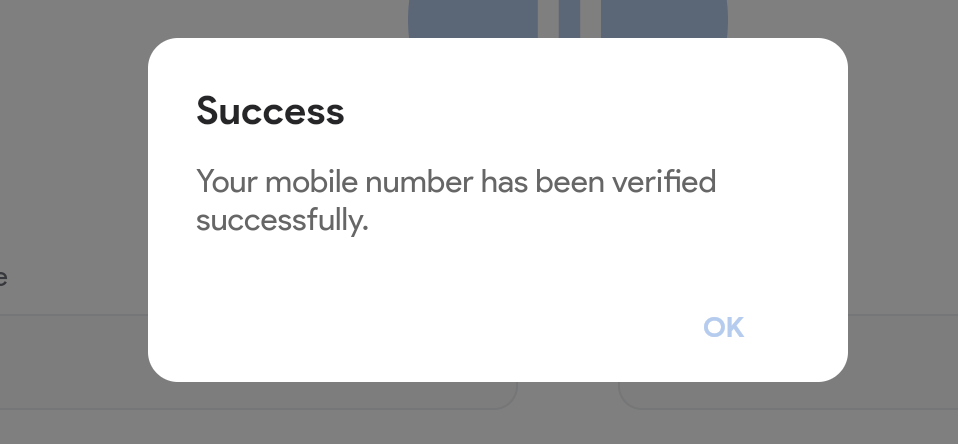 The system will also automatically send the client a verification email to their entered email address.
The system will notify the client when they have successfully verified their email address.
Making an Online Booking
When a client clicks/taps your website's book online option or the Book Now button on your Facebook page, here's what they'll see (but it will display your salon name, salon details, location, operators, services, availability etc):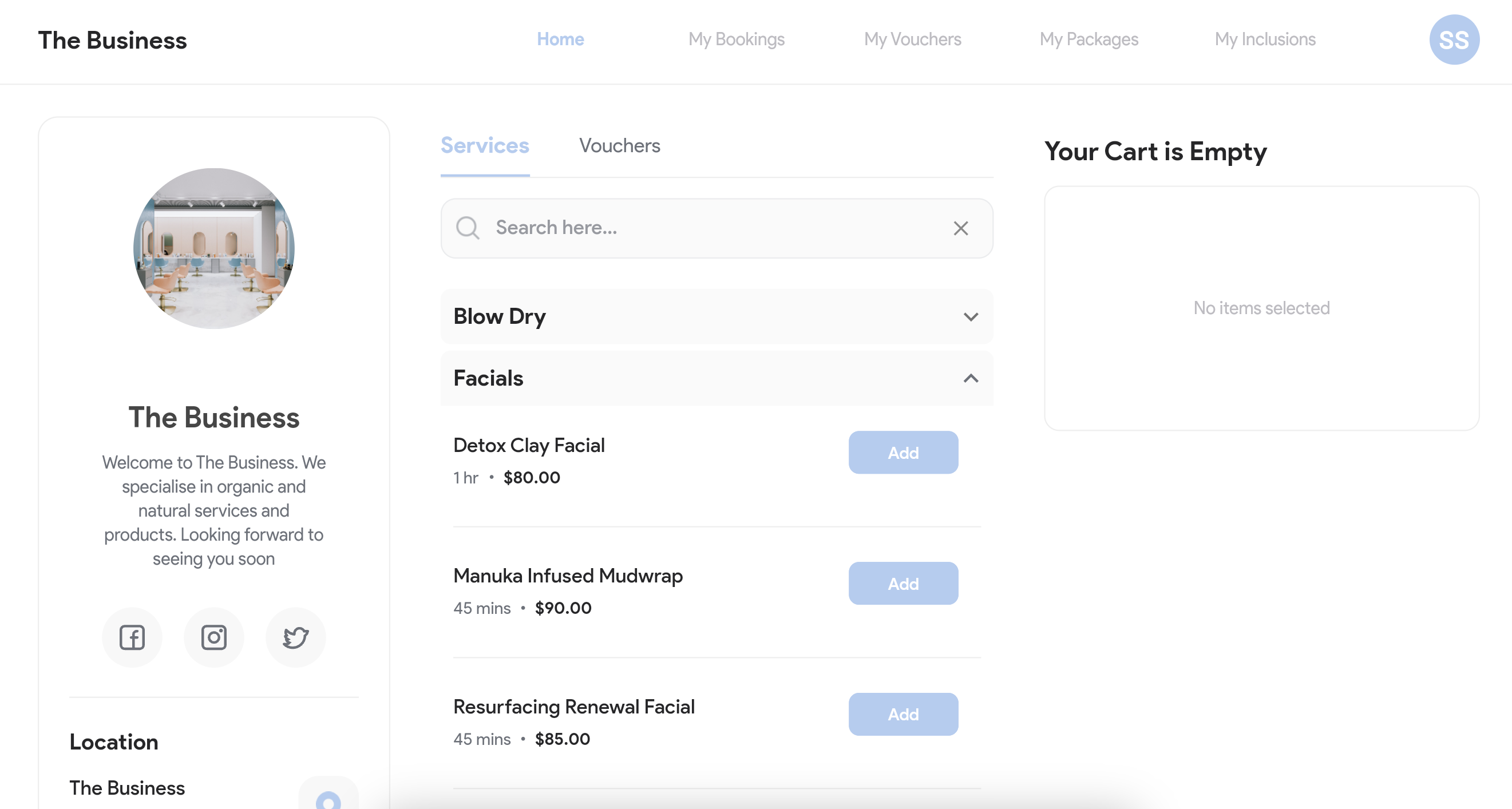 On a mobile phone it will optimize and will look like so: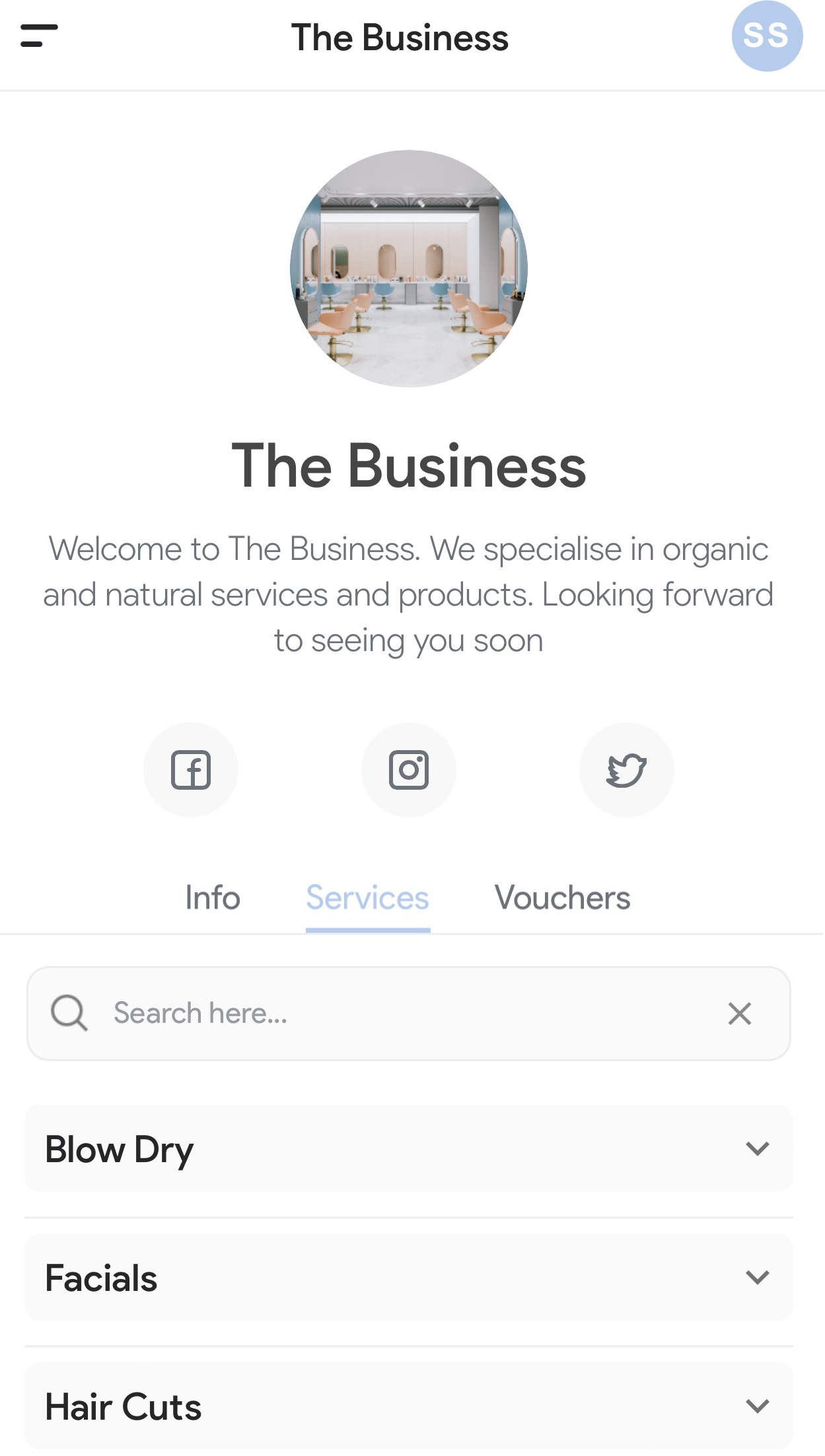 From the Home page, customers will see your Services list. (If you haven't set up your services for online bookings yet, please click here.)
Clients can seamlessly add multiple services from different categories to the Cart.
They'll simply click Add next to the service, and select an Operator: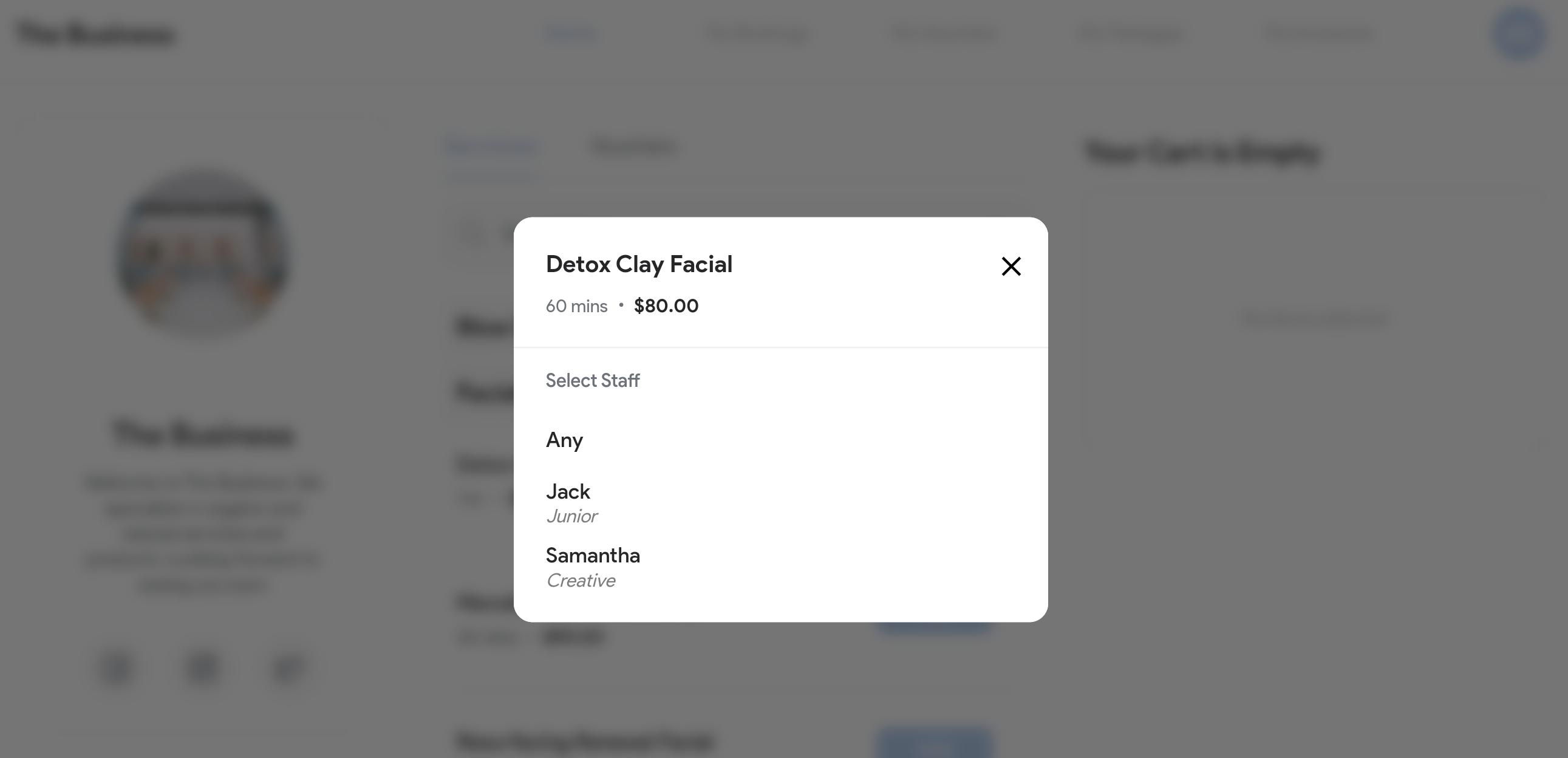 The service will be added to the Cart, and clients can continue to add multiple services:
Once happy with their selection, they'll select Pick Date & Time.
The next steps change slightly, depending on if you have Pay in Person, Pay in Full or Pay Deposit enabled.
If you have Pay in Person enabled, the customer will choose their time and date, and they'll complete the booking by selecting Book Now & Pay in Person: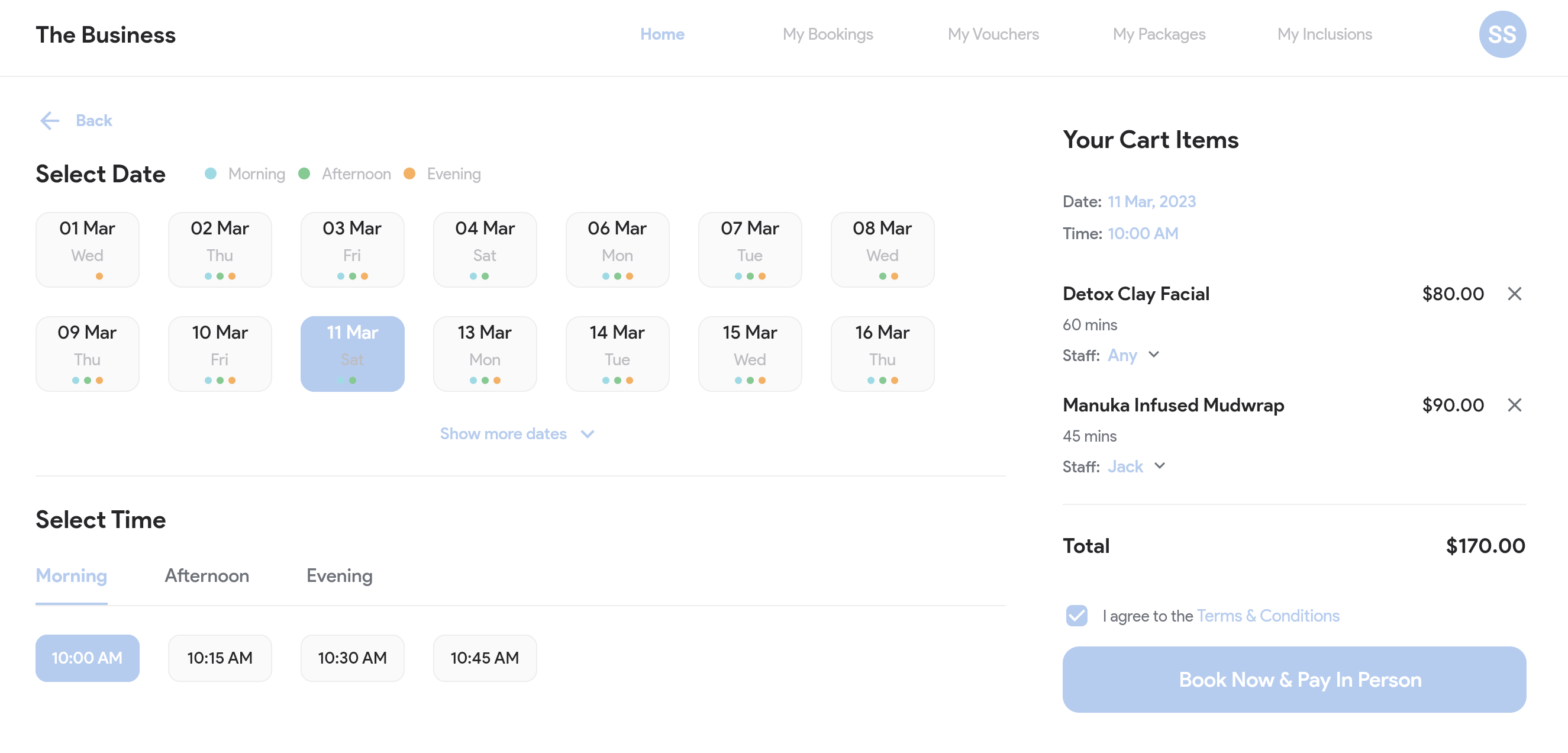 If you have either Pay Full Amount or Pay Deposit enabled, clients will select Proceed to Payment instead: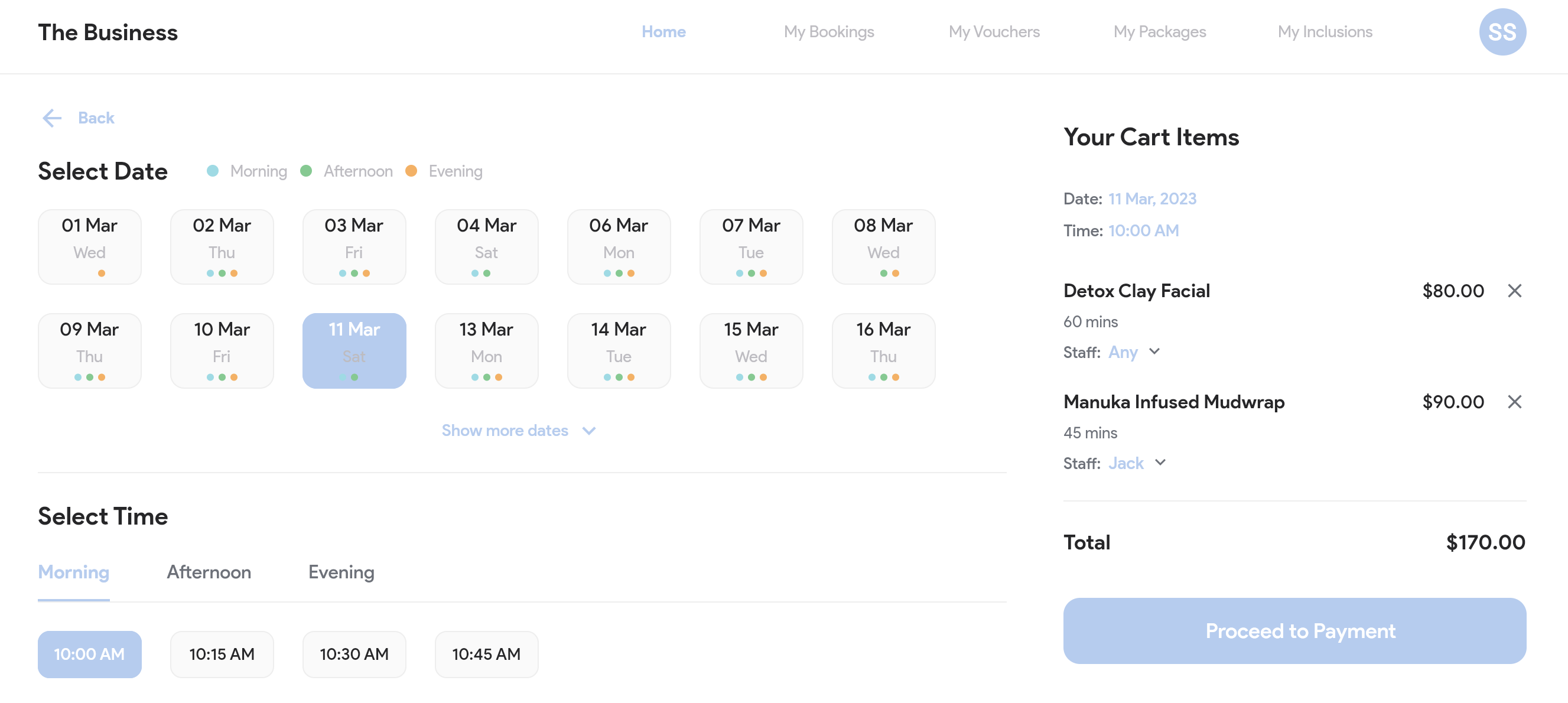 They'll have a final review of their Cart Items, and will be shown the Total amount, and the amount owing: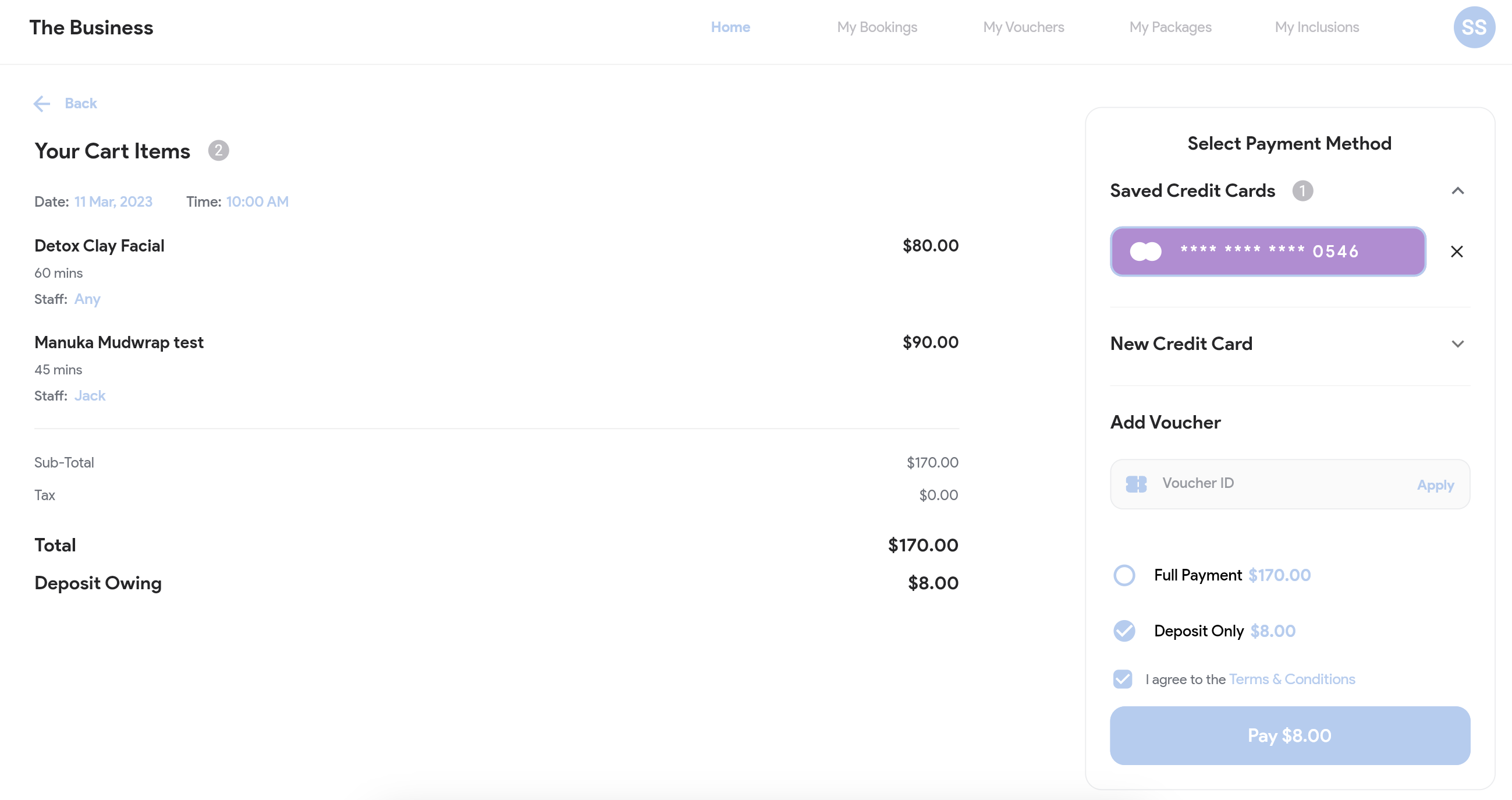 When 'Pay Deposit' is enabled, customers will also have the option to select 'Full Payment' instead, in the event they'd prefer to pay the full amount prior to their appointment.
Note: Do you have a Terms & Conditions page for deposits on your website that you'd like customers to see before booking? If so, you can link it to your Online Booking site! Customers won't be able to complete the booking until they have agreed to the terms and conditions. Click here to learn how to set this up.
After finalising the booking, if you do have auto-approval enabled, the following Booking Success pop-up will display: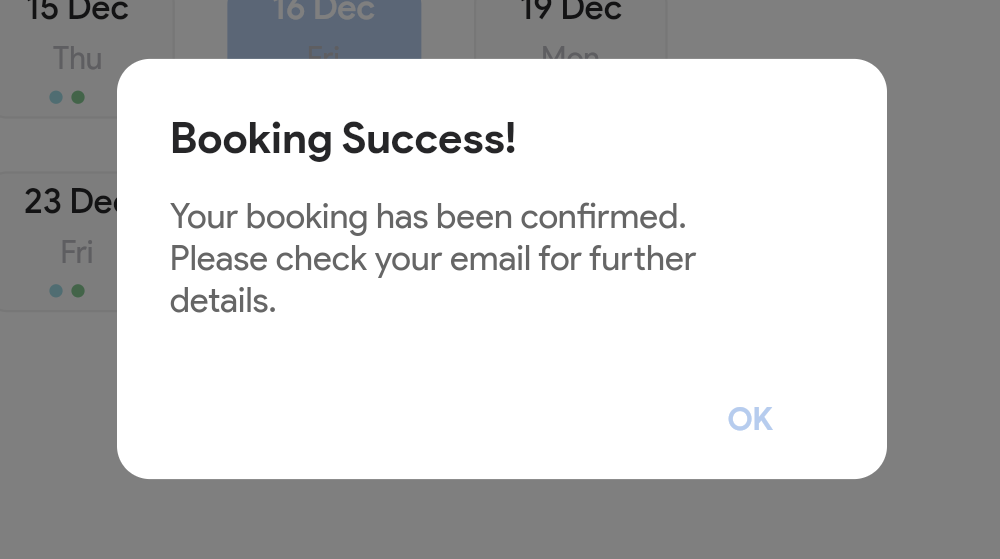 If you do not have auto-approval enabled, the following Booking Pending pop-up will display: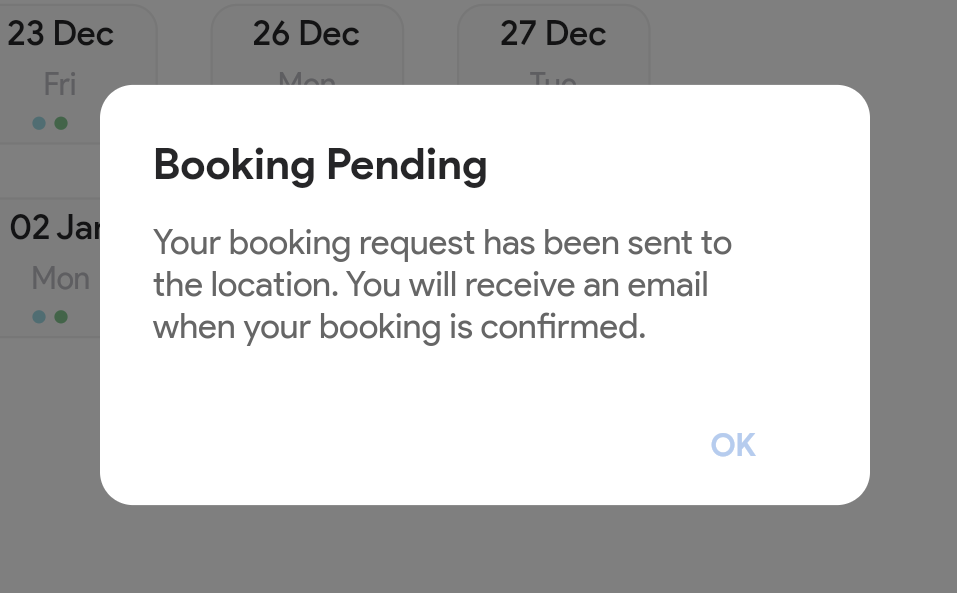 At this point, your business will receive an appointment alert.
If you are manually approving bookings, then you will have 2 hours to accept the booking (if the booking comes in overnight or outside of business hours, you'll have 2 hours starting from the beginning of the next business day to accept the booking). Click here for more information on accepting online bookings.
The client will then be directed to their My Bookings page, where they can check out their history, re-book, or cancel upcoming appointments: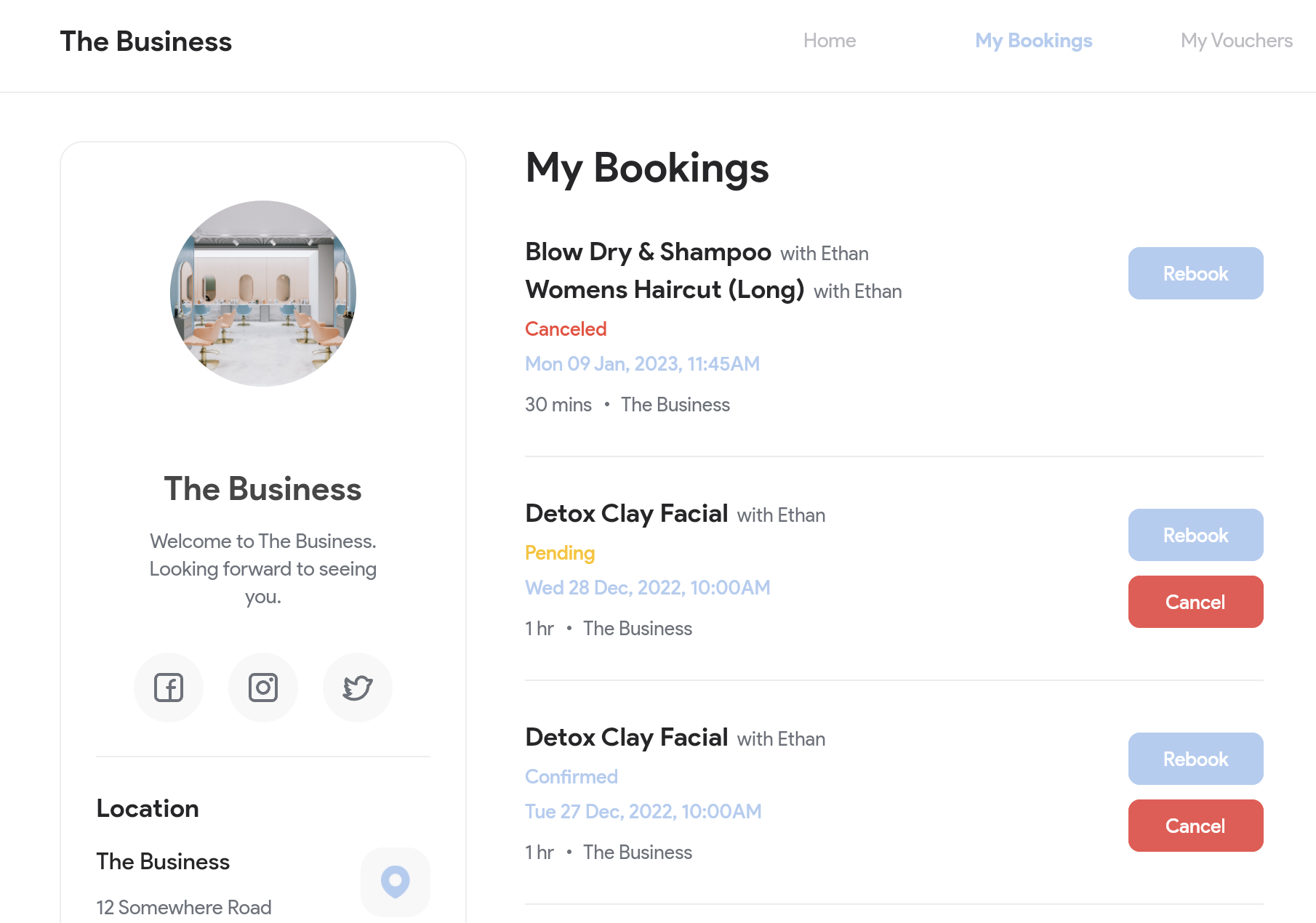 Once you have accepted the online booking, the system will send a confirmation SMS/email to the client letting them know that the appointment has been confirmed, along with the details of their appointment. Click here to learn how to set up appointment approval SMS/email alerts.
If you have any questions, please send them to us via the Submit a Request option in your Help & Support page.