Simple Salon allows you to send effective marketing emails directly from Simple Salon, or via one of our third party add-ons — Campaign Monitor and Mailchimp. This article looks at Campaign Monitor. Click here to learn more about Mailchimp.
The benefit of using one of our third party email marketing add-ons is that they are specifically designed to handle large volumes of emails. The Simple Salon Email Marketing is great if you want to send up to 1,000 emails at one time. If you need to send more than 1,000 emails in one go, then connect with one of our email marketing add-ons and away you go. Additionally, Mailchimp and Campaign Monitor have lots of cool extra features.
Campaign Monitor is specially designed to help you create beautiful emails. Campaign Monitor's email builder allows you to choose from a wide range of customisable layouts and templates, a fabulous platform for your creativity.
Campaign Monitor is also mobile-responsive which means that the email layout will change according to the computer or device the email is displayed on. Therefore, if your clients read your emails on their smartphone, the email content will adjust accordingly so that it looks just as good on the phone, as it does on the computer screen.
It doesn't stop there, though, Campaign Monitor will track everything. The reporting side of things will show you who opened the emails, what part of the email content they liked most, and if they shared the email with anyone. Your email campaigns can be shared via Twitter or Facebook by embedding a "Like" or "Tweet" button in the body of your emails. Click here to check out more of Campaign Monitor's fun and effective features.
Connecting Simple Salon to your Campaign Monitor Account
In Simple Salon, go to your Account page, click Actions and select Campaign Monitor.
If this is the first time you are setting up Campaign Monitor, on the right side panel you will see Not Connected. Click here to create your Campaign Monitor account, then come back to this setting and enter in your Campaign Monitor Email Address and Password, and Save.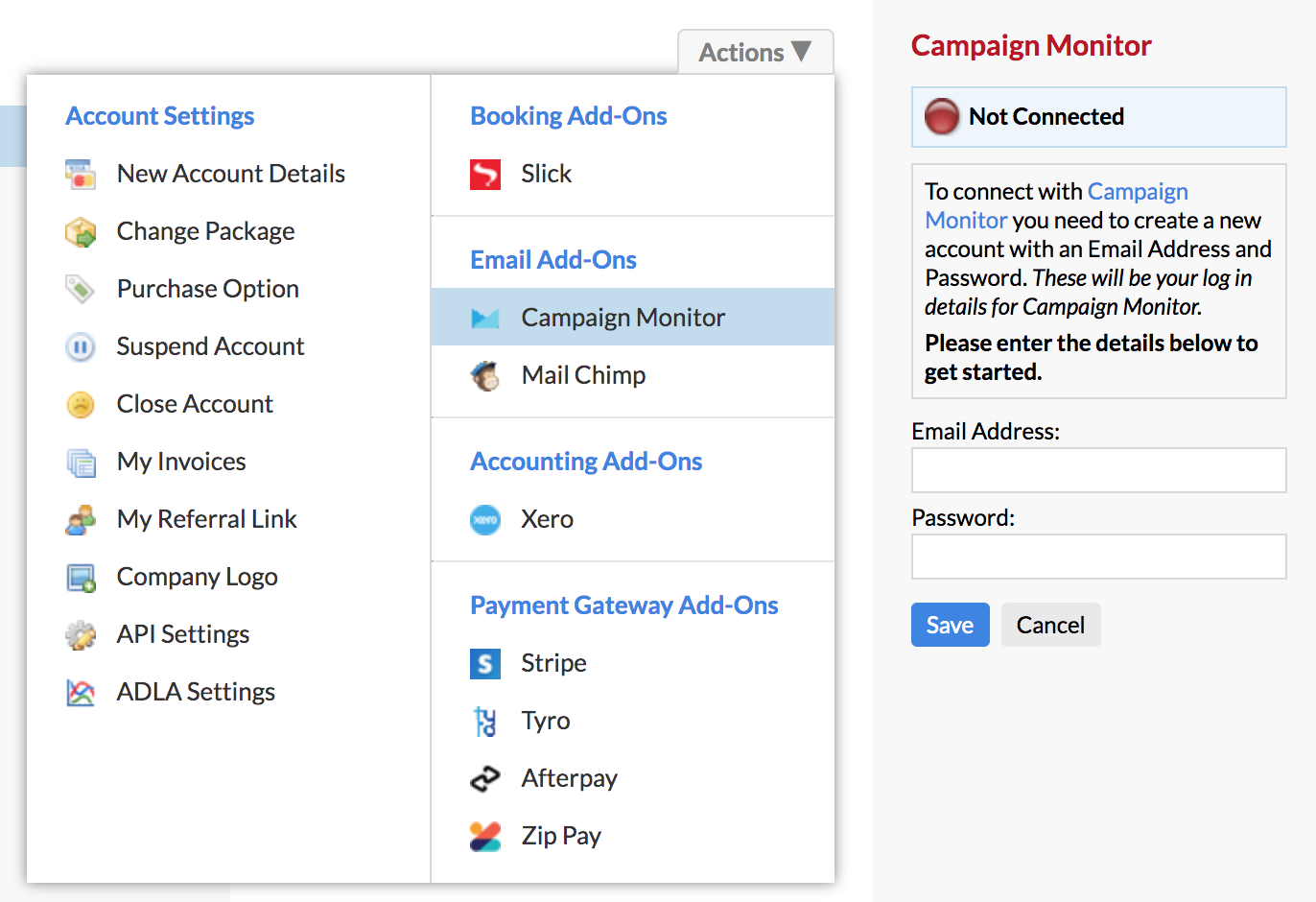 Once you have entered in these details, the page will refresh. Click on Campaign Monitor again and you'll see that it will display as Connected. Tick Campaign Monitor Enabled, and Save.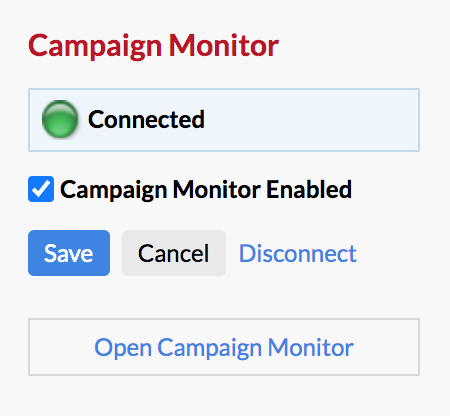 Sending Existing Clients Emails via Campaign Monitor
You can send your clients marketing emails, via Campaign Monitor, from any of your Marketing options or client lists in your reports.
Go to Marketing and select any of the options here i.e. All Clients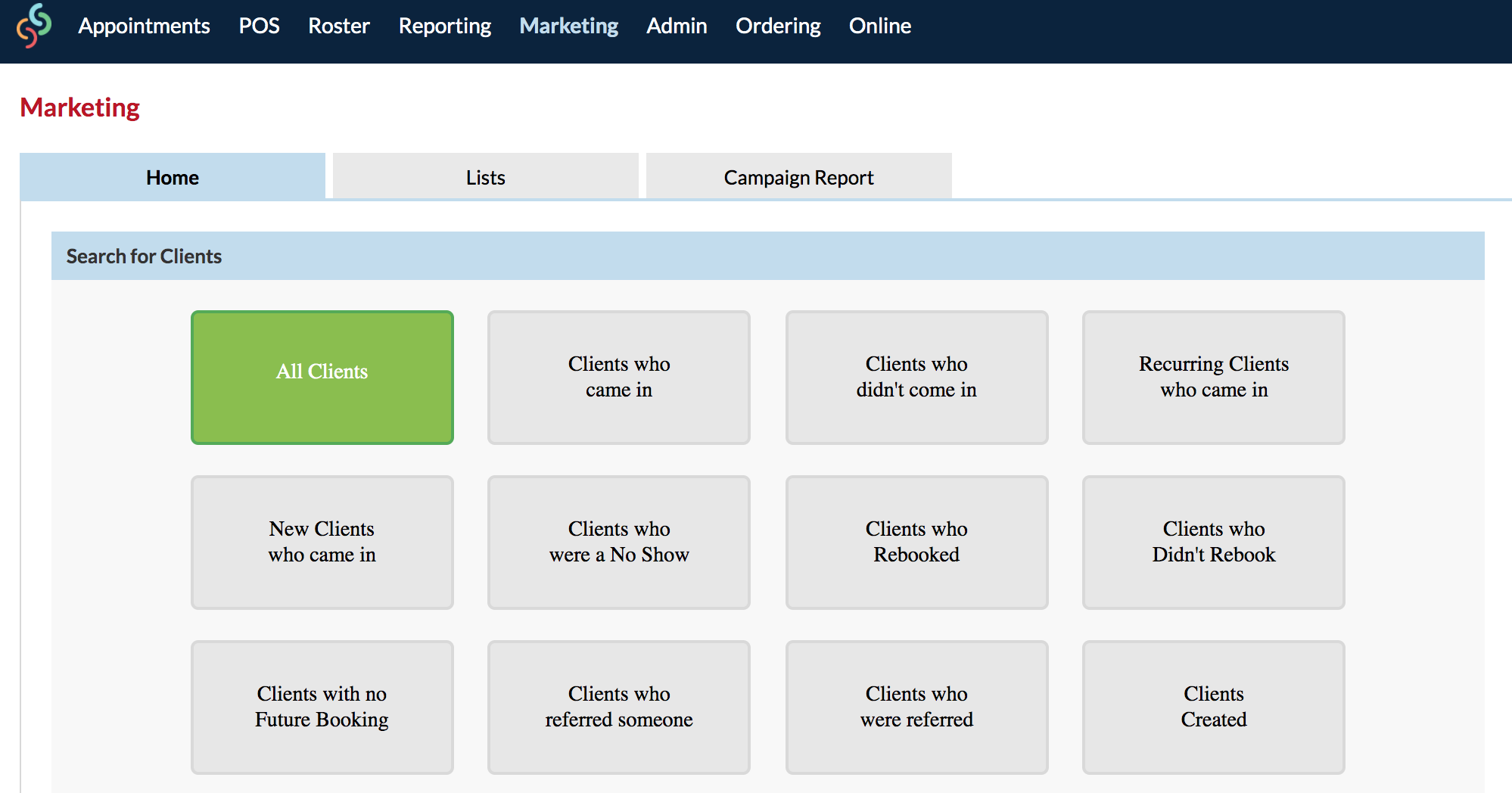 Click Send Email and choose Campaign Monitor.
Enter a Name for the client list. Click Add and it will be sent to Campaign Monitor.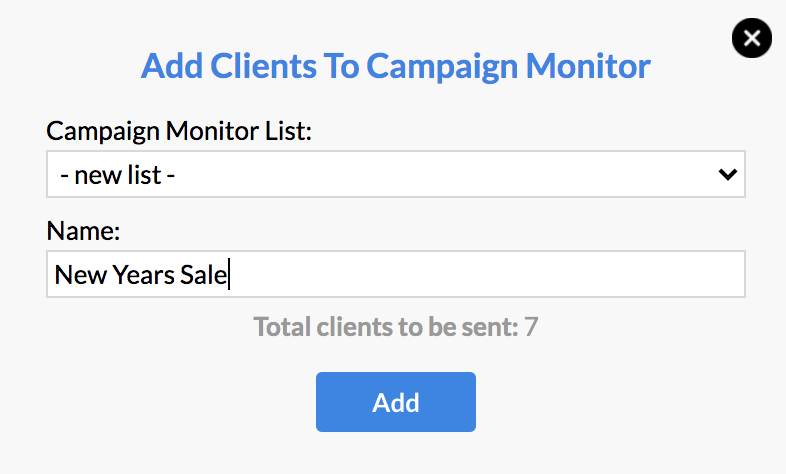 Your client list will be sent across to your Campaign Monitor account. You'll be redirected to login to your Campaign Monitor account, and from there you can create your email template and send to this client list.
Note: Campaign Monitor charges a small fee per email.
If you ever have any questions, please send them to us via the Submit a Request option in your Help & Support page—we're here to help.