Your Online Booking system has a Minimum Cancellation Period setting, which allows you to manage when clients can cancel their bookings made online.
You can set it up so that clients cannot cancel either 24 hours, 48 hours or 72 hours prior to their appointment. Otherwise, you can decide to not allow cancellations altogether.
To do this, go to Online, then into the Admin tab:

Scroll down to BOOKING SETTINGS:

From the Minimum Cancellation Period drop-down menu, select either None (cancellation not permitted), 24 hours, 48 hours or 72 hours, and then Save.
Done! If you turn off your cancellation period or if a client tries to book within your Minimum Cancellation Period, they'll receive the following error: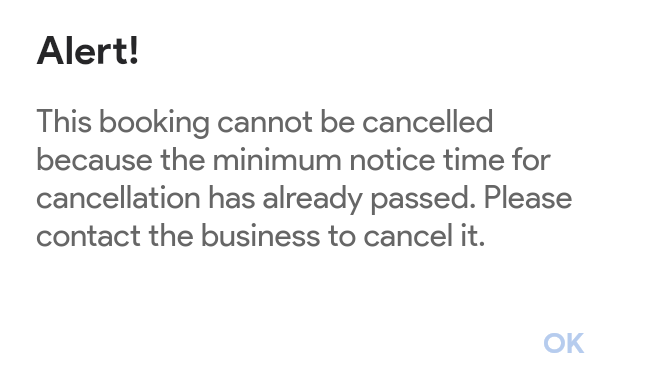 Notes:
If you have Pay Full Amount enabled, clients will not be able to cancel online even if you have a Minimum Cancellation Period set up.
If you have Require Deposit enabled, clients will be automatically refunded for a deposit paid online if they cancel

outside

of your Minimum Cancellation Period.
If you would prefer not to give clients the option to cancel, simply set your Minimum Cancellation period to None. This means the client must contact the business directly, and you can decide whether you want to refund them or keep their deposit.
If you have any questions at all, please send them to us from your Help & Support page by clicking Submit a Request—we're here to help!