Your Simple Salon provides you with various client groups to market to via your Marketing section. You can target clients who came in, clients who didn't, first-time clients or recurring clients and many more.
Your marketing opportunities don't end with our suggestions, though, you can tailor-make and customise your very own unique client lists. You can add and remove clients manually from these lists. When you're happy with your list, send these clients SMS's and Email's to offer them a specially suited promotion just for them.
Creating client lists and using the Add To List option
To create a list, you will first need to go to Marketing and start with one of the options there i.e. All Clients, Client's Who Came In, Clients Who Rebooked, New Clients Who Came In, Clients Who Came In For A Service etc.
Let's think of an example which would require you to customise your own client list.
How about we target clients who came in last month for any colour service, but didn't have a treatment. This means that you could send these clients an SMS or Email up selling them for a treatment next time they come in for their colour service.
Go to Marketing and click the Clients Who Came In For A Service option. First, we want to see all of our clients who had a colour service last month.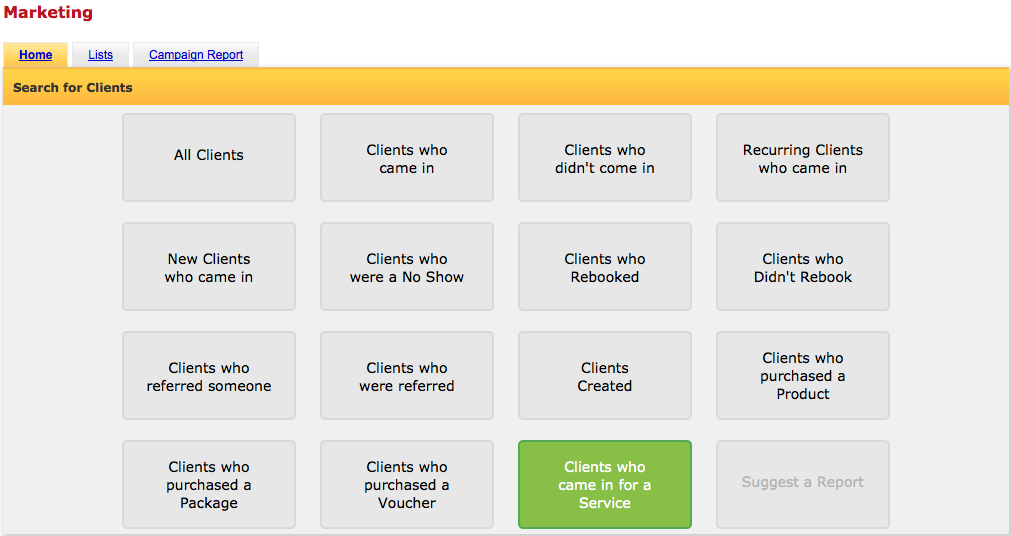 On the right side panel select your date range and use the drop down menus to filter the search accordingly. We will choose the dates to reflect the month of September, and pick the COLOURS service category from the Category: menu to target our colour services, and Search.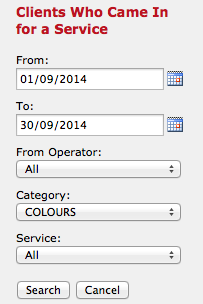 Here they are, all of our clients who came in during last month, September, who had any of our services from our COLOURS service category.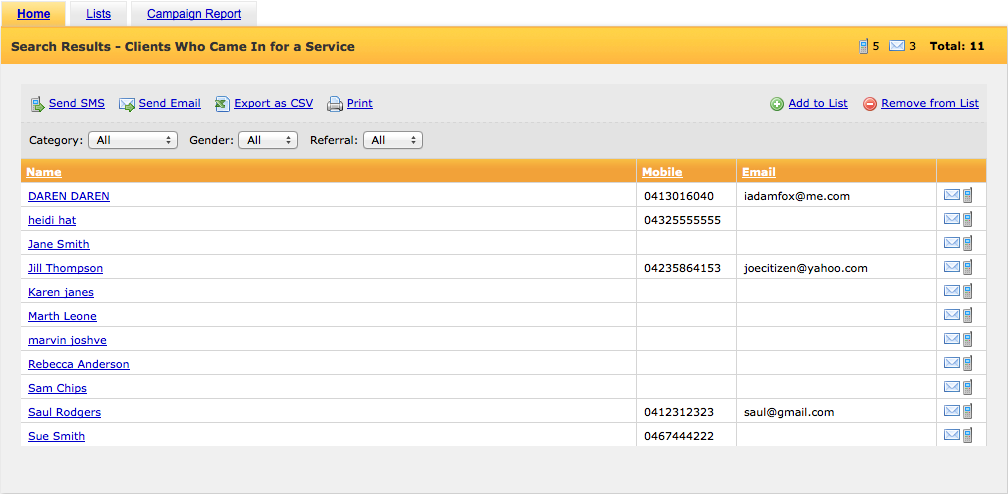 Next step is to add these clients to a list so that we can customise it.
Click Add To List and give the list a name. In this case, we'll call it "Up-Selling Colour Clients", then click Add.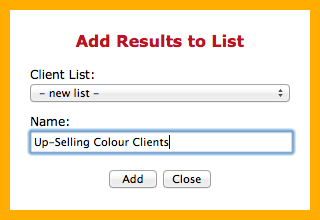 Customising the client list and using the 'Remove From List' option
Now that we have created this list, the next step is to target clients who came in for a treatment last month and remove them from this list.
In Marketing and click the Clients Who Came In For A Service, and on the right side panel choose the same date range as before and choose from the Service: drop down menu Repair Treatment, and Search.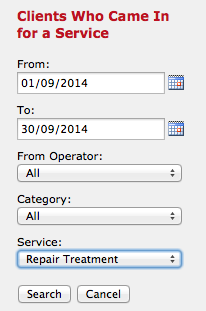 Here are the clients who came in for a Repair Treatment last month.

We want to remove them from the list we created before.
Click Remove From List and select the "Up-Selling Colour Clients" list and click Remove.
These clients who did already have a treatment have been removed from the list, to leave behind only those clients who came in for a colour service but who did not have a treatment. We can now up-sell to them.
Click Send SMS or Send Email to send them a promotional offer so they add a treatment to their colour appointment next time they are in.
Get creative with your marketing lists! Think up ways to use the Add To List and Remove From List options to tailor your unique client lists to ensure that no one flies under the radar. Keep your clients coming back, and get them coming in for more.
If you have any questions send them to us via the SUBMIT A REQUEST option in your Help & Support page.