In the video above we're taking a look at how you can manually and automatically connect with clients who haven't been in for awhile. We'll use the Clients Who Haven't Rebooked marketing option to manually SMS or email these clients. And we'll also look at how to enable the automatic Clients Who Haven't Been In message so no one slips through the gaps.
For further details, check out the steps below.
Encouraging client retention and increasing rebook rates is key to a successful business!
One part of retaining clients and increasing your rebooking is to deliver a superior experience. The other part involves following up your clients who haven't rebooked, to ensure they come back time and time again. Before you know it, it has become a part of their lifestyle.
If you are delivering a superior salon experience to your clients, then the Simple Salon client retention functionality is the cherry on top! Your Simple Salon is very good at helping you retain your clients.
Let's look at clients who haven't been in for some time, who haven't re-booked and don't have any future appointments.
We can then send them a promotional SMS or email to encourage them to come back.
Over in your Marketing section, click Clients Who Didn't Rebook.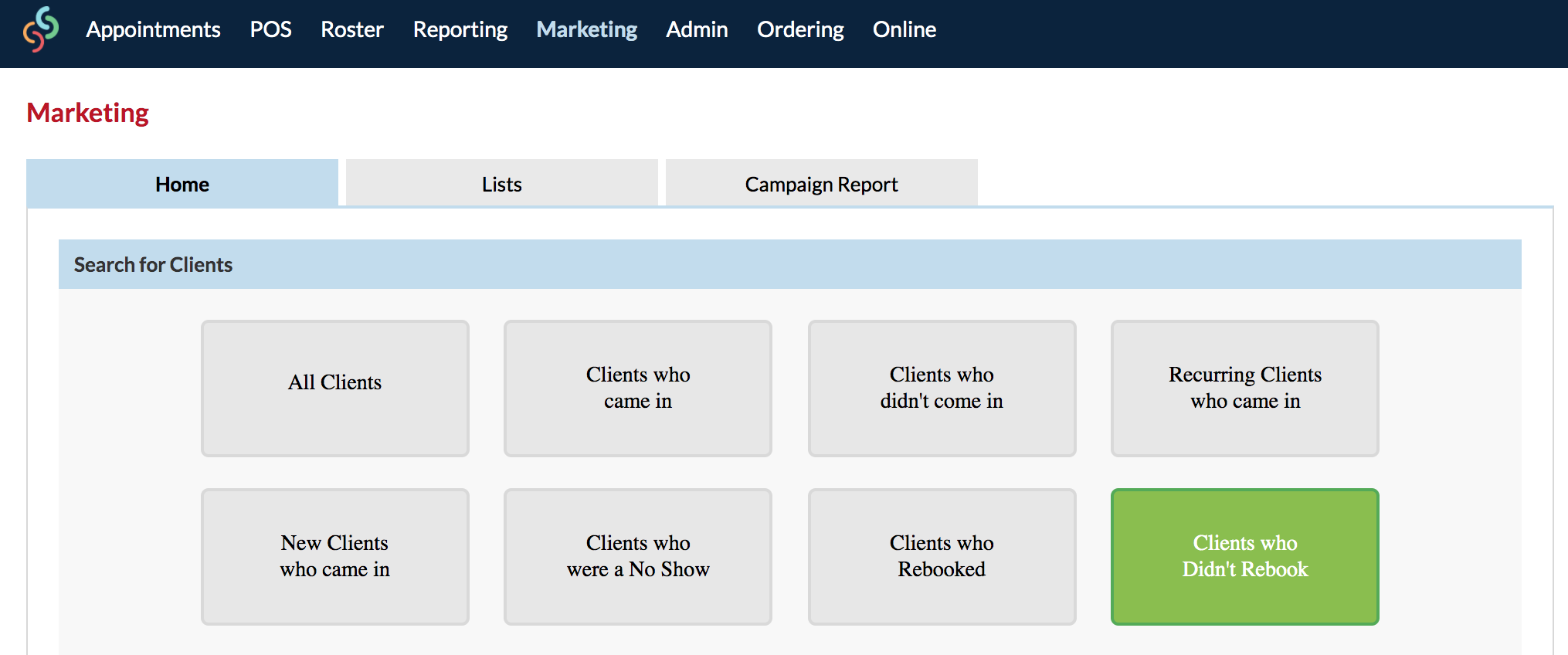 On the right side panel, change the From and To dates to show the date range when the clients did come in for an appointment.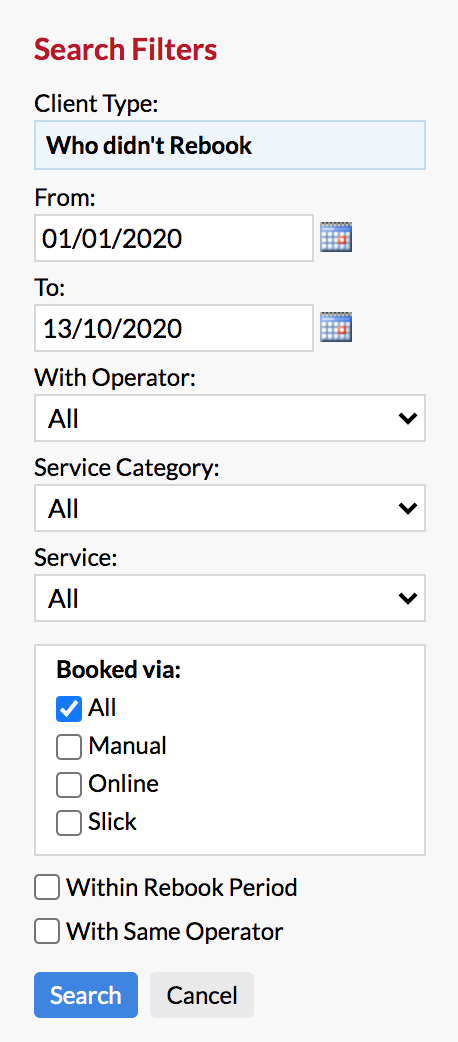 With Operator—you can target clients for a particular Operator
Service Category—you can target a specific Service Category
Service—you can target a specific Service
Within Rebook Period—refers to the Target Re-book Period which you can set up in your Marketing Settings, in Settings. If the Target Re-book Period (in Marketing Settings) is set to 8 weeks, then this report will look at clients who haven't rebooked within the 8 weeks
With Same Operator—will give you the clients who had an appointment with an operator but who did not rebook with that same operator.
Click Search when you're ready.
In this example, we are targeting clients who came in last month and who did not rebook.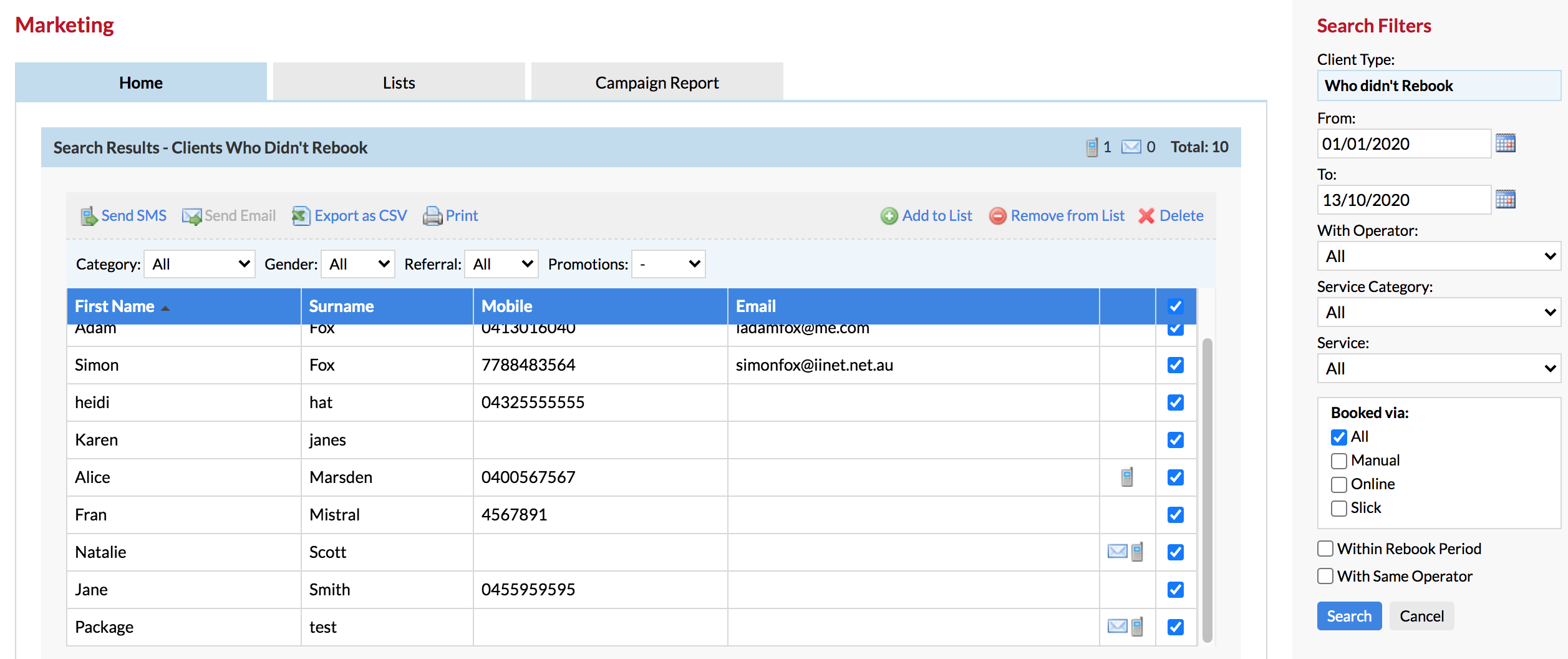 You can use your client Category, Gender, Referral menus to filter this report even further
You can Send SMS, or Send Email (in this case our client Michael Man doesn't have an email address, hence why the Send Email is not available)
You can Export or Print the report
Even Add To List if you want to start building specific client lists to market to
Note: This information is the same as what the Client Retention Report gives you in the No column.
* Keep in mind that approximately 160 characters equates to one SMS credit. Therefore, if your message is more than 160 characters, multiple SMS credits will be used per text. There is also a limit to 640 characters per message, this is equivalent to approximately 4 SMSs in one text. Please send yourself a test before you send the SMS to your clients. Click here for more info.
If you choose 'Send Email', the 'Standard Email' option will allow you to send up to 1000 emails for free from Simple Salon. If you need to send more than 1000 emails, you'll be required to use one of our third-party email marketing platforms—'Mailchimp' or 'Campaign Monitor'. To use either of these platforms, head to their websites to set up an account and then follow the steps here to connect your Simple Salon account to Mailchimp and here to connect to Campaign Monitor.
SMS Pricing is dependent on location. Please click here for further information.

If you have any questions, please send them to us via the Submit a Request option in your Help & Support page.